DJERASSI WORKSHOPS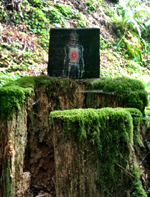 Don't miss our special Djerassi Day on September 7! Ticket sales have been brisk and we only have about 15 tickets left. Until August 25, only WCA members who received a special email invite can sign up for this amazing opportunity. Here are the workshops offered (participants may select up to two):
DEFINING YOUR ARTISTIC VOICE
Facilitated by Judy Shintani, NCWCA Professional Development Chair and Narrator of Culture
What makes your art unique? Create vocabulary and develop your path through art making and inquiry. All materials will be provided.
RECORDING NATURE SOUNDS
Facilitated by Amanda Chaudhary, NCWCA member and Composer/Electronic Musician
Record sounds on your smartphone or hand held device while exploring Djerassi. We will synthesize our captured sounds into a composition.
Materials List:
bring one of these: your smartphone with a recording app such as the built-in Voice memo for an iPhone or a recording app like iProRecorder; or a solid-state field recorder (Zoom or Tascam) or any recording device where files can be accessed via USB. In our workshop we will process our captured sounds through Amanda's Audacity program and analog synthesizer.
LAND ART
Facilitated by NCWCA president Judy Johnson-Williams, who creates her works with cardboard.
Learn about land art, then go out and make your own using found materials. A self guided tour of the day's creation will follow. No need to bring any materials.
MONOTYPE WITHOUT A PRESS
Facilitated by Elizabeth Addison, NCWCA member and artist-in-residence at Kala Art Institute
Learn to use water-based ink on plexi-glass with natural objects to create patterns and silhouettes. Transfer images directly from plate to paper. All materials will be provided.
VOLUNTEER OPPORTUNITY AT DJERASSI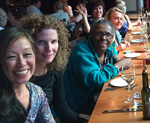 The success of Djerassi Day depends on the help and goodwill of many people. Volunteering only takes a few hours and rewards are in the friendships you make and the acknowledgement that you helped make this amazing event happen. Here's where we need your assistance:
PRE-EVENT
Facebook & Twitter Invite
:by August 22, create a Facebook and Twitter invite for the public to our event.
Event Graphics:
by August 29, create graphics and handout with the Djerassi Day event schedule and directional signage.
SEPT 7 DJERASSI DAY
Event Day Set-Up:
sign up area, class materials, move chairs as needed.
Registration Desk
: welcome and sign in attendees, provide class list.
Onsite Coordinators:
help organizer with trouble-shooting and make sure everything runs smoothly.
Tour Helpers:
attend walking tour of Djerassi land art and troubleshoot any attendee issues - slower walkers, stragglers, etc.
Photo and Video Documentarians:
capture both candid and posed images; video Professional Development conversation at end of the day.
Event Tear Down:
help with packing up materials and general clean up.
TO SIGN UP
Click
this
link
to go to our invitation page on VolunteerSpot
Enter your email address
: (You will NOT need to register an account on VolunteerSpot)
Sign up!
Choose your spots - VolunteerSpot will send you an automated confirmation and reminders.
Thank you for making a difference!
MEMBERS' SHOWS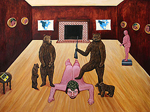 Michelle Waters
in
Pets, Beasts and Dinner: Relations Between Human and Animal Creatures
, at Gallery Bergen, 400 Paramus Road, Paramus, NJ (see left image), Sept 16 - Oct 31. Also
Frog Art Show
, at Cactus Gallery, 3001 North Coolidge Avenue, Los Angeles, Sept 13 - Oct 5.
Mido Lee
in
Fall National Juried Exhibition
, at Marin Museum of Contemporary Art, 500 Palm Dr, Novato, Aug 30 - Oct 5. Also,
The Perimeter of the World
, at Rayko Photo Center, 428 Third St, San Francisco, Aug 6 - Sept 6.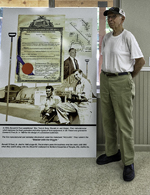 Maxine Olson's
works at The Kingsburg Historical Park honoring individuals for contributions to the town and its history, 2321 Sierra St, Kingsburg, CA (see right image).
Bonnie J Smith
in
Forming Our Lives,
curated exhibition at the San Jose Museum of Art Quilts & Textiles from July 26 - Sept 14. Also at Di Moda Salon, San Jose, through August.
Salma Arastu
solo show in
Celebration of Calligraphy,
Triton Museum of Art, 1505 Warburton Ave, Santa Clara, from Aug 16 - Nov 16.
Hilla Hueber
in
Urbanscapes and Landscapes
, solo show at Cafe Venue, 67 Fifth St, San Francisco, Jul 11 - Sept 30.
Marc Ellen Hamel,
in Plumas County Open Studio, in Main Street Artists Gallery, 436 Main St, Quincy, Aug 23 10am - 5 pm.
Judy Shintani and Kelly Hammargren
in
Who Did She Think She Was?
at Tashiro Kaplan Arts Complex, 306 S Washington St, Seattle, Aug 2-26.
Healing Adornment,
solo show at Harbor Gallery and Books, Harbor Village, Ste 8, 270 Capistrano Rd, Princeton by the Sea, Jul 25 - Sept 20.
Laurie Edison
in
LGBT Art: Our Common Wealth
at the Gallery of the Commonwealth Club, 595 Market St, 2nd Fl, San Francicso, Jul 21- Sept 18.
Dr Lisa Chu
in
50/50: 50 Small Artworks in 50 Days
at the Sanchez Art Center, 1220-B, Linda Mar Blvd, Pacifica from Aug 22 - Sept 28.
Miwako Nishizawa
in
Berkeley Civic Center Art Exhibitio
n at the Martin Luther King Jr Civic Center, 2180 MIlvia Street, Berkeley, June 16, 2014 through end of May, 2015.
Judy Shintani, Salma Arastu, Pallavi Sharma and Kathy Fujii-Oka
in
Our American Stories,
Asian American Artists Illuminate History, Culture and Identity
at Madeleine Haas Russell Gallery, Rosenberg Library, City College of SF, 50 Phelan Dr, April 23 through September.
2014 Members, get your shows and workshops listed in
News & Notes
,
NCWCA Calendar
and on the
NCWCA website
! Send jpg image of your work in the show and information about the show to
ncwcachapter@gmail.com
.