F*CK U! IN THE MOST LOVING WAY BUILDS MOMENTUM!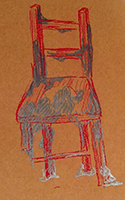 Over the last four weeks, the exhibition, F*ck U! In the Most Loving Way has picked up steam in several directions. Our search for a public relations professional provided insight into how relevant our show's topic is. With just a shoestring budget, we approached five PR firms. Two turned us down due to prior commitments but three bid on our project. After reading the prospectus, all three were excited to work with us. One of the firms, which we had to turn down due to out-of-our budget pricing ($10,000), came back to us with a counter-offer specifically because they loved our show's premise so much. In the end we selected Sally Douglas Arce, who has a long history of doing PR for nonprofits such as SOMArts and AAWAA and has a good list of print, radio and TV contacts. Sawyer Rose, PR Chair on the Exhibitions Committee will begin working with Sally as soon as the contract is signed.
Meanwhile, Tanya Augsburg, Programming Chair of this exhibition, contacted several potential featured artists who will help draw public and media attention to our exhibition. She identified three types of artists to approach:
Original artists involved in Womanhouse
A Bay Area feminist artist or artist collective whose works reflect the show's theme
A young" contemporary feminist artist outside of the Bay Area whose works reflect the show's theme
An international feminist artist whose works reflect the show's theme
Because we are still in negotiation, we cannot reveal the names of the artists Tanya has contacted. Suffice it to say, nearly all of the artists in the four categories are excited and want to participate in some way. In fact, artists in the Womanhouse category have invited other Womanhouse artists to join them. More specific news will be shared once our negotiations are completed but we are thrilled.
Finally, submissions to F*ck U! have been steady, and it is still months away from the show's deadline. We already have entries from all over the country and expect a flurry closer to our deadline.
NCWCA members, don't miss out on this historic show! It will be well-publicized, a video will be created by documentarian Mido Lee, and a beautiful catalog with essays will be created by Karen Gutfreund. If you are confused about what to submit, read the article below for inspiration.
The drawing of the three-legged chair in this article was created by Sawyer Rose during our August chapter brainstorming activity.
The deadline for submitting artwork is October 7. To read the full prospectus and apply, click
http://www.ncwca.org/fck-u-in-the-most-loving-way.html
. And spread the word about this exciting opportunity!
UNVARNISHED REVELATIONS: BRAINSTORMING AROUND F*CK U! IN THE MOST LOVING WAY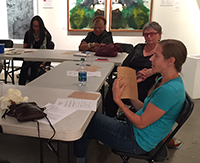 Some of you may be confused about what to submit to this call for art with its provocative title. Perhaps your mind can't get past the offending F-U title. Perhaps you are concerned your body of work doesn't fit the theme. Or maybe it's hard to relate to the concept of artwork that responds to patriarchy (male-created power).
During our August chapter meeting, Tanya Augsburg shared an exercise that helped us try out ideas based on our own experiences. At first we were hard-pressed to come up with examples. Tanya answered questions, acknowledged concerns, and gave an example from her own life to help us loosen up. By the end of the session everyone had great revelations and drawings that got to the core of what this exhbition is about. The drawings and stories were so inspirational we are considering creating a collaborative book for the show.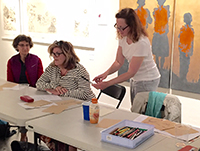 The central theme of F*ck U! In the Most Loving Way has to do with one's relationship or interaction with others – men and women who may be our spouses or spouses of friends, bosses, heads of departments, work colleagues, people we sit next to during commute, people we encounter at the grocery store, even people in the media expressing their opinions such as film stars or political figures.
To begin, Tanya asked us to think about instances where a man or woman representing patriarchy did something that affected us adversely and then to think about how we responded to that.

We came up with a wide range of experiences such as:
Working in an office where co-workers always expected a woman to fetch the coffee
A female boss putting an administrative staff member in her place
Fighting off unwelcome advances of a drunken fellow student
A woman owner of a modeling agency putting a make-up artist down because she wasn't model-thin
A male boss publicly humiliating a subordinate in a meeting
A spouse playing the childcare guilt trip whenever his wife had to travel
A husband blind-sighting his wife at the marriage-counselor's office with a flowchart of criticisms
A woman fighting off a rapist and fighting his lawyer in court
A young professor fighting for her tenure at the Dean's office
A reported sexual harassment not being addressed by human resources
From our own examples, we were instructed to write down in detail how we responded to the situation, and the outcome from that response. We were further instructed to distill our response to one sentence, then to condense further into just a few words.
Our last step was to draw an image that represented those few words. That artwork represents our response to patriarchy and injurious speech: being patronized, belittled, discriminated or put in our place.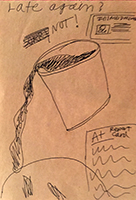 When we shared our drawings and responses with the group, we were moved by the range of responses, all of them self-affirming, all examples of getting the upper hand by staying in control, staying calm and articulate under adversity.
It was an exciting way to tease out how each of us individually might approach the show. Although some of us will create work that is different from the drawings we made at the meeting, we all felt we had a broader set of ideas of pursue around the subject matter.

Readers are encouraged to try out this exercise on their own to see what they come up with. If you are still stuck but interested in submitting work, please email ncwcachapter@gmail.com. An exhibition committee member will help you brainstorm ideas.
NEW DISCUSSION THREAD: RUDE SHOW TITLES


by Judy Johnson-Williams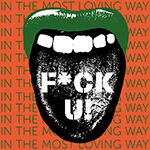 At the meeting on Tuesday, we also spent some time discussing how and why our 'Fuck U' title theme was chosen. Some people are not happy with it and it's ok to agree to disagree. But because of this title we are getting a lot of positive responses from featured artists and PR folks. So. Is it provocative and rude? Well, yes, unfortunately it is necessary to scream, in an art world crowded with artists, to get attention. And this is a subject worth screaming about: what progress have we made since the 70's? This show is our answer. It doesn't have to be negative or man-hating, if your view is that it isn't so bad, or you haven't been touched by patriarchy or you know some nice men, then that's why the subhead is 'in the most loving way'. The subject matter is all ways that our lives have changed since 70's feminism: home, work, identity, gender( Facebook has 56 different gender choices), family, a woman as President, all of it. Members, to join the thread, write to ncwcachapter@gmail.com with subject header "Rude Show Titles."
MY EXPERIENCE MEETING AXEL ROSE


by Sandy Yagi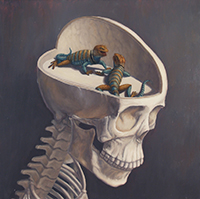 It all started in 2008, when I was scheduled for a solo show in Los Angeles with Bert Green Fine Art. I had painted a new series - a pair of skulls cutaway, similar to the anatomical studies by Leonardo and Vesalius, except with fighting lizards and beetles in the interior of the cranium.
My dealer contacted me shortly before the show opened and said that Axl Rose, the leader of the band Guns N' Roses (GNR) was purchasing my painting, "The Lizard Part of My Brain," with the intent of using it as art for a booklet in a GNR CD about to be released. Mr. Rose had found the painting on the internet, and contacted the gallery. My gallerist negotiated the terms of the license agreement, which I signed with one other request - a copy of the CD. His staff paid for the piece, and allowed us to hang it for a month during the exhibition. He subsequently purchased two other paintings to go along with it.
It turned out that the album to be released was an alternate cover version of Chinese Democracy. The album shows a bicycle on the cover, and a booklet with images of the band in concert. The alternate CD version has incredible art from a number of artists, personally selected by Axl. I have two images in the booklet - the lizards inside a skull, and an image of copulating skeletons. Sadly, the alternate cover version was never widely released, and there are only 100 promotional copies out in the world.
Since that time, Mr. Rose has purchased 7 other works. His manager is wonderful to work with, and they even paid me for two paintings before they were finished.
When I found out that GNR were touring and would be in SF, I asked my gallerist (Bash Fine Art) to contact GNR management and extend the invitation for them to visit my studio. That's when I received an invitation to go as a guest to the concert at AT&T Park.

My partner Jude and I picked up our tickets and VIP pass... the tickets were for front section seats with other VIP guests near the stage. The concert was incredible! Jude is not a rock and roll fan, but she was blown away by the guitarist, Slash. Axl Rose was larger than life, and had a stage charisma that was magnetic. No one sat in their seat through the entire 2.5 hour concert - they all stood and moved in beat to the music. Axl has the energy of a man half his age, as he ran from one side of the stage to the other. GNR's stage presence, musicianship, vocals, and songwriting are the reasons they have consistently sold out big stadiums.
The light show had many animated images. I'm certain that he was making every single the decision involving the visuals for the show, because it was incredible. It takes 20 semis to take the stage, equipment and lights on the road. They animated two of my concepts from the Chinese Democracy alt cover version - there is one piece that had animated copulating skeletons, and during the encore, a really cool animation of skeletons and then the open skull with confrontational lizards!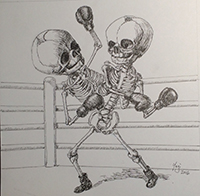 After the concert, we went to the guest room. It was packed with about 40 people, all waiting for Axl to appear. I had brought a small drawing to present to Axl as a gift (pen and ink drawing of boxing conjoined twin skeleton). I told Jude we would be lucky to say hello to him because I was sure he would be mobbed by the guests; if need be, I would probably just leave the package with his people to give to him later. Then, Axl's manager Vanessa found us in the crowd and took us to meet Axl in his dressing room.
He was so genial and welcoming! The feeling was not of being in the ballpark, but rather visiting someone in their home. Axl offered cold beverages to us, gesturing towards the table, like any good host. I gave him a drawing of the conjoined twins and helped him open it. It turns out he is a big boxing fan, and of course, he loves skeletons. He showed me all of his cool skull jewelry. He shared some stories of visiting San Francisco many years ago, hitchhiking into the city. I told him about my skull collection. He had a funny story about a guy who got arrested for stealing a brain in formaldehyde. He talked about ghost writing papers for girls in high school in the Midwest.
I came away from this experience even more impressed with Mr. Rose's creativity (both visual and musical), intelligence, vocal range, and showmanship. And he was so easy to talk to, humorous, interesting, and a gentleman. Meeting him was an experience I will cherish for the rest of my life.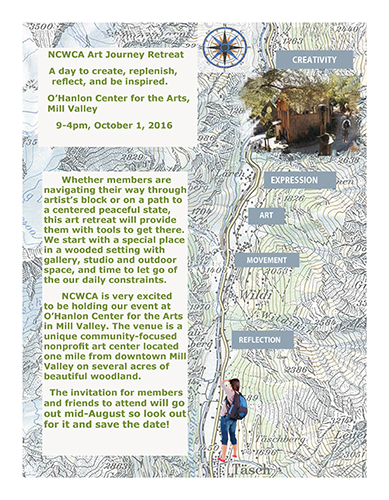 WELCOME 2016 MEMBERS!
Welcome Colette Standish-Gunter, Angela White, Eleanor Ruckman and Linda Kattwinkel! We hope to welcome you at a future chapter meeting.
2016 MEMBERSHIP DUES DISCOUNTED!
Individuals who join or renew as Regular Members through NCWCA's online membership system between August 9 and September 30 will pay a discounted 2016 member rate of $40 ($25 off!). This provides both chapter and national benefits through 2016. Your for 2017 go back to the $65 rate effective January 1. The discount only applies if you join through NCWCA. We cannot give the discount if you join through National WCA. Let your friends know!
http://www.ncwca.org/membership-2016.html
2016 MEETING LOCATIONS & DATES
Chapter meetings are on the second Tuesday of each month. Look for details on our webpage. Let's carpool! Email ncwcachapter@gmail.com if you need a ride or can offer a ride.
Sept 13: Oakland
Oct 11: San Francisco
Nov 8: San Mateo
Dec: Year-end Party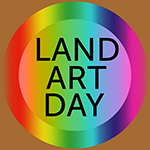 AUGUST 20 9AM - 4:30PM
​

Email ncwcachapter@gmail.com
ART JOURNEY RETREAT UPDATE
By Judy Shintani
The important things are coming together: food and classes!

There will be fun and yummy choices for those lucky 50 attendees who sign up.

The Retreat will be open to members and friends so get a group together to enjoy a day of creativity at the lovely O'Hanlon Center for art in Mill Valley.

The invitation will be going out this month so keep an eye out for it.
To join this Facebook group, go to the
Women Artists to Know
page and click Join. A moderator will add you to the group. Share your favorite artists! We now have over 1000 participants from all over the US and abroad!
August - installation
Sept -political focus/community engagement
Oct - print making
Nov - collage
Dec - sculpture, assemblage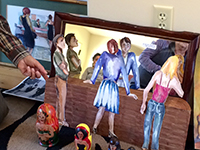 Nancy Margulies' work created in the Laidies Room Art Tag round
MEMBER SHOWS AND PUBLICATIONS
Barbara Milman,
103rd California Society of Printmakers Exhibition,
801 Magnolia Ave, Piedmont, CA, Sept 3 – Oct 2. See image below.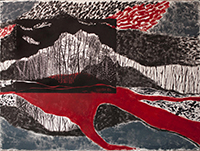 Sandra Yagi
FourSquared
, Arc Gallery, 1246 Folsom St from Aug 27 – Sept 24. Also Art for Peace Traveling Show - Dreams and Divinities at Galerie FLOX, Friesestraße 31, Schirgiswalde-Kirschau Germany, August 27-Oct. 30; and Unnatural Histories, Antler Gallery, 2728 NE Alberta Street, Portland OR, Sept. 29-Oct. 4.
Victoria Veedell,
artwork on cover of The Cortland Review, August 2016 edition http://www.cortlandreview.com/issue/72/index.php,
Judy Shintani,
26th Annual South Coast Alliance Art Exhibition,
I.D.E.S. Hall, Pescadero, 8/19-21.
Lorraine Bonner
,
The Black Woman Is God,
SomArts Gallery, 934 Brannan St, San Francisco, Jul 7 - Aug 17.
Priscilla Otani,
Women + Money,
Katherine E Nash Gallery, Regis Center for Art, University of Minnesota, 405 21st Ave S, Minneapolis, MN, Sept 6 - Dec 10. Also
Social Justice: It Happens to One, It Happens to All,
St Mary's College Museum of Art, 1928 St Mary's Road, Moraga, CA,
Sept 18 - Dec 11.
Ruth Petersen Shorer, Juried Members Exhibit, awarded 3rd Place, Marin Museum of Contemporary Art, 500 Palm Drive, Novato, CA, July 23 - August 28. See image below.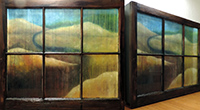 Bonnie J Smith,
The Valley of Heart's Delight
, Filoli, 86 Canada Road, Woodside, CA, Aug 22 - Oct 23. Also Water is Life, The United States Mission to the United Nations Agencies, Rome, Italy, Geneva, Switzerland and Frascati, Italy, September 3 – 9.
Marian Yap,
Balancing Act,
Jennifer & Phillip DiNapoli Gallery, Dr. Martin Luther King, Jr. Library, San Jose State University, 150 E. San Fernando St., San Jose, CA, Aug 2 - Sept 29.
MC Carolyn
Bay Area Painting 2016 Art Contemporary Marin,
Toby's Feed Barn Gallery, 11250 Hwy One, Point Reyes Station, Aug 2 – 30.
See image below.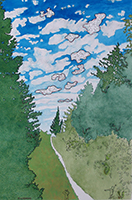 Robin Apple
, PH21 Gallery, 55 Raday St, Budapest, Hungary, Jul 28- Aug 23.
Mary K. Shisler
,
Surf's Up!,
Danville Village Theatre Art Gallery, 233 Front Street, Danville, Jul 8 - Aug 18.
Lena Shey,
Transformation: 25 Years of Asian American Women Artists
, Harrington Gallery, Firehouse Arts Center, 4444 Railroad Ave, Pleasanton, Jul 28 - Sept 3.
Sawyer Rose
, in
American Twist,
Sculptors Guild NYC, Building #15, Governors Island, NYC, May 28 - Sept 25.
Tina Maier
,
Wild/Mind,
GearBox Gallery 770 West Grand Ave Oakland, Aug 4 – 27.
Juliet Mevi,
in
forty Fridas Show,
Jingletown Art Studios, 3001 Chapman St, Oakland, Jul 8 - Aug 28.
Trudi Chamoff Hauptman
,
The Russian River Watershed in Fabric,
Laguna Foundation de Santa Rosa, Heron Hall, 900 Sanford Rd, Santa Rosa, Apr 28 - Sept 13.
Salma Arastu,
in
Novus Conceptum,
Hannah Bacol Busch Gallery, 6900 S Rice Ave, Bellaire, Texas, Apr 9 – Sept 30
Members, get your shows and workshops listed in News & Notes, NCWCA Calendar and on the NCWCA website! Send jpg image of your work in the show and information about the show to ncwcachapter@gmail.com.
​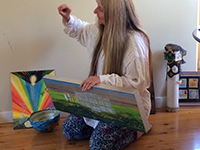 NCWCA CALENDAR
Aug 17, 11:30 AM Black Woman is God! exhibition discussion group at the Oakland Museum. Meet at Oak St entrance.
Aug 20, 9 AM - 4:30 PM Land Art Pescadero. RSVP to ncwcachapter@gmail.com
Aug 27, 10 AM - 12:30 PM
SOLD OUT!
Photographing Your Own Artwork at Kala Institute
Sept 10, 10 AM-1 PM Saturday Art Tag meeting at Judy Johnson-Williams' studio 347 Lewis St, Oakland
Sept 11, 11 AM-1 PM Sunday Art Tag meeting at Trudi Chamoff-Hauptman's residence, Pleasant Hill Ave North, Sebastopol
Sept 13, 6-9:30 PM Chapter meeting at Judy Johnson-Williams' studio 347 Lewis St, Oakland
NOTEWORTHY EXHIBITIONS
Apr 23 - Nov 6 Don't miss WCA Lifetime Achievement Awardee Kay Sekimachi's exhibit at the deYoung Museum, Golden Gate Park, 50 Hagiwara Tea Garden Dr
Apr 27-Sept 18 Don't miss the Grace Jones Project at MoAD, 685 Mission St, SF
Jul 7 - Aug 17 Don't miss the Black Woman is God exhibition at SOMArts, 934 Brannan St, SF
TIPS FOR FORWARDING NEWS & NOTES TO YOUR CLIENT LIST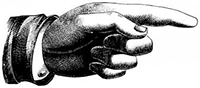 Before forwarding your copy of News & Notes to your client list, delete the "Unsubscribe" sentence at the bottom of the newsletter. Otherwise, if one of your clients decides to unsubscribe to your email, they will inadvertently unsubscribe you from future editions of our News & Notes.
Alternatively, you can go to the
Publications
page of our website and include the URL of any of our newsletters in your own e-news.