LAND ART DAY IN PESCADERO NOV 1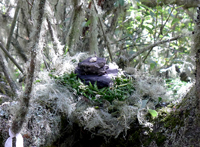 It has become an annual tradition for NCWCA members to venture out to Pescadero for a day of creating land art. We will be carpooling on November 1 for a trip to Irma Velasquez's ranch. This is a free event for NCWCA members and friends who are interested in joining. No experience is necessary. Come with ideas or be inspired by what you find. Work with found objects or vegetation in the area and/or bring biodegradable materials and tools. Consider sunscreen, hat, gardening gloves, shears, bucket and digging tools. We will tour all the artwork created at the end of the day. RSVP is requirred. Please respond to the Evite sent to you earlier or email us at ncwcachapter@gmail.com. Participation is limited to 20 people.
To see last year's land art projects, click
Pescadero Land Art.
NATIONAL EXHIBITION OPPORTUNITIES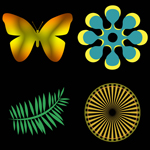 Here's an opportunity to submit to four different shows under one roof! The 2015 WCA Conference in New York will host exhibitions at the Westbeth Gallery in the West Village. The National Juried Exhibition is called
Transforming Community: Disability, Diversity & Access
and the juror is Petra Kuppers. Karen Gutfreund will be jurying two shows: The
Difference Community
Art Makes hosted by the Young Women's Caucus and
Ecology: The Difference Perception Makes
hosted by the Eco Art Caucus. The fourth exhibition is titled
The Light Within: the Difference Spirituality Makes
and is juried by Fay Grajower. You may apply for any or all four exhibitions by clicking
here
. The deadline is November 10.
OPEN STUDIOS
Don't miss the opportunity to visit artists' studios during October Open Studios in San Francisco and Sonoma. Many of our members will be showing their studio and latest works!
For San Francisco Artspan Open Studios schedule and information, click
here
.
For Sonoma County Art Trails schedule and information, click
here
.
MEMBER SHOWS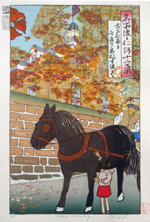 Miwako Nishizawa
in Twelve Views of Virginia solo show, Virginia Museum of Fine Arts, 200 N Blvd, Richmond, VA, Oct. 25 - Nov. 16 (right: Colonial Williamsburg).
Leslie Morgan
painting & drawing workshop featuring Heather Wilcoxon, at Twisted Wish Studio, Bonny Doon Mountains north of Santa Cruz, Nov. 15/16 10am - 4 pm. Contact Leslie at Dockles@comcast.net.
Olga Evanusa Rowland
, 12 x 12 (x12) Invitational 2014, Cabrillo Gallery, Cabrillo College, 6500 Soquel Drive, Aptos, Oct. 6 - 31.
Elizabeth Addison
in Kalassal group show and fundraiser, Kala Gallery, 2990 San Pablo Ave, Berkeley, Oct. 23-25.
Elaine Jason
, Degrees of Abstraction, Santa Cruz Art League Gallery, 526 Broadway, Santa Cruz, Oct. 25 - Nov. 16.
Robin Apple
, Degrees of Abstraction, Santa Cruz Art League Gallery,
526 Broadway, Santa Cruz,
Claudia Chapline
in
Motion Drawings
, Marin Fencing Academy, 827 4th St, San Rafael, Oct 10 - Nov 7.
Judy Shintani
in UCSF National Center of Excellence in Women's Health
Serenity Exhibition
, 2356 Sutter St, Oct 16, 2014 - Jan 13, 2015.
Sandra Yagi
in
Endangered Visions International Exhibition, MANILART 2014
, SMX Convention Center, SM Aura Premier, Taguig, Metro Manila, Philippines,Oct 15-19.
Michelle Waters
in
Pets, Beasts and Dinner: Relations Between Human and Animal Creatures
, at Gallery Bergen, 400 Paramus Road, Paramus, NJ (see left image), Sept 16 - Oct 31.
Maxine Olson's
works at The Kingsburg Historical Park honoring individuals for contributions to the town and its history, 2321 Sierra St, Kingsburg, CA.
Salma Arastu
solo show in
Celebration of Calligraphy,
Triton Museum of Art, 1505 Warburton Ave, Santa Clara, from Aug 16 - Nov 16.
Miwako Nishizawa
in
Berkeley Civic Center Art Exhibitio
n at the Martin Luther King Jr Civic Center, 2180 MIlvia Street, Berkeley, June 16, 2014 through end of May, 2015.
Members, get your shows and workshops listed in
News & Notes
,
NCWCA Calendar
and on the
NCWCA website
! Send jpg image of your work in the show and information about the show to
ncwcachapter@gmail.com
.