DECEMBER 28 YEAR-END PARTY

Where:
Judy Johnson-Williams' studio, 347 Lewis St, Oakland. Carpool encouraged!
Bring:
potluck dish or drink and a beautifully wrapped studio item for a White Elephant exchange
Activities:
Good food and conversations
Burning of bad juju
White Elephant exchange
Art-Making
---
DECEMBER 31 YOUR 2017 MEMBERSHIP EXPIRES. RENEW
HERE
FOR 2018 AND INVITE YOUR FRIENDS TOO!
---
JANUARY 5 DEADLINE FOR ka-POW! HEROIC WOMEN MEMBERS' SHOW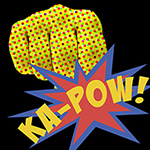 This show celebrates the heroic archetype in fem form and the power, magic, and mythology of women. All styles, media, and practice disciplines will be considered. KA-POW! is the 2018 members show organized by the Northern California Women's Caucus for Art. It is our intention to represent all members who submit entries, therefore, work selected by the curator that does not fit into the parameters of the Pacific Pinball Museum will be exhibited through our online gallery. For details and to apply, go to
http://www.ncwca.org/ka-pow-heroic-women.html.
---
JANUARY 5 DEADLINE TO APPLY FOR CHAPTER REP GRANT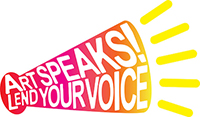 Represent NCWCA at the WCA Los Angeles Conference. Write not more than 500 words explaining why you should be awarded the $200 stipend to represent our chapter. Email your statement to elizabethaddison@sbcglobal.net with "NCWCA Stipend" in the subject line. If selected, you will be expected to attend all WCA events and write a report about your experience. The stipend is paid once you have presented your report at a chapter meeting. To the extent possible, this stipend will be awarded to a member who has not previously represented our chapter at the annual conference.
---
MEMBER SHOWS AND PUBLICATIONS


Mary Shisler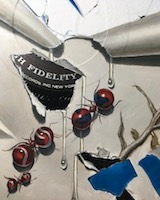 J.L. King,
group,
DISCOLANDIA,
Wonderland Gallery, 1266 Valencia St, San Francisco, Dec 9, 2017 - Jan 20, 2018 (image left).
Francine Hsu Davis,
Personal Geography,
Julie's Coffee and Tea Garden, Jan 12 -Mar 2 (image upper right column).
Marian Yap,
Coastal Arts League Annual Members Show
, 300 Main Street, Half Moon Bay, Dec 9, 2017 - Jan 7, 2018.
Julie Mev
i,
The 8th Annual Small Art Show,
Warehouse 416, 416 26th St, Oakland, Nov 24- Dec 17. Also
Berkeley Artisans Holiday Open Studios,
The Sawtooth Bldg Studio 39, 2547 8th Street, Berkeley, Saturdays and Sundays 11AM-6PM through Dec 24.
Sal Sidner
,
Art Basel Studio Visits
, Bridge Red Studios, 12425, NE 13 Ave, Studio 5B, North Miami, FL, Dec 9, 2017, Jan 7, 2018 & by appointment.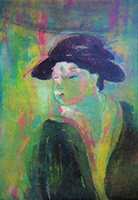 Gina Chiao,
Cultural Journey, Women artists Association Taiwan
, Fayoum Art Center, Cairo, Egypt, Jan 29 – Feb 8 (image right).
Mary K. Shisler
,
Berkeley Civic Center Art Exhibition
, 2180 Milvia Street, Berkeley, Dec 2017 - Dec 2018 (image lower right column).
Michelle Waters,
Tiny,
Studio Gallery, 1641 Pacific Avenue, Nov 10 - Dec 23. Also
Tiny Treasures XII
, Cactus Gallery 3001 N Coolidge Ave, Los Angeles, Nov 18 - Dec 31. Also
Trading Card Art Show
, Gristle Art Gallery, 26 Bushwick Avenue, Brooklyn, NY, Dec 2 – Jan. Also
Salon at the Triton
, 1505 Warburton Avenue, Santa Clara, Nov 11, 2017 - Feb 4, 2018. (image left)
Barbara Bryn Klare,
Journal (cover art) "Artizein Arts and Teaching Journal: Arts, Ecology and Education," School of Art and Design, Southern Illinois University Carbondale, Carbondale, IL: http://opensiuc.lib.siu.edu/atj/. Also
Tracks and Echoes
, DZINE Gallery, 128 Utah St., San Francisco, Oct 27-Apr 2018.
Victoria Veedell,
Tiny,
Studio Gallery, 1641 Pacific Avenue, SF, Nov 10-Dec 23. Also
Small Things
, Jennifer Perimutter Gallery, 3620 Mt. Diablo Rd., Lafayette, Nov 16, 2017-Jan 9, 2018.
Fleur Spolidor,
Salon at the Triton 2017 Statewide 2D Competition
& Exhibition,
Triton Museum of Art, 1505 Warburton Ave, Santa Clara, Nov 11, 2017 – Feb 4, 2018. Also
Tiny,
Studio Gallery,1641 Pacific Ave, San Francisco, Nov 10-Dec 23. Also
Alice in San Francisco,
People's Barber & Shop, 1259 Polk St. San Francisco, Oct 3-Jan 14
Cynthia Tom,
The Holidays: Surreal & Sparkle,
Marin Jewelers Guild, 1331 Fourth Street, San Rafael, Dec 1- Dec 31. Also Workshop, "A PLACE OF HER OWN," an art based healing for transformation program using simple grounding meditation and intuitive art-making. The semester series of workshops culminates in a professional art exhibition.January – June 2018.
Sawyer Rose,
Nod to Mod,
Dab Art, 1793 E Main St, Ventura, Dec 9, 2017 - February 4, 2018. (image left)
Judy Shintani,
Co-curator,
Artists' Eyes: Art of Incarceration,
MIS Historic Learning Center and NJAHS Peace Gallery, 640 Old Mason Street, Crissy Field, Presidio of San Francisco, Nov 11 – May 20. Also
Presidio's Role in World War II Japanese American Incarceration
, Presidio Officers' Club, 50 Moraga Ave, San Francisco, Apr, 2017 – Mar 2018.
Salma Arastu
,
Human Messages: New Vistas
, Think Round Fine Arts, 2140 Bush Street, Suite 1B, San Francisco, Oct 1-Dec 30. Also group,
Art as Spiritual Metaphor
, Firehouse Arts Center, 4444 Railroad Ave., Pleasanton, Nov 1-Dec 16.
Lena Shey,
Serenity,
UCSF Women's Health Center, 2356 Sutter St, San Francisco, Sept 13, 2017 – Jan 16, 2018

Members, get your shows and workshops listed in News & Notes, NCWCA Calendar and on the NCWCA website! Send jpg image of your work in the show and information about the show to ncwcachapter@gmail.com.
2017-18 MEMBERS, WELCOME!
Welcome Jeanne Wilkinson, Marge Healy, Michelle Waters, Melissa Harmon, Kathy Fujii-Oka, Barbars Grauke, and Jane Mason.
Looking forward to seeing you at a future meeting or event!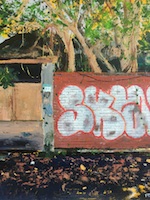 Francine Hsu Davis

---
CHAPTER MEETINGS
Chapter meetings are usually on the second Tuesday of the month.
Look for agenda and activity details on our webpage.
Let's carpool! Email ncwcachapter@gmail.com if you need a ride or can offer a ride.
Jan 14 Board Retreat, no chapter meeting. If you are interested in joining the board, please email ncwcachapter[at]gmail.com.
Feb 13 San Francisco
Mar 13 San Mateo
Apr 10 Oakland
May 8 San Francisco
Jun 12 San Mateo Dr, San Mateo
Jul 10 Oakland
Aug 14 San Francisco
Sept 11 San Mateo
Oct 9 San Francisco
Nov 13 Oakland
December Year-End Party Oakland
---
To join this Facebook group, go to the
Women Artists to Know
page and click Join. A moderator will add you to the group. Share your favorite artists! We have over 1000 participants from all over the US and abroad!
December honors sculptors & assemblage artists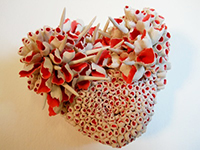 Bambi Waterman
January - ceramics
February - literary works, art with text, writings
March - painting
April - eco/land art
May - drawing
June - performance/dance/music
July - photography
August - installation
Sept -political focus/community engagement
Oct - print making
Nov - collage
Dec - sculpture, assemblage
---
Dec 28 6:00 - 9:30
, Year-end party at Judy Johnson-Williams' studio, 347 Lewis Street, Oakland.
Jan 14 8:30 AM - 4:30 PM
, Board Retreat
---
ATTENTION! TIPS FOR FORWARDING NEWS & NOTES TO YOUR CLIENT LIST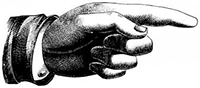 Before forwarding your copy of News & Notes to your client list, delete the "Unsubscribe" sentence at the bottom of the newsletter. Otherwise, if one of your clients decides to unsubscribe to your email, they will inadvertently unsubscribe you from future editions of our News & Notes.
Alternatively, you can go to the
Publications
page of our website and include the URL of any of our newsletters in your own e-news.
---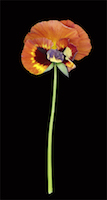 Mary K Shisler