JUANA GUZMAN, 2016 WCA LIFETIME ACHIEVEMENT HONOREE
by Vicki Cormack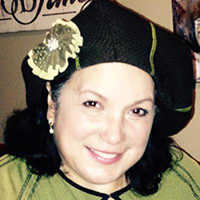 As the principal and creator of I Juana Know, Juana Guzman is drinking in the local lore of Chicago. Her tweets are engaging, pensive and filled with a sense of curiosity and engagement. From travels to the local coffee roasters to retweeting Mark Ruffalo's insights, she takes the reader along on her explorations of coffeehouses, jazz clubs and other local sights in her beloved City of Chicago. Most recently, she thoughtfully remarked, "Terrorist Acts against humanity. My prayers are with the people of Paris." She is a strong community member and a citizen of the world.
Guzman does well by doing good. Undertaking initiatives, immersing herself in direct service through her work in the arts and as a business woman, Guzman models a life worth living. She had been the Vice President at the National Museum of Mexican Art (NMMA) in Chicago for 13 years. The mission of the museum is "to showcase the beauty and richness of Mexican culture by sponsoring events and presenting exhibition that exemplify the majestic variety of visual and performing arts in Mexican culture." Guzman was credited with expanding and promoting that mission.
The NMMA is the only Latino museum certified by the American Alliance on Museums. Visitors are offered a chance to "immerse [themselves] in the richness of Mexican art and culture right in Chicago." Showing over 3,000 years of work from North and South of the border and engaging people in the diverse culture, this museum welcomes old and young alike with classes, camps and mentorships.
Since the 80s, Juana Guzman devoted her energy and love of life and art by serving as the arts director, earned income specialist and consultant to non-profits in governmental and philanthropic arenas. Guzman focuses on social change and promoting the art, culture and heritage of diverse groups across the boundaries of age and ethnicity.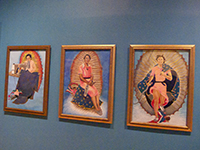 As a forerunner in the field of bringing funding to artists in all disciplines, Guzman worked on several initiatives through city and national agencies to create awareness and expand economic opportunities for artists in Chicago's diverse communities. From 1981-99, she served as the Director of Community Cultural Development of Chicago's Department of Cultural Affairs. From 2004-2008, she served a technical advisor and consultant for the Ford Foundation's Shifting Sands Initiative. This initiative helped define both arts and cultural organizations as essential components for creating strong communities, bringing funding to revitalize neighborhoods and creating a basis for economic and social growth.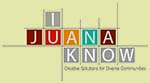 After many years as the Vice President of NMMA in Chicago, Ms. Guzman developed and implemented strategies to increase alternative revenue sources, helping non-profits develop entrepreneurship and tourism. Her company, I Juana Know, focuses on bringing creative solutions for diverse communities, including bringing enhanced revenue to creative markets. For more information go to www.ijuanaknow.com.
Juana Guzman will be honored at the 2016 Women's Caucus for the Arts Lifetime Achievement Awards. She is an asset to the arts and activist communities by promoting art, awareness and entrepreneurship for artists and communities across the states.
Congratulate Juana Guzman in person at the Lifetime Achievement Awards in Washington, DC on February 4, 2016.
ECO-ARTIST JUDITH SELBY LANG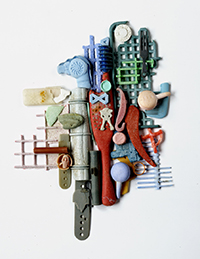 Our November 10 chapter meeting featured eco-artist Judith Selby Lang, who is also the Communications and Financial Director for Electric Works, a fine-art printing business in San Francisco. Lang's artist statement reads, "[As] an artist I am committed to the creation of positive symbols and life-affirming images to help energize the conversation about social, political and environmental issues. Her presentation started with romance: she and Richard Lang realized on their very first date at Point Reyes' Kehoe Beach that they shared a passion for collecting plastic objects that washed ashore. Following this auspicious beginning and subsequent marriage, they have amassed a huge collection of found plastic which they sort by color and size, and store in a large barn on their property. One Beach Plastic is an ongoing collaborative art project that has been exhibited around the world in the forms of high-resolution digital images and installation. For more information about One Beach Plastic, visit http://beachplastic.com/.


2015 LAND ART DAY IN PESCADERO


by Elizabeth Addison

Although the day began with rain and cold, NCWCA Land Art Day turned out to be an invigorating and fabulous day with sun and dramatic clouds. We began the day drying off and warming up with hot coffee, breakfast and a fire in the fireplace. Discussions included the terrorist attacks in Paris, creating vs. destroying, art as a tool, as well as cultures of intolerance vs. acceptance. We thus began Land Art Day with an intention – working together to end "Othering."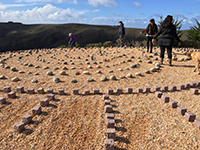 We worked for hours as a group, in solidarity, to complete, embellish, and expand a labyrinth that Irma Velasquez was working on. The labyrinth is a classic archaic form and is made with smooth river rocks. Blocks of rose colored granite encircle in a heart shape with emanating rays. One enters the heart to enter the labyrinth. We intend for future walkers to place painted and inscribed river rocks along the path. We worked for several hours, then broke for lunch and wonderful meandering conversations about tolerance, the mysterious origins of labyrinths, evolution, art, creativity, language and pre-language and story-telling. We realized we are a group of visual story tellers plus one musician. I suggested a field trip to walk the labyrinth and place inscribed stones. One of Irma's friends may make a drone video of the labyrinth soon. Can't wait to see it from above.

2015 PORTFOLIO REVIEW


by Elizabeth Addison


In October, I helped facilitate, and participated in, an unprecedented offering to NCWCA: Portfolio Review -- one of Stephen Wagner's most popular workshops. Stephen is the owner of the San Francisco Artist Network (SFAN) and twelve lucky NCWCA members participated in his two-part program.

Portfolio Review consisted of two main events: the Portfolio Preparation Workshop and the actual Portfolio Review. In the preparation workshop, Wagner worked with artists to gain insight into creating, designing, and updating their websites and coached them on writing strong artist statements. He also provided specific instructions on how to prepare for the review and what the reviewers, professional gallerists, look for in an artist's website.

In the two weeks leading up to the actual Portfolio Review, participating artists created/updated their websites, wrote or refined artist statements, and prepared two artworks to bring to the review. We were also in email contact with Wagner, keeping him up to date with our progress and he communicated his feedback.

Three well-known professional women gallerists/curators participated in the review: Marina Bianchi Cain (San Francisco Art Dealer), Lonnie Lee (Vessel Gallery, Oakland), and Donna Seager (Seager Grey Gallery, San Rafael). Each participant spent 15 minutes with each gallerist for a one-on-one in-depth critique of their artwork and website.

Portfolio Review was a welcome offering, not only because it was subsidized for NCWCA members, but because it is an extremely sought-after program. For me personally, Portfolio Review provided a roadmap and impetus to update my website and statement and gave me an opportunity to have my portfolio reviewed by three professionals. Having gone through these sessions, I have more clarity about my current artistic direction.





BARBARA HORIUCHI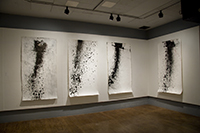 On October 24, NCWCA member Barbara Horiuchi participated in a panel discussion about genealogy, hosted by the Nikkei Geneological Society and held at the Japanese American National Museum in Los Angeles. Horiuchi spoke about historical injustices and wounds related to the Japanese-American experience (immigration, incarceration, re-socialization, assimilation) and her artwork. She explained the importance of family documents such as koseki (family history documents), grandparents' letters and papers, and familial stories in her artwork. In her earlier work, Horiuchi worked with soot on aluminum panels. She burned copies of family documents with incense as offerings because she wanted the information to be secretly imbedded in her work. With her work on paper, it was important that the handmade paper came from Japan, like her ancestors. She struck the paper with a large sumi ink brush to leave a mark, like a scar from a traumatic event. With her installation, With Liberty and Justice for Some, she did extensive research on the US War Relocation Authority data on Japanese American prisoners. Her grandparents, parents and many other relatives were incarcerated in several camps during World War II. The other panelists included UC Santa Barbara Professor of History Luke Roberts and Nikkei Genealogical Society co-founder Melinda Yamane Crawford.



PASSAGES: BARBARA HENDRICKSON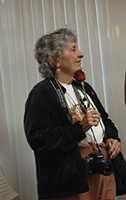 March 26, 1932 – October 17, 2015
NCWCA member Barbara DiNucci Hendrickson passed away on October 17, 2015. She served on the chapter board for many years and held a key role in designing our first website. She mined her Italian family genealogy in her paintings and photo montages, incorporating current and historical family images and stories. Barbara earned an MA in English from California State University at Hayward and created one of the first Women's Studies classes at the university. Shortly after receiving her MA, she began teaching English at Ohlone College, where she was a founding faculty member. Later, she attended San Jose State University and earned her second MA in Art. She became an accomplished artist and her works appeared in art shows throughout the Bay Area. She was a lifelong feminist and is survived by her second husband, Christopher Hendrickson; children Rachel Shelton and Gilbert Hofacker Jr.; step-daughters Elizabeth and Donna Hendrickson, Jennifer Ricci, and Jenny Welham; and seven grandchildren.
WELCOME MEMBERS!

Welcome new member Pamela Blotner! Thanks for your early membership renewal Sandra Yagi, Kelly Hammargren, MGP Andersen, Irma Velasquez! Hope to see you at the year-end party!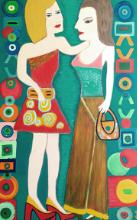 Yvania Ambrozino



RENEW YOUR 2016 MEMBERSHIP NOW

It's easy! Go to

http://www.ncwca.org/membership-2016.html

. Your membership includes monthly chapter meetings, special events such as exhibitions, workshops and gallery tours, opportunities to publicize your upcoming shows and workshops and exhibiting your work year-round on the NCWCA

Online Gallery

.

NATIONAL WCA DC CONFERENCE





The 2016 theme is IMPACT! and takes place in Washington DC. The conference coincides with the College Art Association annual conference and includes the Lifetime Achievement Awards, receptions for Trending, Women Do It Postcard Show and Impact. To register, go to

http://www.nationalwca.org/applicants/raffle.php



LAST CALL FOR WOMEN DO IT! POSTCARDS



The window is open for the final call for the Women Do It! traveling postcard exhibition. The deadline for submission is January 4, 2016. All cards previously received plus new cards submitted by the January deadline will be included in 2016 exhibitions at the Torpedo Factory in Alexandria, VA; Florissant Valley Art Museum in St. Louis, MO; and finally Arc Gallery in San Francisco. To submit your postcard go to http://wcainternationalcaucus.weebly.com/women-do-it-postcard-exhibition-2014-and-beyond.html.




CONGRATULATIONS TRENDING ARTISTS!



Juried by fine art dealer Elizabeth K. Garvey, the 2016 National WCA Juried Exhibition TRENDING displays works that are driving the direction of contemporary art. Congratulations NCWCA artists Uma Rani Iyli and Sondra Schwetman for being selected for the TRENDING catalog!



WOMEN ARTISTS TO KNOW

To join this Facebook group, go to the

Women Artists to Know

page and click Join. A moderator will add you to the group. Share your favorite artists! November features collage artists.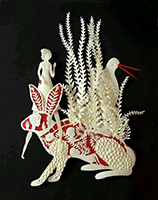 Collage artist Janine Miller
Jan - painting
Feb - textile
Mar - cultural
Apr - eco/land art
May - drawing
Jun - performance/dance/music
Jul - photography
Aug - installation
Sept -political focus/community engagement
Dec - sculpture, assemblage
Jan - ceramics
Feb – literary

NCWCA CALENDAR
December 29, 6-10 PM
Year-end party at Judy Johnson-Williams' studio, 345 Lewis St, Oakland.
January 4
Deadline for Women Do It! postcard entry
January 12
Chapter meeting, location TBD
January 17
Board Retreat in Pescadero
February 3 - 6
IMPACT! Natonal WCA Conference in Washington DC
TIPS FOR FORWARDING NEWS & NOTES TO YOUR CLIENT LIST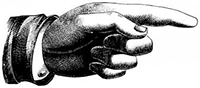 Before forwarding your copy of News & Notes to your client list, delete the "Unsubscribe" sentence at the bottom of the newsletter. Otherwise, if one of your clients decides to unsubscribe to your email, they will inadvertently unsubscribe you from future editions of our News & Notes.
Alternatively, you can go to the
Publications
page of our website and include the URL of any of our newsletters in your own e-news.
MEMBER SHOWS & EVENTS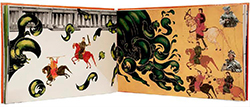 Barbara Milman
in
Commedia,
International Print Center New York, 508 West 26th Street, 5th Floor, New York, NY, Nov 19, 2015 - Jan 16, 2016. (Image above)
Mary Shisler
in HERE, Part I, BAC Artists Annual Exhibition, Berkeley Art Center, 1275 Walnut St, Berkeley, Dec 5, 2015 - Jan 17, 2016. Also in Berkeley Artisans Holiday Open Studios, Sawtooth Building, Studio 31, 930 Dwight Wy, Bekeley, Nov 28-29, Dec 5-6, 12-13, 19-20, (21-24), 11-6 pm.
Laura McHugh
in Group Open Studios, 285 Poplar St, Half Moon Bay, Nov 21 & 22, 10 AM – 5 PM.
Bonnie J Smith
in Coastal Art League & Museum 31st Juried Show, Coastal Art League, 300 Main Street, Suite 6, HMB, Dec 4, 2015 - Jan 19, 2015
Sandra Yagi
in BeinArt International Surreal Art Collective Exhibit, Copro Gallery, Bergamot Arts Complex 2525 Michigan Ave T5, Santa Monica, Feb 20-Mar 12, 2016
Trudi Chamoff Hauptman
in Russian River Watershed In Fabric, San Jose Textile and Quilt Museum, 520 S 1st Street, San Jose, Nov 6, 2015 - Jan 3 2016 (image below)
Orlonda Uffre
in Black Artists in Art, Petaluma Art Center, 230 Lakeville St, Petaluma,
Oct 10 - Nov 22

Leslie Morgan
in Wild Women and Weapons, Arc Project Gallery, 1246 Folsom St, San Francisco, Nov 9 – Dec 5
Salma Arastu
in solo show, "Painting Prayers," Museum of Contemporary Religious Art, St. Louis University, 3700 West Pine Mall Blvd, Saint Louis MO, Sept 13 – Dec 6. Also in solo show, "Song of the Soul," Multicultural Center, University of California, Santa Barbara, Sept 30 – Dec 11.
Bonnie J Smith
in "Silver," St. George Art Museum, 47 E 200 N St. George, UT, Sept 12 – Dec 31.
Members, get your shows and workshops listed in News & Notes, NCWCA Calendar and on the NCWCA website! Send jpg image of your work in the show and information about the show to ncwcachapter@gmail.com.