DREAM COMES TRUE
By Judy Shintani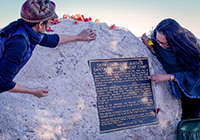 One of my dreams has been to be an artist in residence. This year my application was accepted at the Santa Fe Art Institute (SFAI).
There are many kinds of residencies with different parameters for studios, living spaces, residency locations, expectations of the artists, and funding. I applied to this particular residency for these reasons:
1)
Location.
New Mexico is one of my favorite places on earth, so every now and then I would do a search on residencies in the area. This one popped up.
2)
Reputation.
SFAI has been around for 30 years. I spoke with respected artists who had a great experience being in residency there.
3)
Theme.
A unique aspect about the SFAI residency is that each year's residency has a theme that artists work on during their stay. A past theme was on food, the one I applied for was on the theme of immigration/emigration, and the upcoming residency is on water. The theme of immigration was something that excited me and was a subject I wanted to work with.
4)
Social Change Focus.
SFAI touts itself as a hub for creative engagement and social change in their renowned residency program, educational, public programs, and an entrepreneurship incubator called SFAI Works. I liked the fact that SFAI involved the community with artists and others interested in making a difference.
My residency proposal focused on exploring the New Mexico Internment Camps for people of Japanese ancestry and their forced immigration to this area. The internment camp history is very personal to me since my father's family was interned during WWII. I wrote about my work that I had created over the years on this very topic. I also submitted two letters of recommendation from a curator and author of Art of Gaman – art created by internees in the camps, and a college counselor who works with immigrant students.
Upon being accepted as an artist in residence, I immediately started researching and contacting New Mexican artists, historians, authors, and Japanese Americans groups in the area. I used Facebook and Twitter to announce and inform about my upcoming residency and made some valuable connections through social media. One of my most important contacts was a woman who was on the committee for the Santa Fe Internment Camp marker, and is a friend of a Facebook friend whom I've never met face to face!
I wanted my car there, so I drove out to Santa Fe from Half Moon Bay, CA. It was a two-day trip. Most of the residents drove except for the international artists. There were two cars available to borrow during our stay if you didn't drive one there.
The residency lodging was very nice with each artist having their own room with bathroom, shower, bed, desk and two entrances, one inside the institute and one to the outside. There was a communal kitchen that was not really adequate for 10 residents and it was frustrating sharing the small space with people with different styles of cooking and cleaning. Fortunately for future residents, the kitchen is being expanded and remodeled.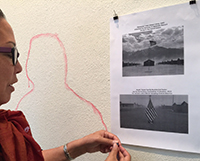 Using social media continually during my residency kept me connected with friends and family back home. I added to my social media list every new person I met in New Mexico and they became part of my support team. My postings to Facebook and Twitter and my own blog made it easy for SFAI to repost my entries. Because of the visibility I created, my exhibition and community art project was added to local calendars in the Santa Fe Tiempo, VIP calendar and the Albuquerque Journal.
The first month of my residency was spent researching and interviewing people who were connected to and had information about the New Mexico internment camps. I interviewed Jerry West, a local and talented artist who did a painting of the internment camp he visited as a young boy and where his father was employed as a guard. I also interviewed author and historian Nancy Bartlit who wrote the book, "Silent Voices of WWII, When the Sons of the Land of Enchantment met the Sons of the Rising Sun". Furthermore, Victor Yamada of the New Mexico Japanese Citizen League was instrumental in providing historical credence throughout my residency.
I spent the second month planning and producing a storytelling and ritual community affair. SFAI gave me full use of the gallery, along with sound equipment and video projection to put on a first rate event. It was well attended and people interacted in drawing, walking meditation, altar creation, and telling stories. I also led a tour and a ritual at the Santa Fe Internment Camp marker.
SFAI provided residents with an opportunity to speak at their SFAI140 event. It challenged me to step up to the plate. I have spoken about my work before, but having to distill my thoughts down to 140 seconds and convey them succinctly with timed images, took my presentation to a whole new level. It was fun and gave me a sense of accomplishment. I appreciated the opportunity to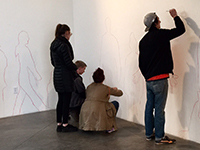 be on the stage with some real pros and to meet the other presenters. It was a pleasure to discover that Shawn Evans was acutely interested in the Santa Fe Interment Camp. He took my 1951 map of the Casa Solana neighborhood that had the internment camp placement on it and layered it over a current map. We walked through the area where the camp once was, looking at trees that may have been planted there. It was a bittersweet experience wandering around with him and discussing his feelings about living in the area with this history. If I were to come back, he thought he could help me with giving talks in the Casa Solana schools and community. Many Native people spoke with me about their experiences with the camps, including a young woman who was inspired to go see the marker and go to the other New Mexico camps, and a man who said his Native uncle was picked up and put into the Santa Fe Camp because he was mistaken for being Japanese.

Having the time and focus to think about my work and how I engage with the public was invaluable. I contemplated the future of my art career – of taking art community facilitation out into the world. I appreciated the challenges of doing a public engagement project outside of my stomping grounds. That enlightened me to issues of history, stakeholders, politics, connections, expectations, and realities. I felt I reached my goals of learning about and educating others about the New Mexico internment camps by creating a place for sharing stories and making art with empathy and healing. Because of my residency, I am invited to show my work at 516 Arts in Albuquerque in February and will be on a panel on how art is healing for war trauma at the Center for Contemporary Art in Santa Fe.

My recommendation to SFAI is to lower the cost of the residency (or eliminate the fee). I appreciate receiving some financial aid. The expense of attending the residency was worthwhile, giving me the time to do research, connect with others, and conduct my community project. I wish it could be affordable for talented artists of all incomes.

RENEW 2016 MEMBERSHIP NOW


NCWCA and WCA are on a calendar year membership system. Right now is a perfect time to renew your membership to ensure you enjoy a full twelve months of member benefits such as exhibition opportunities at member-discounted prices, NCWCA publicity of your upcoming exhibitions, workshops and publications, and year-round gatherings and activities ranging from Art Tag to museum visits to making Land Art. If you don't renew before January 1, 2016, your images on the chapter's online gallery will disappear and you will not be eligible to announce your upcoming events through our email, newsletter or website. These privileges are immediately restored once you renew.
Don't wait, click here! And invite your friends to join Bay Area's fastest growing women artists' network.




FEB 3-6 NATIONAL WCA CONFERENCE IN DC



Participating in the annual WCA Conference brings your membership to another level. You will meet women from other chapters and women who don't have a local chapter but are members of special interest caucuses such as International, Young Women, Eco-Art and Jewish Women Artists. It's an opportunity to compare notes about chapter activity, attend art exhibitions, and celebrate distinguished women in the arts at the WCA Lifetime Achievement Awards. The 2016 conference will be held in Washington, DC. To register, click here.

DEADLINE EXTENDED FOR $200 CONFERENCE GRANT



The deadline to represent NCWCA as a chapter rep in Washington DC has been extended to January 8! For details click here!



NCWCA BOARD RETREAT



On January 17 the NCWCA board will hold its annual retreat at Irma Velasquez's ranch in Pescadero. This all-day meeting enables the board to review the goals it set for 2015, discuss new projects and ideas, and set goals for 2016. Unlike chapter meetings, the retreat allows for uninterrupted time to discuss ideas and challenges, determine what work the board members want to volunteer for, and formulate strategic plans. It's also a time to bond and enjoy each other's company. Our 2016 goals will be announced in February.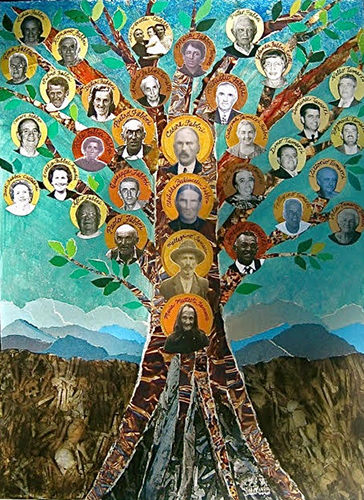 Myriam Fabbri (above)
WELCOME MEMBERS!
Welcome new members Lois Cantor, Carla Periat and Evangelina Miller! Thanks for your membership renewal Priscilla Birge, Hilla Hueber, Mary Shisler, Uma Rani Iyli, Anne Ingraham and Jane Neilson! We hope to see you soon at our monthly meeting or one of our special events.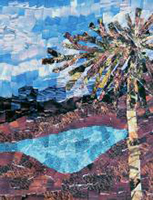 Gretchen Blais
2016 MEETING LOCATIONS & DATES
Chapter meetings are on the second Tuesday of each month. Look for details on our
webpage
. Let's carpool! Please email ncwcachapter@gmail.com if you need a ride or can offer a ride.
Jan. 12: Oakland
Feb. 9: San Francisco
More dates & locations soon!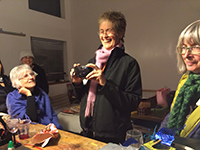 New member Mary White enjoying her White Elephant gift at our year-end party
WOMEN ARTISTS TO KNOW
To join this Facebook group, go to the
Women Artists to Know
page and click Join. A moderator will add you to the group. Share your favorite artists! December features sculpture and assemblage.
Jan - painting
Feb - textile
Mar - cultural
Apr - eco/land art
May - drawing
Jun - performance/dance/music
Jul - photography
Aug - installation
Sept -political focus/community engagement
Oct - printmaking
Nov - collage
Dec - sculpture, assemblage
Jan - ceramics
Feb – literary

NCWCA CALENDAR
December 29
Year End Party at Judy Johnson-Williams' studio, 347 Lewis St, Oakland from 6 pm
January 9,
10 am Art Tag Saturday Group discussion on works created for topic of "Clothes" and start of new round. Judy Johnson-Williams' studio, 347 Lewis St, Oakland.
January 10,
10 am Art Tag Sunday Group discussion on works created for topic of "Heart" and start of new round. Mary Shisler's studio, Sawtooth Studios, 930 Dwight Wy, Berkeley.
January 12
Chapter meeting at Judy Johnson-Williams' studio, 347 Lewis St, Oakland from 6-9:30 pm.
January 17
Board Retreat at Irma Velasquez's ranch
TIPS FOR FORWARDING NEWS & NOTES TO YOUR CLIENT LIST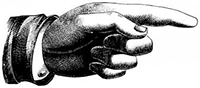 Before forwarding your copy of News & Notes to your client list, delete the "Unsubscribe" sentence at the bottom of the newsletter. Otherwise, if one of your clients decides to unsubscribe to your email, they will inadvertently unsubscribe you from future editions of our News & Notes.
Alternatively, you can go to the
Publications
page of our website and include the URL of any of our newsletters in your own e-news.
MEMBER SHOWS & EVENTS
Myriam Fabbri in Family Portraits, Richmond Art Center, 2540 Barrett Ave, Richmond, Jan 12 – Mar 3
Michelle Waters in Hark! annual holiday exhibit at Kaleid Gallery, 88 South Fourth Street, San Jose, Dec 4 – Jan 15. Also Wunderkammer, Art Thou Gallery, 1533 Solano Avenue, Berkeley, Dec 1 - Jan 17. See image below.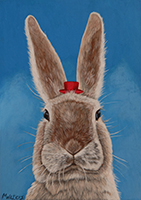 Bonnie J Smith in Identity, Redwood Shores Library Gallery, 399 Marine Pkwy, Redwood City, Jan 5 - Mar 2.
Laurie Edison in Ecce Home: Behold the Contemporary Human Image, National Museum of Art
Osaka, Japan, Jan 16 - Mar 21
Sandra Yagi in Wanderlust, Modern Eden Gallery, 801 Greenwich St, San Francisco, Dec 12 - Jan 2. Also in BeinArt International Surreal Art Collective Exhibit, Copro Gallery, Bergamot Arts Complex, 2525 Michigan Ave T5, Santa Monica, Feb 20 - Mar 12.
Barbara Milman in Commedia, International Print Center New York, 508 West 26th Street, 5th Floor, New York, NY, Nov 19, 2015 - Jan 16, 2016. (Image above)
Mary Shisler in HERE, Part I, BAC Artists Annual Exhibition, Berkeley Art Center, 1275 Walnut St, Berkeley, Dec 5, 2015 - Jan 17, 2016. Also in Berkeley Artisans Holiday Open Studios, Sawtooth Building, Studio 31, 930 Dwight Wy, Bekeley, Nov 28-29, Dec 5-6, 12-13, 19-20, (21-24), 11-6 pm.
Laura McHugh in Group Open Studios, 285 Poplar St, Half Moon Bay, Nov 21 & 22, 10 AM – 5 PM.
Bonnie J Smith in Coastal Art League & Museum 31st Juried Show, Coastal Art League, 300 Main Street, Suite 6, HMB, Dec 4, 2015 - Jan 19, 2015
Sandra Yagi in BeinArt International Surreal Art Collective Exhibit, Copro Gallery, Bergamot Arts Complex 2525 Michigan Ave T5, Santa Monica, Feb 20-Mar 12, 2016
Trudi Chamoff Hauptman in Russian River Watershed In Fabric, San Jose Textile and Quilt Museum, 520 S 1st Street, San Jose, Nov 6, 2015 - Jan 3 2016
Bonnie J Smith in "Silver," St. George Art Museum, 47 E 200 N St. George, UT, Sept 12 – Dec 31.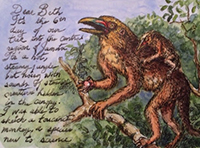 Sandra Yagi (above)
Members, get your shows and workshops listed in News & Notes, NCWCA Calendar and on the NCWCA website! Send jpg image of your work in the show and information about the show to ncwcachapter@gmail.com.