WONDERFUL DJERASSI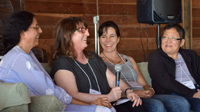 For the fifty women who attended the sold-out WCA Art Day @ Djerassi, it was an amazing non-stop day of nature walks, networking, composing music, enjoying vegetarian meals prepared by Djerassi, making land art, creating monotypes, finding one's artistic voice, and partaking in dialog about professional artists. (Photo on the top right are speakers Salma Arastu, Bonnie J Smith, Danielle Eubank and Sandra Yagi. Photo courtesy of Reiko Fujii)
But the day was more than pleasurable activities and discovering the beauty of the Djerassi Artist's Residency. It was about California chapters coming together (Northern California, Peninsula, Silicon Valley and Southern California) and about women helping out in every aspect of the day so that everyone - attendees and organizers - could enjoy the fullness of Djerassi. Although our magical event has ended, the Djerassi project isn't over yet. We can look forward to Sandra Yagi's documentary video of the day.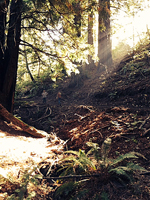 Thank you for a wonderful day of exploration in a magical setting- What a hidden gem! Thanks so much to all the Northern California WCA volunteers who made this happen- I am so glad to have made the trip and to meet many wonderful artists.
--Seda Saar, Southern California WCA
CONGRATULATIONS YOUNG CURATORS!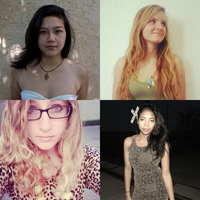 NCWCA is pleased to award the 2014 Curatorial Grant for Young Women's Art Collective to Kathleen Yarnold (top right) and her collaborators Tamiko Sidore (top left) Amanda Burke (bottom left) and Chrystia Cabral (bottom right). Their collective, Berkeley Young Women's Art Collective, will mount an exhibition in the Arc Project Gallery from November 14 through December 6, 2014. These women will be awarded a $300 grant, an opening reception, professional development support, and one-year complimentary memberships in NCWCA and WCA. The curatorial grant was made possible by the Ahlborn Charitable Trust.
ART TAG CYCLES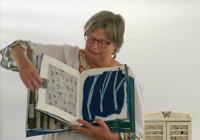 Two ArtTag cycles, Threshold (Saturday group) and Fauve/Intimiste (Sunday group) concluded last weekend. At right, Mary Shisler (Fauve/Intimiste) is describing the artist's book she created in response to artwork received from Priscilla Otani.
Meanwhile, the Peninsula group concluded their first round of ArtTag on the subject of Beauty & Decay. At left, Laura McHugh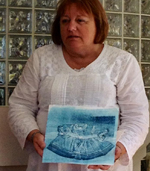 discussing her piece inspired by Beauty & Decay. A new round launched among the Peninsula group in the summer on the subject of Junk.
For the new rounds, the Saturday group chose Naked and the Sunday group settled on Intersect/Divide. Anyone wishing to join either of these groups, email Kelly Hammargren (kellyhammargren@comcast.net) immediately. All players must be NCWCA members. If you are not yet a member, you may still join a group, as long as you enroll in NCWCA in October.
MEMBERS' SHOWS
Karen Gutfreund
in
Anne & Mark's Art Party,
Santa Clara Fairgrounds, Santa Clara, Sept 20-25 (see left).
Marian Yap
in
Water
at Coastal Arts League Gallery & Museum, Zaballa Square, 300 Main St, Half Moon Bay, Sept 12 - Oct 12.
Miwako Nishizawa
in
FourSquared
, Arc Gallery, 1246 Folsom St, San Francisco, Aug 23 - Sept 20.
Claudia Chapline
in
Motion Drawings
, Marin Fencing Academy, 827 4th St, San Rafael, Oct 10 - Nov 7.
Judy Shintani
in UCSF National Center of Excellence in Women's Health
Serenity Exhibition
, 2356 Sutter St, Oct 16, 2014 - Jan 13, 2015.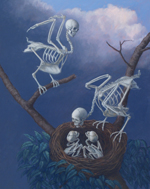 Sandra Yagi
in
Endangered Visions International Exhibition, MANILART 2014
, SMX Convention Center, SM Aura Premier, Taguig, Metro Manila, Philippines,Oct 15-19 (see right).
Judy Shintani
artist talk at Harbor Books & Gallery, 270 Capistrano Rd, El Granada, Sept 20, 6-7 pm. Also
Art in Nature
, Redwood Regional Park, Oakland Hills - Judy Shintani and Bonnie Kwong collaboration of poetry, art installation, and art making workshop! Sunday, 11-5pm, 9/21.
Judy Johnson-Williams
in Art and Liberation,Rhodes Gallery, Contra Costa College, 2600 Mission Bell Dr, San Pablo, Sept 1 - Oct 2.
Michelle Waters
in
Pets, Beasts and Dinner: Relations Between Human and Animal Creatures
, at Gallery Bergen, 400 Paramus Road, Paramus, NJ (see left image), Sept 16 - Oct 31. Also
Frog Art Show
, at Cactus Gallery, 3001 North Coolidge Avenue, Los Angeles, Sept 13 - Oct 5.
Mido Lee
in
Fall National Juried Exhibition
, at Marin Museum of Contemporary Art, 500 Palm Dr, Novato, Aug 30 - Oct 5. A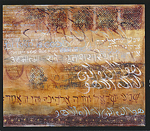 Maxine Olson's
works at The Kingsburg Historical Park honoring individuals for contributions to the town and its history, 2321 Sierra St, Kingsburg, CA.
Salma Arastu
solo show in
Celebration of Calligraphy,
Triton Museum of Art, 1505 Warburton Ave, Santa Clara, from Aug 16 - Nov 16 (see left).
Hilla Hueber
in
Urbanscapes and Landscapes
, solo show at Cafe Venue, 67 Fifth St, San Francisco, Jul 11 - Sept 30.
Judy Shintani and Kelly Hammargren
in
Who Did She Think She Was?
at Tashiro Kaplan Arts Complex, 306 S Washington St, Seattle, Aug 2-26.
Healing Adornment,
solo show at Harbor Gallery and Books, Harbor Village, Ste 8, 270 Capistrano Rd, Princeton by the Sea, Jul 25 - Sept 20.
Dr Lisa Chu
in
50/50: 50 Small Artworks in 50 Days
at the Sanchez Art Center, 1220-B, Linda Mar Blvd, Pacifica from Aug 22 - Sept 28.
Miwako Nishizawa
in
Berkeley Civic Center Art Exhibitio
n at the Martin Luther King Jr Civic Center, 2180 MIlvia Street, Berkeley, June 16, 2014 through end of May, 2015.
Judy Shintani, Salma Arastu, Pallavi Sharma and Kathy Fujii-Oka
in
Our American Stories,
Asian American Artists Illuminate History, Culture and Identity
at Madeleine Haas Russell Gallery, Rosenberg Library, City College of SF, 50 Phelan Dr, April 23 through September.
2014 Members, get your shows and workshops listed in
News & Notes
,
NCWCA Calendar
and on the
NCWCA website
! Send jpg image of your work in the show and information about the show to
ncwcachapter@gmail.com
.