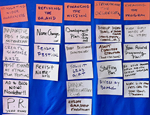 Chapter members Riko Takata, Kelly Hammargren, Sondra Schwetman and
Priscilla Otani were part of twenty-five WCA members from all over
the country who attended the Strategic Visioning Session in Portland,
Oregon from July 10-11. Led by facilitator Paula Manley, we divided into smaller groups and worked through an intensive two-day workshop to develop five-year strategies for WCA. We started by identifying important historical milestones. Figuring high on the list were the recognition and documentation of women in the arts through the LIfetime Achievement Awards, the growth of exhibition opportunities through the National Exhibitions Initiative, and the expansion into global opportunities through the International Caucus. We went on to assess the current state of WCA - the opportunities and
challenges that lay ahead, and from that, to envision our future.
The second day focused on identifying actionable milestones and
forming committees. The committees are Governance (re-examining board composition and committees), Membership (expand to new groups, such as outreach to universities), National Programming (forming an annual theme that threads through activities, exhibitions and events of WCA and chapters during the year and all the
way into the annual conference), Legacy, and Branding. Details will
be fleshed out in the coming months. WCA welcomes your participation
in the committees once their scope and goals are determined. Keep
tuned!
CONGRATULATIONS MARC ELLEN HAMEL
Marc Ellen Hamel's painting,
Great Divide
, has been selected for the label of Paro Winery's 2013 Russian River Pinot Noir, which will be released in Fall, 2014. Marc Ellen joins a stable of fifteen other artists whose works adorn Paro wine bottles.
See
http://www.parowine.com/artists
MEMBERS' SHOWS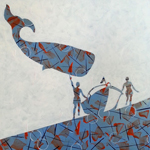 Leslie Morgan
(see work on left)
in Open Studios at Bonny Doon Studios, Santa Cruz Mountains, see
map,
from July 26-27, 11 am-5 pm.
Mido Lee
in
The Perimeter of the World
, at Rayko Photo Center, 428 Third St, San Francisco, Aug 6 - Sept 6.
Bonnie J Smith
in
Fine Art Quilt Masters Exhibition
, Birmingham, England, from Aug 7-10. Also in
Forming Our Lives,
curated exhibition at the San Jose Museum of Art Quilts & Textiles from July 26 - Sept 14. Also at Di Moda Salon, San Jose, through August.
Salma Arastu
solo show in
Celebration of Calligraphy,
Triton Museum of Art, 1505 Warburton Ave, Santa Clara, from Aug 16 - Nov 16.
Hilla Hueber
in
Full Circle,
Sanchez Art Center, 1220 Linda Mar Blvd, Pacifica, from July 11 - Aug 10. Also
Urbanscapes and Landscapes
, solo show at Cafe Venue, 67 Fifth St, San Francisco, Jul 11 - Sept 30. Also
Recent Drawings and Paintings
, a studio warming solo exhibition with the Bay Area Swiss Artists Show at Misho Gallery, 680 Eighth St, Suite 230, San Francisco, Aug 1 -16.
Marc Ellen Hamel,
in
Runes Revealed
, Sanchez Art Center, Pacifica, Jul 11 - Aug 10.
Plumas County Open Studio, in Main Street Artists Gallery, 436 Main St, Quincy, Aug 23 10am - 5 pm.
Jennifer Ewing in
Spirit Boat Ascending (
see artwork below
),
Hardin Studios, 2140 Bush St, Suite 1B, SF, Jul 5-31. Also Spirit Boat Making demo, Forest Books, Buchanan Plaza between Post & Sutter, July 27 from noon - 1:30 pm.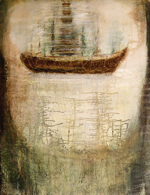 Judy Shintani and Kelly Hammargren
in
Who Did She Think She Was?
at Tashiro Kaplan Arts Complex, 306 S Washington St, Seattle, Aug 2-26.
Healing Adornment,
solo show at Harbor Gallery and Books, Harbor Village, Ste 8, 270 Capistrano Rd, Princeton by the Sea, Jul 25 - Sept 20. Also
Mandala: Contemporary Interpretation of Ancient Form,
artXchange Gallery, 512, 1st Ave So, Seattle, Jul 3 - Aug 9.
Laurie Edison
in
LGBT Art: Our Common Wealth
at the Gallery of the Commonwealth Club, 595 Market St, 2nd Fl, San Francicso, Jul 21- Sept 18.
Dr Lisa Chu
in
50/50: 50 Small Artworks in 50 Days
at the Sanchez Art Center, 1220-B, Linda Mar Blvd, Pacifica from Aug 22 - Sept 28. Also facilitated workshop "The Energy Gardner's Club: Experiments to Cultivate Seeds of Magic in Your LIfe," Tuesdays 2-5 pm at Maverick's Beach, Half Moon Bay. To sign up, click
here
.
Miwako Nishizawa
in
Berkeley Civic Center Art Exhibitio
n at the Martin Luther King Jr Civic Center, 2180 MIlvia Street, Berkeley, June 16, 2014 through end of May, 2015 (see left image).
Judy Shintani, Salma Arastu, Pallavi Sharma and Kathy Fujii-Oka
in
Our American Stories,
Asian American Artists Illuminate History, Culture and Identity
at Madeleine Haas Russell Gallery, Rosenberg Library, City College of SF, 50 Phelan Dr, April 23 through September.
2014 Members, get your shows and workshops listed in
News & Notes
,
NCWCA Calendar
and on the
NCWCA website
! Send jpg image of your work in the show and information about the show to
ncwcachapter@gmail.com
.