Disconnect Exhibition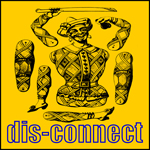 Congratulations Disconnect Artists
Elizabeth Addison­, MGP Andersen, Salma Arastu, Gretchen Blais, Yvette Brown, Amanda Chaudhary, Belinda Chlouber, Lisa Chu, Marsha Connell, Sherri Cornett, Jennifer Ewing, Miriam Fabbri, Katrin Geng, Karen Gutfreund, Kelly Hammargren, Stephanie V. Hogen, Bernadette Howard, Elaine Jason, Judy Johnson-Williams, Joanna Katz, Jeannette Kiel, Mido Lee, Juliet Mevi, Barbara Milman, Jane Neilson, Miwako Nishizawa, Priscilla Otani, Jacqueline Rubinstein, Irene Schlesinger, Sondra Schwetman, Ariella Seidenberg, Pallavi Sharma, Judy Shintani, Mary Shisler, Ruth Petersen Shorer, Sally Stewart, Zoe Thiele-Seidenberg, Michelle Waters, and Vera Ximenes.
Gallery
Transmission Gallery 770 W Grand, Oakland, CA
Art and Paperwork Drop Off
Hand-deliver ready-to-display artwork, Transmission Gallery Artist Agreement, and your check for pre-ordered catalogs on
Friday, May 23, 2014 12 noon - 6:00 pm or Saturday, May 24, 2014 11:00 am - 5:00 pm
to the Transmission Gallery
Reception
June 6 from 6-9 PM
Amanda Chaudhary will perform her piece at the opening reception
Exhibition
June 6 - July 19, 2014
New Art Tag Rounds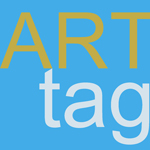 Saturday Group Topic
Thresholds
Sunday Group Topic
Fauve Intimiste
Schedule
Piece 1 - mail or deliver June 25
Piece 2 - mail or deliver August 4
Piece 3 & discussion September 13 for Saturday Group and September 14 for Sunday Group
Peninsula Group
Topic
Beauty and Decay
Schedule
Piece 1 - mail or deliver Mar 22
Piece 2 - mail or deliver May 3
Piece 3 & discussion - June 29
To find out what Art Tag is all about, click here.
Join the Benefits Activities Committee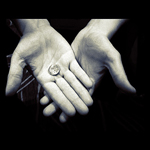 NCWCA is looking to team up with other Bay Area non-profits to support their events or projects. In 2013, NCWCA members worked with Wings Learning Center to help them raise funds for children with autism. We also participated in Art Break Day with Oakland residents and had a table at the Women's Building's annual Celebration of Craftswomen. Join the committee to evaluate what good works NCWCA should engage in this year. Contact Judy Shintani at judyshintani@yahoo.com if you wish to participate.
Join Djerassi-WCA Day Planning Committee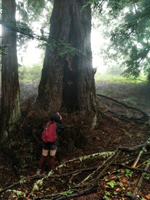 On September 9, NCWCA will hold a workshop at Djerassi Resident Artists Retreat (2325 Bear Gulch Road, Woodside CA). We invited other California chapters to join us and we hope to hear from them soon. Djerassi-WCA Day combines a tour of the land art installation on the Djerassi property, professional development works, and time for discussions and socializing.
We are seeking committee members to help with the planning and logistics of this event. Please contact Judy Shintani at judyshintani@yahoo.com to join this exciting and important committee. If you previously visited Djerassi, you know what an amazing place this is in the middle of rolling hills and redwoods.
Members' Shows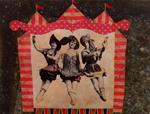 Leslie Morgan
in
Circus Freaks and Sideshows
, Arc Project Gallery, 1246 Folsom St, San Francisco, May 7 - June 21 (see left image).
Gretchen Blais
in
On Paper, Of Paper
, O'Hanlon Center for the Arts, 626 Throckmorton Avenue, Mill Valley, April 29 - May 22.
Michelle Waters
in
Art Biologic,
Limner Gallery, Hudson, NY, May 15 - June 14.
Claudia Chapline
sculptures in
Semi-Annual Sculture Festival
at Philip Glashoff Sculture Ranch, 2890 Grand Avenue, Los Olivos, CA, May 31- June1.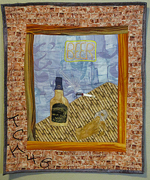 Trudi Chamoff Hauptman
in
Like a Tom Waits Song,
Arc Gallery, 1246 Folsom St, San Francisco, from May 3 - June 21. (Juror's Choice Award work to the right)
Barbara Milman
in
Observation Points,
Subterranean Arthouse, 179 Bancroft Way, Berkeley, June 4 - 25. Also in
California Centered
, Merced Multicultural Arts Center, 645 W Main St, Merced, CA, Apirl 19- June 22. Also in
San Diego Book Arts Fifth Annual Exhibition
, UC San Diego Geisel Library, May 4-June 22.
Laurie Toby Edison
in Body, Body, Bodies...at SOMArts Main Gallery, 934 Brannan St, San Francisco, June 7 - 28.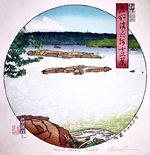 Miwako Nishizawa
in
Berkeley Civic Center Art Exhibitio
n at the Martin Luther King Jr Civic Center, 2180 MIlvia Street, Berkeley, June 16, 2014 through end of May, 2015 (see left image).
Jane Neilsen
in
People in Art
, El Cerrito Dept. of Motor Vehicles, 6400 Manila Street, El Cerrito, March 19-July 9
Sandra Yagi
in
On Beauty
group show at Modern Eden, May 10-Jun 7.
Judy Shintani, Salma Arastu, Pallavi Sharma and Kathy Fujii-Oka
in Our American Stories,
Asian American Artists Illuminate History, Culture and Identity
at Madeleine Haas Russell Gallery, Rosenberg Library, City College of SF, 50 Phelan Dr, April 23 through September.
Bernadette Howard
in solo exhibition at Fairweather & Associates, 140 Todd Road, Santa Rosa, March 29-July 25.
Priscilla Otani
In
85years 85artists
, Menlo College Administration Building, 1000 El Camino Real, Atherton, Mar 26 - Jul 11
Salma Arastu
in
85 Years 85 Artist
s, Menlo College Administration Building, 1000 El Camino Real, Atherton, Mar 26 - Jul 11
Member-Sponsored Workshops
The Energy Gardener's Club by Dr. LIsa Chu. Experiments to help cultivate the seeds of magic in your life. Tuesdays 2-4 pm in May, June and September in Half Moon Bay. $100 for 4 classes or $30 drop-in. To register, click
here.
2014 Members, get your shows and workshops listed in
News & Notes
,
NCWCA Calendar
and on the
NCWCA website
! Send jpg image of your work in the show and information about the show to
ncwcachapter@gmail.com
.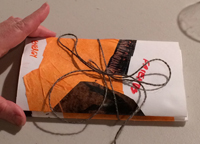 Greetings, New Members
Welcome recent new and renewed members Dr. Lisa Chu, cj grossman, Stephanie Hogen, Bernadette Howard, Ginger Slonaker, Pamela Spears, and Caskey Weston.

We hope to see you at an event soon!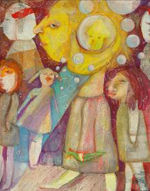 Ginger Slonaker (above work)

If you haven't already, log into your member site and upload your images and website information on our Online Gallery (click here). All current members are entitled to upload up to six images and may update them at any time during the year.

Seeking Young Curators!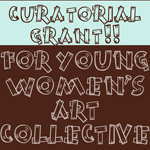 Help us find young curators! W

e are seeking proposals for an innovative exhibition mounted by a collective of San Francisco Bay Area women under the age of 35. This grant is offered to women who are not yet members of NCWCA. For details, click here.

Send Your Art to Support the Sewol Ferry Disaster Online Exhibition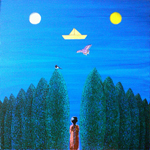 2014 President's Awardee Hye-Seong Tak Lee is curating an exhibition about the Sewol ferry accident in South Korea. She is seeking digital works to put on an online gallery. Email one jpg image to hyeseong717@gmail.com with an artwork image that conveys support for the victims and their surviving family. If possible, include the Sewol ferry or a yellow ribbon. Your image should be in jpg format and the file name shoud be name_title_dimensions_material_year. Also include a brief bio. By sending your image, you are giving Hye-Seong permission to reproduce the image and use it for publicity. Check out her website here.

Mark Your Calendars!
May 23, 12 noon-6 pm, drop off artwork for Disconnect at Transmission Gallery

May 24, 1 - 5 pm, drop off artwork for Disconnect at Transmission Gallery

June 6, 6-9 pm Disconnect reception at Transmission Gallery

June 10, 6 - 9:30 pm chapter meeting at Arc Gallery, 1246 Folsom St, San Francisco.

Blue Sky Thinking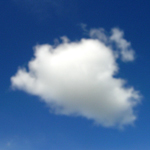 If NCWCA received a $10,000 grant, what should we do with the money?
Hire an Executive Director...Start a community service project aimed at 13-19 year-olds to address hunger and unjust incarceration...use the funds toward public art, such as Art in Community Gardens... support SWAN (Support Women Artists Now)...collaborate with another chapter's art activism such as the Philadelphia's chapter's Ragdoll Project to address human trafficking....OR?? These are some ideas from our members. Help us with pie-in-the-sky thinking at an upcoming meeting!

Half the Sky Project Successfully Concludes in Shenyang China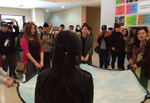 Sherri Cornett, Kay Kang, Mido Lee and Priscilla Otani were NCWCA's delegates to the Half the Sky cultural exchange program in China. Both the opening reception and the next day's social practice art session attracted a large crowd. The event was covered by the local press. All delegates had working duties that ranged from installation to documentation to leading the social practice art events. Mido Lee impressed everyone with her skilled Mandarin and tech troubleshooting wizardry. The event was heavily documented and we should see some video and professional photography in the coming months.