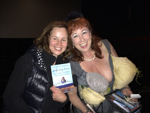 Dr. Tanya Augsburg and Priscilla Otani went to the screening of Goodbye Gauley Mountain at the Roxie Theater in San Francisco on June 19. The filmmakers, Beth Stephens and Annie Sprinkle were there in person and we got to participate in a Q&A with them after the screening. Goodbye Gauley Mountain is a documentary about mountain topping in West Virginia. The film was shot in the small town that Beth Stephens grew up in. Annie and Beth are eco-sexuals, dedicated to making love to the earth. (Above photo left to right: Dr. Tanya Augsburg and Annie Sprinkle.)
Join Us on a Committee
NCWCA has three committees that invite your participation. Joining a committee is a great way to help shape a program, get to know other members, and bring an exciting program into being. You also get professional development in project management, events management and publicity. Join the
Djerassi WCA Planning Committee t
o map out a one-day workshop on September 9 in the beautiful Djerassi Artist Residency in Woodside. The
SOMArts Grant Writing Committee
is looking for members to help write a proposal on the topic of "women + money" for the SOMArts Commons Curatorial Grant. The
Benefits Activities Committee
needs help to identify a worthy nonprofit to collaborate on a philanthropic project. Click
here
to find out more and sign up!
Members' Shows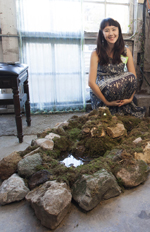 Mido Lee
in
SCRAP Art: Creative Reuse in the Bayview
, The Reclaimed Room, 701 Amandor St, San Francisco, Jun 12-Jul 26 (see left image).
Katrin Geng
in
SCRAP Art Creative Reuse in the Bayview
, Gallery at Public Glass, 1750 Armstrong Ave, San Francisco, Jun 12 - Jul 26.
Bonnie J Smith
in
New Designers Exhibition
, Business Design Centre, Islington, London, Jun 25-28. Also in
Freedom,
in Angers, France, through July.
Hiller Hueber
in
Germany Inside Out,
Goethe Institut ART Lounge, 530 Bush St, San Francisco, Jun 20 - Jul 25.
Elaine Jason
Open Studio
, 640 Goldfield Drive, Tahoe City, North Lake Tahoe, July 18- 20, 5-7 pm.
Marian Yap
in
Wet Paint,
Pacific Art League, 668 Ramona St, Palo Alto, Jun 6 - 26.
Michelle Waters,
in
Song of the Birds
, Cactus Gallery, 3001 North Coolidge Ave, Los Angeles, Jun 14 - Jul 8
Barbara Horiuchi
in
Community Matters: San Jose State University Alumni,
San Jose City Hall, 200 E Ssanta Clara St, San Jose, Jun 1 - Oct 1.
Laurie Toby Edison
in
Body, Body, Bodies.
..at SOMArts Main Gallery, 934 Brannan St, San Francisco, June 7 - 28.
Vera Ximenes
in Sacramento Temporary Contemporary Gallery, 1616 Del Paso Boulevard, Sacramento, Jun12-29 (image below).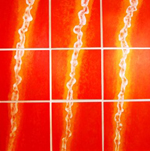 Judy Shintani,
Healing Adornments,
Harbor Gallery and Books, Harbor Village, Ste 8, 270 Capistrano Rd, Princeton by the Sea, Jul 25 - Aug 25. Also,
Muse: Art of Transformation and Healing,
Commonwealth INstitute, 431 Mesa Ed, Bolinas, Jun 28 - Sept 28. Also
Mandala: Contemporary Interpretation of Ancient Form,
artXchange Gallery, 512, 1st Ave So, Seattle, Jul 3 - Aug 9 (image far right)
Miwako Nishizawa
in
Berkeley Civic Center Art Exhibitio
n at the Martin Luther King Jr Civic Center, 2180 MIlvia Street, Berkeley, June 16, 2014 through end of May, 2015 (see left image).
Jane Neilsen
in
People in Art
, El Cerrito Dept. of Motor Vehicles, 6400 Manila Street, El Cerrito, March 19-July 9
Judy Shintani, Salma Arastu, Pallavi Sharma and Kathy Fujii-Oka
in Our American Stories,
Asian American Artists Illuminate History, Culture and Identity
at Madeleine Haas Russell Gallery, Rosenberg Library, City College of SF, 50 Phelan Dr, April 23 through September.
Bernadette Howard
in solo exhibition at Fairweather & Associates, 140 Todd Road, Santa Rosa, March 29-July 25.
Priscilla Otani
In
85years 85artists
, Menlo College Administration Building, 1000 El Camino Real, Atherton, Mar 26 - Jul 11
Salma Arastu
in
85 Years 85 Artist
s, Menlo College Administration Building, 1000 El Camino Real, Atherton, Mar 26 - Jul 11
2014 Members, get your shows and workshops listed in
News & Notes
,
NCWCA Calendar
and on the
NCWCA website
! Send jpg image of your work in the show and information about the show to
ncwcachapter@gmail.com
.