CALL FOR ENTRY
Exhibition Deadlines
Check out

http://www.ncwca.org/call-to-artists.html
for several exciting shows with January & February submission deadlines: Petroleum Paradox (WCA show in NYC gallery), 40 Watts NCWCA, SBAWCA & Peninsula WCA members show, Blue, Consequences, and Kinsey Juried Art Show.
O'Hanlon Center For the Arts, The Red Show, February 7-28.
AAWAA's Emerging Curators Program
posted by Cynthia Tom
Call for Proposals
APPLICATION DEADLINE: Wednesday, January 18, 2012
Eligibility:
Asian American woman or women (curatorial teams will be considered)
Project:
Venue:
Thoreau Center for Sustainability
in San Francisco
Exhibition dates: April 2012- May 2012
· For application email
info@aawaa.net
Asian American Women Artists Association.
www.aawaa.net
Support WCA and it's Mission
As the year comes to a close please take a moment to help WCA continue to strive to meet the needs of women in the arts by supporting the:

Lifetime Achievement Awards

Chapter Programs/Development

General Operating Costs

Endowment Fund

Conference Scholarships
ANNOUNCEMENTS
Univ. of Wisconsin - Madison, Dept. of Art seeks candidate for Assistant Professor in Ceramics
By 1/6/12.
Visit our website.
EXTERNAL COMMUNICATIONS CHAIR MESSAGE:

Dear NCWCA Member:

We wrapped up 2011 with a festive Year End Party with fun activities at Judy Johnson-Williams' studio in Oakland on December 27. We burned our bad jujus and lifted our intentions to Spirit over a warm lively fire that sparked one of our feature stories by Irma Velasquez. Elise took pictures and posted them on Picasa Web Albums. Contact her if you would like her to send you the link.

Judy Johnson-Williams' artwork will be shown in two sidewalk windows in Rockridge at Mel Ahlborn's Studio in Oakland.

Thanks to the diligent work of Gretchen and Trudi, our NCWCA Membership is still growing! New Members are invited to join us at our upcoming Board Meeting on January 10, at ARC Studios & Gallery in San Francisco, where we will elect our new Secretary and the NCWCA Chapter Rep to National WCA at the Momentum Conference.

Remember to renew your Membership in our on-line registration and have your artwork shown in our Online Art Gallery for 2012.

Be sure to check out the WCA website for information about the upcoming Conference, "Momentum", and reserve your room at the Kyoto Gardens Hotel in Los Angeles this year! Plus, submit one or two images for the video display at the conference by January 13.
Congratulations to all NCWCA Members who's work was selected by juror Rita Gonzalez for the Momentum Show in Los Angeles at the 40th Anniversary Conference and Gala.
Thank you,

Elise Cheval
Editor
Purifying Jujus by Irma Velasquez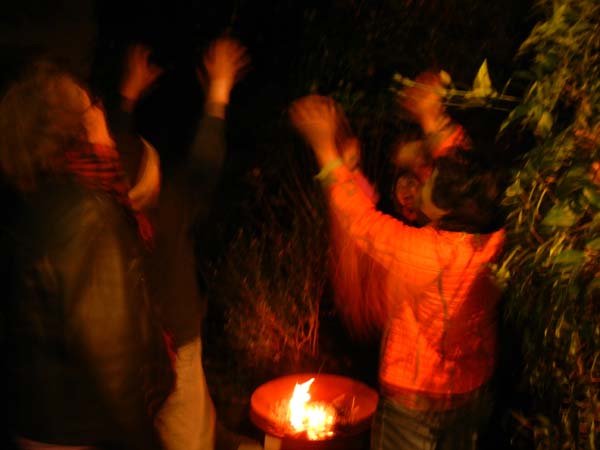 The New Fire Ceremony, also referred to as the Binding of the Years, was an Aztec ritual performed every 52 years to guard-off the end of the world. It was believed that the instability resulting from the coming of a new cycle brought on great danger and even the possibility of extinction. In the creative and transformative spirit of NCWCA, a group of members and friends gather on the last Tuesday of the year to perform our own version of the New Fire ceremony, adding to it: cleaning of the closet (or studio) exchange, carb sharing, expressing of visual intentions and culminating the evening by burning Juju in the fire pit of Judy Johnson-William's studio.

Instability is no stranger to artists. Just like the process of combustion produces heat and light, under the pressures of the unknown we produce our best work. Yet while we shun the unfamiliar, we welcome a new year with celebratory anticipation eager to burn memories that have brought reptilian emotions to the surface, emotions that although at times unbearable can also be transformative.
Let's start the new year by igniting our souls with energies that will transform our families, communities and world. Let's transform our jujus into expressions of joy, appreciation, celebration, beauty, integration, harmony, space, clarity, empathy, acceptance, presence, trust, nurturance, respect, inspiration, laughter, authenticity, freedom, play, integrity, contribution and love.
Windows in Rockridge
by Judy J-W

NCWCA member Mel Ahlborn has a fantastic, cozy studio at an important crossroads by the Rockridge BART station. The studio is as carefully edited and thought out as her own manuscript lettering and religious iconic oil paintings. Illumination Studio provides professional art services for the museum, academic and non-profit sectors
delivering assets in fine art, manuscript illumination and media. The Rockridge space features two 7'X5'X3' storefront windows that look out onto a busy sidewalk, where Mel has invited me to display two large carved cardboard pictures during the month of January.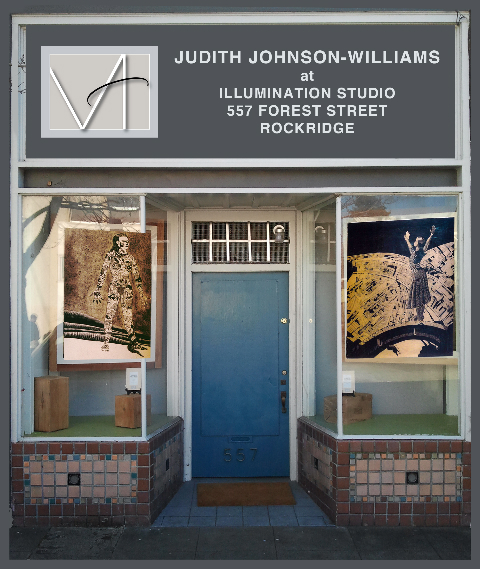 In the left window is 'Is She?" by Judith Johnson-WIlliams, 44"w x 61" h, ink on carved multiplex cardboard, framed, $2880. In the right window, "Queen of All She Sees", 50"w x 61" h, also ink on carved multiplex cardboard. $2880. These large-scale pieces are done on cardboard, first covered with black acrylic paint. I, then, cut out the shapes using a regular no. 11 X-acto blade and remove the top, black layer, revealing the cardboard color beneath. My work is about women's issues, mostly facing fear and taking risks.

Stop by and visit - the studio is open 10-4 most days. Mel's work is fascinating and well outside of my realm: I mean when have I ever touched real vellum? You can grab a cup of coffee or a gourmet stuffed bagel on the corner at HelloOakland Cafe and also check out the vinyl archive at The Groove Yard around the corner.

Judith Johnson-WIlliams at Illumination Studio
557 Forest Street
Oakland, CA 94618
Board Meeting on January 10, 6 pm, at ARC Studios & Gallery
New members are welcome to attend and get an orientation about NCWCA and WCA. In addition to Board business, we will discuss ideas for 2012 programming, including two member shows and News & Notes content. Starts at 6 pm at Arc Gallery, 1246 Folsom St, San Francisco.
http://www.ncwca.org/
Agenda
1. Welcome new members and orientation about NCWCA and WCA
2. Board minutes and reports
3. Election of Board Secretary
4. Update on 2012 WCA Momentum Conference in Los Angeles
5. Selection of Chapter Rep for LA Conference
6. E-newsletter content
7. Chapter's position on censorship: discussion and vote
8. Brainstorm ideas for 2012 programs
Are you the 2012 NCWCA Chapter Rep to National WCA?
Each year NCWCA offers a $200 stipend to an NCWCA member in good standing to attend the annual WCA conference. The NCWCA Chapter Rep position is rotated each year to expose different local members to national WCA and the national conference. The $200 stipend helps to defray some of the conference expenses; it does not cover the entire cost of travel, lodging, and conference registration. And the $200 stipend is paid after the individual returns and files a report to the chapter.

The next WCA Conference, Momentum, is also the 40th Anniversary of the Women's Caucus for Art. This historic gathering of women artists will be held in Los Angeles, February 23-27, 2012. Additional information about this exciting conference, including a schedule of events and hotel accommodations at Kyoto Grand Hotel and Gardens, can be found at this web link: nationalwca.org/conference/currentconfer.php


Are you going to be the 2012 NCWCA Chapter Rep to National WCA? Are you ready to take your arts leadership up a notch and play in the nationals? Read this description of the position and see if this is for you!

NCWCA is about to name its 2012 NCWCA Chapter Representative! Are you the member we are looking for?

The NCWCA Chapter Rep to the national WCA Conference is a paid 2012 member in good standing of NCWCA; seeks to participate in as much of the national WCA conference as possible; enjoys meeting her peers from all over the country; is eager to develop a strong network of relationships amongst WCA members; looks forward to attending leading edge WCA art exhibitions, panel discussions, and other offerings of the conference; and will come back with an enthusiastic report about what they experienced and gained from the conference.

Lynn Hershman Leeson

In addition, while at the conference the NCWCA Chapter Representative represents our chapter at the two Chapters' Council meetings, and attends the Lifetime Achievement Awards ceremony. This year NCWCA can take special pride when WCA presents its first Media Award to Lynn Hershman Leeson along with a a screening of her film !Women Art Revolution on February 23, 2012.

Also while at the 2012 WCA conference, the NCWCA Chapter rep will be responsible for representing the chapter at the opening receptions for the two national shows (Momenturn and Song of the Land.) You will also be asked to pitch in and roll up your sleeves. National WCA asks all conference attendees to volunteer up to 2 hours of their time towards a conference activity - the NCWCA Chapter Rep can make her choice for volunteering 2 hours on Volunteerspot when that becomes available.

There's more! The NCWCA Chapter rep can also choose to attend the WCA panels, the Media Award night, LTA gala and Friday night bus tour. Note that some of these events have additional ticketing and admissions prices.

How will the 2012 NCWCA Chapter Rep be selected?

NOMINATIONS: Nominate yourself! Nominate a member/friend who is an arts leader! Any member in good standing of NCWCA is eligible to nominate another member or herself for the position of 2012 NCWCA Chapter Rep. Nominations for the NCWCA Chapter Rep will be received between December 20 - 30 2012. Send nominations to NCWCA Professional Development Chair Mel Ahlborn, mahlborn@illuminationstudio.org

SELECTION AND APPOINTMENT: The NCWCA Professional Development Chair will contact and interview each nominee between January 2 - 7 2012. Special consideration will be given to those nominees with leadership skills and a broad-based commitment to women and the arts. From this group of candidates she will select a NCWCA member to receive her recommendation to be the 2012 NCWCA Chapter Representative and nominate that person at the January 16 2012 Board Meeting. The NCWCA Board selects the NCWCA Chapter Representative during the January 16, 2012 board meeting.

-----
Mel Ahlborn
Chair, NCWCA Professional Development Chair
Her email is mahlborn@illuminationstudio.organd her telephone number is 925-699-4457.
Remember to Renew Your Membership
If you haven't already, please renew your membership for 2012. You can do it online by clicking here:
http://www.ncwca.org/membership-2012.html
or come to the January 10 chapter meeting at Arc Gallery. I'll have a laptop handy for easy enrollment. And if you wish to pay by check, Membership Chair Gretchen Blais will be happy to accept your check at the meeting.
Online Gallery
- Has been updated to show only works by 2012 members
http://www.ncwca.org/gallery1.html
. Renew your membership and get your work up on the Online Gallery!
Message from the President of WCA, Janice Nesser
WCA would not be celebrating 40 years if it were not for you!
The National Board has been actively securing funds/donations throughout the year to help ensure programming, chapter development, development of publications and increased communication. But we are only as strong as our membership. We need your help and support to meet our mission and build the next 40 years of the WCA.

Please consider making an end of the year donation today! No amount is too small. All contributions are tax deductible

Click on the word DONATION to donate today!
Thank you,
Janice Nesser
---
WCA elects new President-Elect
Brenda Oelbaum has been elected the next President-Elect of the Women's Caucus for Art. WCA's bylaws provide a structure for ensuring support and continuity in leadership. The President-Elect serves for two years before becoming the National President and then 2 more years on the Board as Past President. Oelbaum will begin her term as President-Elect on March 1, 2012.
WCA 40th Anniversary Celebration and Conference
JOIN WCA members and friends from across the country in Los Angeles, February 23-27, 2012 for what will be a diverse celebration that will include panels, speakers, exhibitions, bus tours, workshops, awards and a gala.
For a complete listing of all the activities: http://nationalwca.org/conference/currentconfer.php



To register for the conference:



http://nationalwca.org/applicants/raffle.php
The early bird WCA members package is only available until January 13!
The WCA conference home base will be the Kyoto Grand Hotel and Gardens, 120 South Los Angeles Street Los Angeles, CA 90012.


Make your reservations early because space is limited.

To register, please call 213-629-1200 (direct line) or click hereial WCA discount code email the administrator at info@nationalwca.org. The special rate is $129 for standard room and $139 for a deluxe and is only available through January 25.

Exhibit your work in the Video Exhibit at the 40th Anniversary Gala

In honor of the 40th Anniversary Celebration of the Women's Caucus for Art, all WCA 2012 members are invited to submit images of their work to be exhibited during the 40th Anniversary Gala at the Japanese American National Museum on Saturday Feb 25 in Los Angeles, CA.

The main room at the Gala will have two large screens: one displaying the art work of our current members and the other displaying photos from 40 years of WCA.
Be a part of this celebration by submitting one or two jpegs of your work, 300 dpi no larger than 8" in any directions to: nationalwca@gmail.com In the body of the email please include your name, your chapter, the title and medium.
K
YOTO HOTEL
Message From the WCA National Exhibitions Director Karen Gutfreund
The Women's Caucus for Art (WCA) is the leading national organization for women in the visual arts professions. Founded in 1972, it has 27 chapters across the country and is an affiliate society of the College Art Association. WCA is dedicated to the cultural, aesthetic and economic value of women's art. If you are not already a member, we invite you to join a WCA chapter so you can participate in an activist community of women artists. Visit www.nationalwca.org.
CONGRATULATIONS TO ALL NCWCA ARTISTS WHO HAVE BEEN SELECTED BY JUROR RITA GONZALEZ FOR MOMENTUM SHOW!
Congratulations to NCWCA members, Elise Cheval, Eleanor Dickinson, CJ Grossman, Barbara Horiuchi, Shizue Seigel and
Judy Johnson-Williams
for being selected by Rita Gonzales,
Associate Curator, LACMA (Los Angeles County Museum of Art), juror, for inclusion in the Gallery Show or Momentum exhibition catalog. The Exhibitions Commitee received
1006 submissions in a broad range of media from 366 women artists in the United States. Ms. Rita Gonzalez had a challenging time narrowing her choices among many competitive submissions. The jurying was performed "blind," which means she had no access to the artist's name or other personal information. Her selections were based on her interpretation of the Momentum description in the prospectus and the dimensions of the gallery.

We warmly welcome your attendance at the Opening Reception for Momentum in Los Angeles, during the Conference, on Friday, February 24 from 6-9 pm.
MEMBERS IN THE NEWS
Greeting from Exhibitions Abroad with Paintings and Sculptures
by Salma Arastu
Two of my paintings are selected for a temporary exhibition (two years) in Rangoon, Burma, through United States Department of State's ART in Embassies Program (AIE)
Art in Embassies, US Department of State, US Embassy Rangoon, Burma
http://art.state.gov/exhibitiondetail.aspx?region=EAP&id=106192&pid=172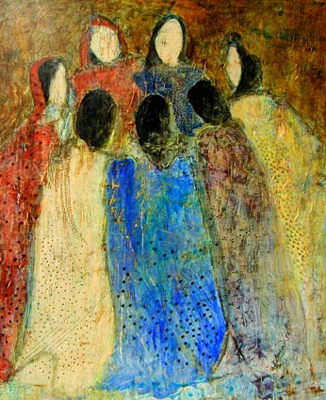 "How do you solve the Problem" 54"/44" Acrylics on Canvas 1999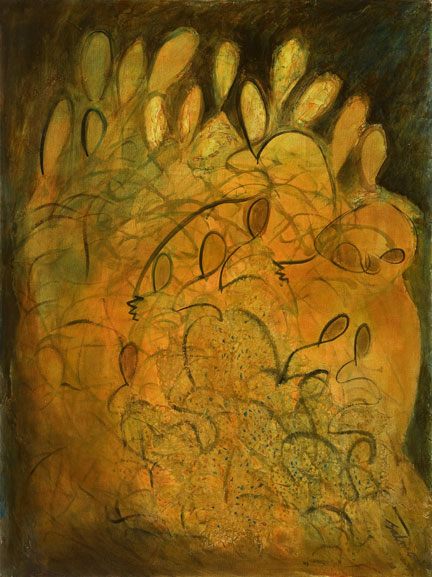 "Embracing All" 48"/36" Acrylics on Canvas 2008
The International Travelling Exhibition "In Family Unity - Unity of the World' sponsored by Ekaterinburg Art Foundation has moved to Moscow State Institute of International Relations in October 2011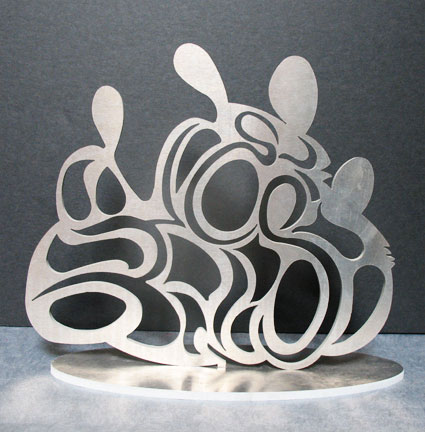 The opening of the sculpture and photo exhibition "In Family Unity - Unity of the World" took place at Moscow State Institute of International Relations (University) of MFA of Russia (MGIMO). Works represented there were created by professional artists from 81 countries of all 5 continents. The exhibition was opened by the MGIMO rector A.V. Torkunov. In his welcoming speech Anatoly Torkunov made special mention of how important is the topic of the exhibition, that is "Family, parents, children", for everyone present and especially for students who are to create families in future. He said: "A united family is a core that will make our life better and safe".
In November 2011, My sculpture " Dancing with the Stars" came down from its glorious spot at the port of San Diego due to the end of "urban Trees 7 program" which ran from 10/10/10 to 11/11/11, and has moved to Gayserville California for another temporary exhibition for a year.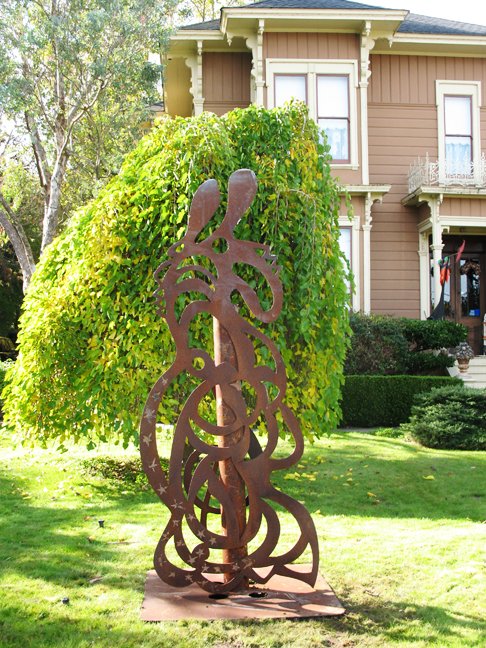 Salma Arastu, Solo Show, "Garden of Verses:Images of Compassion", with Gallery Talk on December 16 and January 16, from November 4, 2011 - January 14, 2012.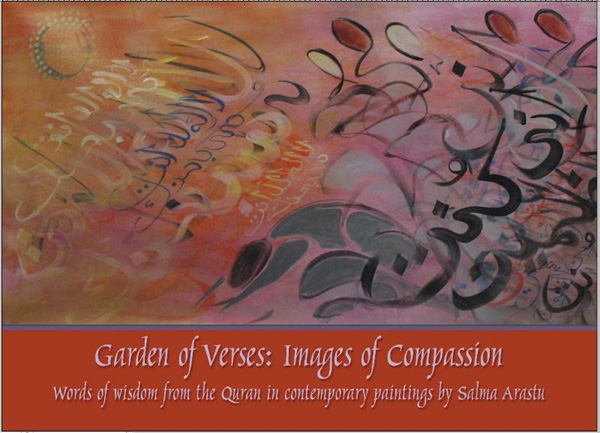 Elise Cheval, Plexus Art Group, in "Unique Artists Groups of Marin, Marin Arts, September 12 - February 3 (show extended).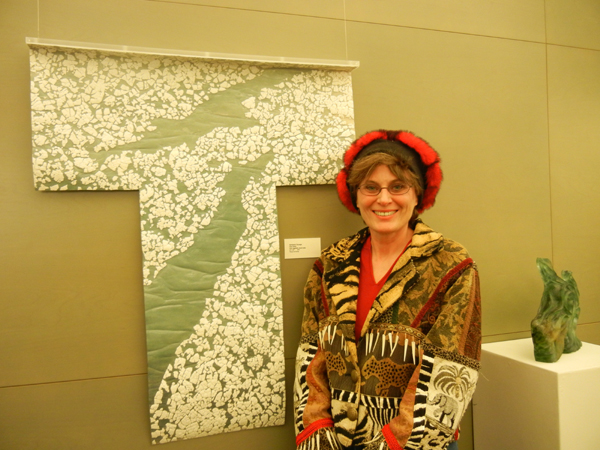 Elise Cheval with "Northwest Passage", eggshells on vinyl and watercolor, 2011

Barbara Milman, in Pro Arts Juried Annual 2012, November 22, 2011 - January 13, 2012.
Shizue Seigel, Solo Show, "Ephemeral Allure; Eternal Struggle", November 2, 2011 - February 3, 2012.
Mary K. Shisler, in "Looking Back & Into the Future", December 10, 2011 - March 2, 2012.
This newsletter is designed to offer NCWCA members a platform to share their works, ideas, stories and opportunities that benefit our communities and fellow art activists. We welcome your feedback and articles. This newsletter will be published on the 1st and 15th of each month. Content must be received three days before the publishing dates to be considered for the newsletter. Email your contact to elisecheval@hotmail.com and put "Newsletter" in the subject line.

Sincerely,

Elise Cheval, Editor
Northern California Women's Caucus for Art