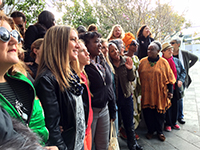 Early morning on October 2, 34 Bay Area women appeared at Yerba Buena Gardens for an impromptu flash mob photoshoot. Leisel Whitlock came up with the idea to take a group portrait of women in the arts for the upcoming F*ck U! In the Most Loving Way exhibition. Due to short notice, we didn't know who would show up or if we would get kicked out. We had a few challenges, like encountering a huge tent set up in the park for Dreamforce 2016 (Salesforce's annual convention) and security guards who not allow Mido Lee to set up a tripod for her camera. Regardless, women showed up from all over the Bay Area and none of us could suppress our pleasure at being there and making friends. The snapshot of smiling faces was shot by Elizabeth Addison.
We are now into Creating Space Part II. Please email selfies of yourself (close up of your face) to
ncwcachapter@gmail.com
. Tell your women friends in the arts all over the US (artists, professors, teachers, gallerists, museum professionals, etc) to send selfies to us. We will incorporate your faces in the final portrait poster which will be exhibited at the F*ck U! exhibition in December.
Deadline is November 13!
F*CK U! IN THE MOST LOVING WAY UPDATE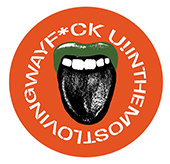 We had a tremendous response from all over the country for our call for art. The entries are now with the juror, Shannon Rose Riley. Results will be announced to each entrant on October 26.
Meanwhile, we have secured agreements with Faith Wilding and Viet Le, who will be premiering a new performance based on "Waiting" on January 14. Joining Ms.Wilding for a special Womanhouse reunion on are Karen LeCocq and Nancy Youdelman as well as Johanna Demetrakas, filmmaker of the Womanhouse documentary.
We have also lined up contemporary artists Emma Sulkowicz, who will premiere a new performance on December 17, Ester Hernandez, Shelia Pree Bright and Rokudenashiko. A few other surprise artists are still in negotiation.
PR Chair Sawyer Rose has begun working with publicist Sally Douglas Arce to shape our key messages and write our press release.
We have begun negotiating for a nearby screening room and performance space to host the January 13 and 14 events. It is exciting to build collaborative relationships with local groups.
Karen Gutfreund, Lena Shey, Mido Lee and Patricia Montgomery have now joined Leisel Whitlock, Tanya Augsburg, Sawyer Rose and Priscilla Otani in working towards making the F*ck You! exhibition an amazing event.
ART JOURNEY DAY


by Judy Shintani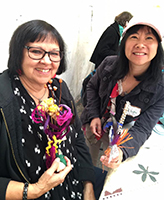 Thank you to all who attended the NCWCA Art Journey Retreat. We had 35 attendees on a warm and beautiful day at O'Hanlon Center for Art in Mill Valley.
In addition to having time to talk about art with other women artists and take 3 classes, participants raved about the gourmet lunch and lovely morning and afternoon snacks including homemade baklava. 22 people filled out the survey after the event and some of the comments included: "this should happen once a year!" "Very professionally organized", "liked the wide variety of classes". While we were making talismans in Judy Shintani's Gifts of Generosity class, a hummingbird visited us and became the retreat mascot. Later attendees were concerned about the bird being stuck inside the building but teacher liaison Diane Elrod found her new calling as the hummingbird whisperer and was able to gently release the bird back outside. After the retreat I looked up the symbolic meaning of our visitor and read this "The prime message of the hummingbird animal totem is:"The sweetest nectar is within!" That expressed our beautiful retreat perfectly!
Great appreciation to all the retreat committee members: Judy Johnson-WIlliams, Maureen Benson, Grace Cohen, Vicki Cormack, Margaret Lindsey, Diane Elrod.
SAN FRANCISCO OPEN STUDIOS
Artists, check out your colleagues' San Francisco studios during the month of October. Support your friends, get creative inspirations, enjoy a leisurely weekend catching up with artists in their studios.

WEEKEND 1 OCT 15-16, 11 AM – 6 PM
Kay Kang, Studio #2201, Hunters Point Shipyard Blg 101
WEEKEND 2 OCT 22-23, 11 AM – 6 PM
Barbara Bryn Klare, Space 360, 360 5th St
Kathy Fujii-Oka, Studio #204, Arc Studios 1246 Folsom St
Jennifer King, Midway Gallery (Dogpatch), 900 Marin St
Priscilla Otani, Studio #207, Arc Studios 1246 Folsom St
Sawyer Rose, Room #C210, Ft Mason, Bldg C, 2 Marina Blvd
Lena Shey, Journal Bldg, 1540 Market St
Samanta Tello, #206, Arc Studios 1246 Folsom St
Victoria Veedell, Yosemite Place, Studio #290, 1777 Yosemite Ave
Tanya Wilkinson, Studio #207, Arc Studios 1246 Folsom St
WEEKEND 4 NOV 5-6, 11 AM - 6 PM
Suchitra Sharma, Art Explosion -17th St Studios, 2425 17th St
Sandra Yagi, Studio #101, Pacific Felt Factory, 2830 20th St
Victoria Veedell is also participating in these Open Studio Hubs
Modern Eden Gallery, 801 Greenwich St, Oct 1 - 15
Hotel Triton, 342 Grant Ave, Oct 12 - Dec 13
MARIN OPEN STUDIOS
Sue Dedina, MarinMOCA, Novato Arts Center, Studio I, 81 Hamilton Parkway, Novato, November 5-6, 11 AM to 4 PM
MEMBER WORKSHOP
Judy Shintani
will teach a workshop titled "Shining the Light on Remembrance." The lantern-making workshop will focus on celebration and remembrance of loved ones who are no longer with us. This workshop is in conjunction with her solo show at the Peninsula Museum of Art. Open to adults and children 10+ with supervision. No artmaking experience necessary. Please bring copies of family photos (not larger than 3.5x3") you may want to use in your lantern. October 22 2-3:30pm, free with $8 material fee.
MEMBER SHOWS AND AWARDS
Karen Gutfreund
,
Embedded Messages, Debating the Dream: Truth, Justice and the American Way
, University of the Redlands Art Gallery, Redlands , Oct 19 - Nov 12. Also
Artists United, the Revolution Begins with Us
, Charles Krause Reporting Fine Art, Washington DC, Oct 8-Nov 19.
Orlonda Uffre
,
Iconic: Black Panther Oakland
, American Steel Studios, 1960 Mandela Parkway, Oakland, Oct 5 – Nov 6
Lorraine Bonner,
Iconic: Black Panther Oakland
, American Steel Studios, 1960 Mandela Parkway, Oakland, Oct 5 – Nov 6
Sawyer Rose,
Carrying Stones Project: Ties That Bind,
Fort Mason Center for Arts & Culture, 2 Marina Blvd, Building D, next to FLAX Art Sept 23- Nov 30 (see right)
Judy Shintani,
Art of Resilience and Identity
, Peninsula Museum of Art, 1777 California Dr, Burlingame, Sept 28 – Oct 30. Also Lquid Stories, Lindsay Dirkx Brown Gallery, 12501 Alcosta Blvd. San Ramon, Oct 3-27.
Elizabeth Addison,
They Come From Outer Space
, Abrams Claghorn Gallery, 1251 Solano Ave. Albany, Oct 3-31. Also with Pamela Blotner,
A Promise Not To Forget: SOMArts Día De Los Muertos
, 934 Brannan Street, San Francisco, Oct 7- Nov 5
Patricia Montgomery,
A Promise Not To Forget: SOMArts Día De Los Muertos,
934 Brannan Street, San Francisco, Oct 7- Nov 5 (see left)
Barbara Bryn Klare
,
World of Threads Festival "Me and You,"
Living Arts Centre, Mississauga, CANADA, Oct 29 - Dec 4
Karen Gutfreund
, Co-curator with Sherry Cornett of
Social Justice: It Happens to One, It Happens to All
, Saint Mary's College Museum of Art, Moraga, Sept 18 – Dec 11. See article on Huffington Post:
Michelle Waters,
Crazy Cat Ladies: a Celebration of Kitties and Their Champions,
The Animal Museum, 421 Colyton St, Los Angeles, Oct 1.
Pallavi Sharma
, curator of
Liquid Stories
, Lindsay Dirkx Brown Gallery, 12501 Alcosta Blvd. San Ramon, Oct 3-27.
Monica Tiulescu
, First Place Winner MUNI ART 2017, sixteen paintings turned into eight posters on 100 San Francisco buses starting in January 2017. Also
Artist Choice
, San Francisco Women Artist, Gallery, 647 Irving Street San Francisco, Oct 5 – Nov 5. (see image far right)
Robin Apple,
5 Emerging Artists of Northern California
, Marin MOCA, 500 Palm Dr, Novato, Sept 10 –Oct 23. Also
Berlin Foto Biennale 2016
(Documentary and Fine Art Photography), Berlin Foto Biennale, Palazzo Italia, Romischer Hof, Unter den Linden 10, Berlin, Germany, Oct 6-30th. (see image right)
Gina Chiao
in
Artist Choice
, San Francisco Women Artists, 647 Irving St, San Francisco, Oct 5 – Nov 5.
Bonnie J Smith
in The Valley of Heart's Delight, Filoli, 86 Canada Road, Woodside, CA, Aug 22 - Oct 23.
Sandra Yagi
in
Art for Peace Traveling Show - Dreams and Divinities
at Galerie FLOX, Friesestraße 31, Schirgiswalde-Kirschau Germany, August 27-Oct. 30.
Priscilla Otani,
Women + Money,
Katherine E Nash Gallery, Regis Center for Art, University of Minnesota, 405 21st Ave S, Minneapolis, MN, Sept 6 - Dec 10. Also
Social Justice: It Happens to One, It Happens to All,
St Mary's College Museum of Art, 1928 St Mary's Road, Moraga, CA, Sept 18 - Dec 11.
Salma Arastu,
Liquid Stories
, Lindsay Dirkx Brown Gallery, 12501 Alcosta Blvd. San Ramon, Oct 3-27.
Members, get your shows and workshops listed in News & Notes, NCWCA Calendar and on the NCWCA website! Send jpg image of your work in the show and information about the show to ncwcachapter@gmail.com.
2017 MEMBERSHIP RATES ARE GOING UP TAKE ADVANTAGE OF EARLYBIRD RATES!
Membership rates are going up by $10 starting January 1, 2017. If you join or renew your membership by December 31, 2016, you can take advantage of our 2016 rates for all of 2017. To join or renew your membership click here.
NOVEMBER 15 MEETING
Our November meeting will be held on November 15th in San Mateo because of National Election Day on November 8. Look for details on our webpage. Let's carpool! Email ncwcachapter@gmail.com if you need a ride or can offer a ride.
To join this Facebook group, go to the
Women Artists to Know
page and click Join. A moderator will add you to the group. Share your favorite artists! We now have over 1000 participants from all over the US and abroad!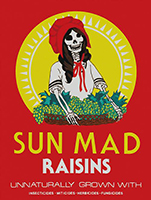 October honors printmakers! Above work by Ester Hernandez
Nov - collage
Dec - sculpture, assemblage

Nov 8 Exercise your right to vote!
Nov 13 Deadline for submitting work to Wage On! Women, Art & Money sponsored by National WCA at Ceres Gallery, Chelsea. Click
here
.
Nov 15 NCWCA chapter meeting at Irma Velasquez' studio, Aspen Building, 49 N San Mateo Dr, Ssan Mateo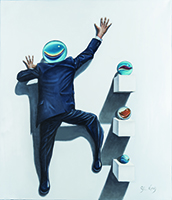 View Jennifer King's work at SF Open Studios
NOTEWORTHY EXHIBITIONS
All Power to the People: Black Panthers at 50,
Oakland Museum, 1000 Oak St, Oakland, Oct 8-
Feb 12.

Hung Liu at Fresno Art Museum,
2233 N First St, Fresno Sept 23 - Jan 8.
Sojourner Truth, Photography, and the Fight Against Slavery
, Berkeley Art Museum, 2155 Center St, Berkeley, July 27 - Oct 23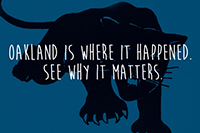 TIPS FOR FORWARDING NEWS & NOTES TO YOUR CLIENT LIST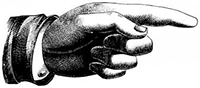 Before forwarding your copy of News & Notes to your client list, delete the "Unsubscribe" sentence at the bottom of the newsletter. Otherwise, if one of your clients decides to unsubscribe to your email, they will inadvertently unsubscribe you from future editions of our News & Notes.
Alternatively, you can go to the
Publications
page of our website and include the URL of any of our newsletters in your own e-news.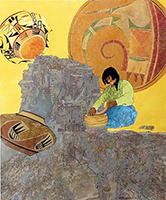 New work by MC Carolyn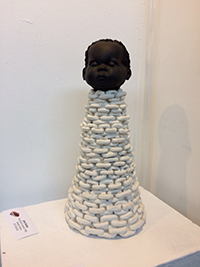 Lorraine Bonner's work in
Iconic Black Panther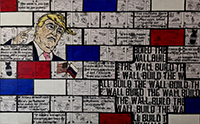 Karen Gutfreund's work in
Embedded Messages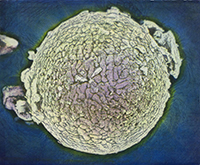 Elizabeth Addison's work in
They Come from Outer Space