MAKING ART AT FOLSOM PRISON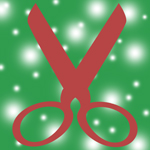 Several NCWCA members volunteered to teach art to women incarcerated in Folsom Prison. Here is Judy Johnson-Williams' account of her day at Folsom Prison.
I didn't realize that each 'pod' or dormitory of about 50 women was represented by two students. A total of sixteen students participated, a high honor to be selected based on good behavior over at least a year's span, and their interest in arts and crafts. After our session, each of the students took the ideas and materials back to their pods, so I ended up influencing 500 women, not just the sixteen who participated.
Each woman's focus was on Tuesday, when the warden will judge the holiday decoration of her pod. The winners will get first choice of available Christmas trees for their pod. My role was mainly to provide technical assistance--how to scale shapes up, how to make an impact on the mammoth cinderblock walls, and how to draw hands and feet. I also showed them how to make three-dimensional trees, and a few of the women made those for their trees.
Our biggest disappointment was that the craft supplies didn't arrive and the art cabinet had already been stripped of anything red, green or white. Undeterred, the women came up with a lot of creative solutions, such as using cardboards boxes and the silver lining from the inside of chip bags. They were very resourceful and determined. One woman cut out Grinch characters from cardboard with pre-school scissors (which were counted and locked up when we were done).
Before I left, I asked the women to think about how we could help in the future, what we could do from the outside. I hope they'll send us suggestions. I tentatively suggested a modified Art Tag. A big obstacle to exchanging art is the restriction on mail the women can receive: regular-sized paper only. But accommodating a severe restriction like this would certainly level the playing field between them and us. So we'll see what develops.
2015 WCA CONFERENCE IN NYC

Sign up now for the Feb. 12-14 WCA Conference! Don't miss the opportunity to see art, network with WCA members from all over the country and check out the special interest caucuses (International, Young Women, Jewish Women and Eco-Art). WCA will also be announcing a Latina exhibition - a precursor to organizing a Latina caucus. This year's conference will feature the Lifetime Achievement Awards, Transforming Communities tour that includes a panel at the Museo del Barrio, art receptions at the Westbeth Center, and caucus meetings. To register, click
here.
STIPEND TO ATTEND WCA CONFERENCE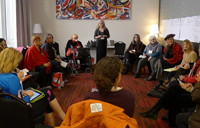 Apply for a $200 stipend to represent our chapter at the National WCA Conference! To apply, write not more than 500 words explaining why you should be awarded the stipend. Email your response to judyshintani@yahoo.com with "NCWCA Stipend" in the subject line. The awardee is expected to participate in all of the WCA events, sign up for a four-hour volunteer stint, represent our chapter at the chapter meeting on Saturday morning, and report back to the chapter on what they learned so that those who couldn't go get a taste of the fun & excitement. 2015 NCWCA members are eligible to apply. To the extent possible, this stipend will be awarded to a member who has not previously represented our chapter. The deadline is December 19. Judy Shintani will announce the winner by Dec 22.
DON'T MISS OUR ANNUAL YEAR-END PARTY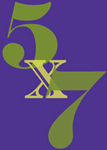 Don't miss our annual tradition - the December 30 year-end party at Judy Johnson-Williams' studio. The fun starts around 6 pm with potluck and drinks. Each year we burn bad juju - things that caused us trouble and pain in the past year. Judy provides a wonderful fire bowl for this purpose. We also feature art-making. This year we will make 5"x7" art on canvas board to donate to the WCA fundraising at the LIfetime Achievement Awards. Canvas board and art materials will be provided but feel free to bring your own stash of materials to use. And last but not least...our White Elephant Exchange! Find something in your studio that has been neglected...art materials, an object that is gathering dust. Wrap it up in bright shiny paper. Each year we learn that one woman's trash is another's treasure. This is a great even to invite a friend who is curious about what NCWCA is all about.
CONGRATULATIONS NCWCA MEMBERS!
Exhibition at the Westbeth Gallery from February 7 - 22, 2015
National Juried Exhibition Transforming Community: Disability, Diversity and Access
Salma Arastu, Belinda Chlouber, Laurie Edison, Priscilla Otani, Sondra Schwetman, Bonnie J. Smith.
Eco Art Caucus Ecology: The Difference Perception Makes


Mary Lou Dauray
JWAN The Difference Spirituality Makes


Mary Shisler, Marian Yap
MEMBER SHOWS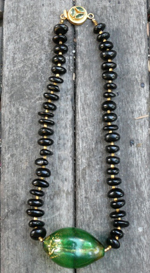 Mary K. Shisler
in Berkeley Artisan's Holiday Open Studios, 2547-8th St, Berkeley, Saturday and Sunday, December 13,14, 20, 21, 2014 11am -6 pm and some hours before Xmas. See left image.
Sandra Yagi
in
Tales of the Uncanny
group show, Bash Contemporary, 210 Golden Gate Ave, San Francisco, Nov 14 - Dec 31.
Carol Ladewig
in
2014 Invitational
gorup show at Axis Gallery, 625 S St, Sacramento, Dec 5-28. Also in Triton Museum of Art
Salon
group show, 1505 Warburton Ave, Santa Clara, Dec 6- Feb 8.
Marian Yap
in group show
Seasons of Life
, Peninsula Art Institute Gallery, 1777 California Dr, Burlingame, Nov 20, 2014 - Jan 4, 2015.
Elaine Jason
in
Then and Now
group show, OXS Gallery, Nevada Arts Council, 716 N Carson St, Carson City, NV, Nov 10, 2014 - Jan 23, 2015.
Judy Shintani
in UCSF National Center of Excellence in Women's Health
Serenity Exhibition
, 2356 Sutter St, Oct 16, 2014 - Jan 13, 2015.
Maxine Olson's
works at The Kingsburg Historical Park honoring individuals for contributions to the town and its history, 2321 Sierra St, Kingsburg, CA.
Miwako Nishizawa
in
Berkeley Civic Center Art Exhibitio
n at the Martin Luther King Jr Civic Center, 2180 MIlvia Street, Berkeley, June 16, 2014 through end of May, 2015.
Members, get your shows and workshops listed in
News & Notes
,
NCWCA Calendar
and on the
NCWCA website
! Send jpg image of your work in the show and information about the show to
ncwcachapter@gmail.com
.
WELCOME MEMBERS!
We welcome new members Emily Wiseman, Carla Roberts and Nancy Margulies. Thanks for renewing Kelly Hammargren and Judy Johnson-Williams.



RENEW YOUR MEMBERSHIP FOR 2015 NOW!



WCA and NCWCA are on a calendar year membership system. Renew your membership now so you can continue to take advantage of benefits such as announcing your upcoming exhibitions and showing your artwork on our online member gallery. If you don't renew before January 1, 2015, your images on the online gallery will disappear until you have renewed. So don't wait, click here to renew!



WOMEN DO IT! POSTCARD SHOW AT THE UNITED NATIONS AND BEYOND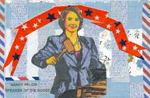 Nancy Pelosi card by Priscilla Otani

Apply to the International Caucus call for postcards and participate in a traveling exhibition that includes stops at the UN, NYC, St Louis, Washington DC, and SF.The theme is "Women Do It!" All handmade or altered cards accepted! For details and to apply, click here.



TIPS FOR FORWARDING NEWS & NOTES TO YOUR CLIENT LIST


Before forwarding your copy of the News & Notes to your client list, delete the "Unsubscribe" sentence at the bottom of the newsletter. Otherwise, if one of your clients decides to unsubscribe to your email, they will inadvertently unsubscribe you from future editions of our News & Notes.
Alternatively, you can go to the Publications page of our website and include the URL of any of our newsletters in your own e-news.



MARK YOUR CALENDARS!




December 30

Year end party at Judy Johnson-Williams' studio. 347 Lewis St. From 6-9:30 pm.



January 13

January chapter meeting. Salma Arastu's studio at 2547 8th St, Studio #34, Berkeley. From 6-9:30 pm.



January 18

NCWCA board retreat at Pescadero. Board members only.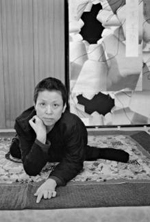 Laurie Edison's work in the upcoming Transforming Community: Disability, Diversity and Access show.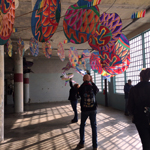 Ai WeiWei installation at Alcatraz