EXTERNAL COMMUNICATIONS CHAIR MESSAGE:

Dear NCWCA Member:

We are a busy group of women!

Nearly all of the Board Members met at ARC Studios & Gallery in San Francisco, where your new Board Secretary, Judy Shintani was elected. In her absense, Sandra Yagi, was interim secretary and recorded the Minutes. Highlights follow below.

Mel Ahlborn, your Professional Development Chair, has been busy with interviews of Members nominated to be your National Rep at the upcoming Momentum Conference in LA. Mel reported that Kelly Hammargren was chosen from a pool of 6 candidates. We look forward to reading Kelly's report when she returns after a fun-filled week at the Kyoto Grand Hotel and Gardens.

Read about Patricia Rodriguez, our new NCWCA Professional Development Grant recipient for 2012.

Thanks to the diligent work of Gretchen and Trudi, our NCWCA Membership is still growing! Remember, only Members have Gallery Representation on our Online Art Gallery for 2012.

Check out the CAFE's and take advantage of the easy online submission process through Entrythingy to submit your work to the 40 WATTS Member's Show.

Thank you,

Elise Cheval
Editor
HIGHLIGHTS FROM BOARD MEETING, JANUARY 10
We have a new Board Secretary, Judy Shintani!

Membership is growing, with 53 new and renewed members

.

Board Members have a new business card, featuring our new logo, in the works!

Sandra Yagi reported that our financials are in the black.

Much progress by our Professional Development Chair, highlighted below.

A lot of brainstorming about programs in 2012.
THREE NEW UPCOMING SHOWS!
BY Salma Arastu, Exhibitions Chair

"40 Watts: Illuminating Herstory" members show at the Norton Gallery, Pacific Art League in Palo Alto. Collaboration among 3 chapters. Small works – 10x10 max. 1 work per member. Deadline Feb 10.

Honoring Women's Rights Exhibit – orchestrated by Susan Kraft
Multichapter collaboration on an exhibit next September/October. Contract signed with National Steinbeck Center Museum in Salinas. Will include conference room, Art/Craft Market, and theater for filmmaker presentations. The museum will provide its expertise in marketing and grant writing. Timeline is 1st Friday of September which will be overviewed by Susan Kraft later. 3 month show.

Spring 2013 – NCWCA member only show in Danville. Awaiting confirmation from gallery. Theme to be determined.
KELLY HAMMARGREN, 2012 NCWCA CHAPTER REP TO WCA 'MOMENTUM' CONFERENCE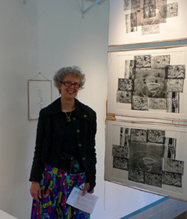 On January 10, 2012 at the regularly scheduled open meeting of the NCWCA Board, Kelly Hammagren was named 2012 NCWCA Chapter Rep to the WCA 'Momentum' Conference in Los Angeles in February.

Hammargren was selected from a field of six NCWCA members nominated for the position. Each nominee was invited to participate in a 10-minute phone interview and each nominee was asked to provide a written response, 100-150 words, to the following statement:


The mission of the Women's Caucus for Art is to create community through art, education, and social activism. How has this mission given momentum to your personal work, and how might this momentum transfer to your relationship with your WCA chapter, the Northern California Chapter of Women's Caucus for Art? Here is Hammargren's written response:
"When I first joined NCWCA and Art Tag, I was floundering. I wanted to change careers and immerse myself in art. I had never exhibited. With the links provided by NCWCA to member shows, community juried exhibits and educational opportunities, by the time I finished my first year I participated in one member show and three juried shows.
"Exhibiting is not even the most important aspect of my membership in WCA. It was participating in Art Tag that gave me the push to explore new and different ways of expressing myself through my art. Now 75% of my work is around social issues in mediums I had never considered.
"There is a competitive aspect to art. Not every entry is accepted into a juried show. While not ignoring this competitive aspect, I really believe we all move forward when we lift each other up and that sums up NCWCA membership."

Congratulations Kelly! The 2012 NCWCA Chapter Rep position comes with a $200 stipend payable after the conference and after the rep brings back a report to the chapter. Kelly, we all look forward to your report!
-Mel Ahlborn, NCWCA Chair, Professional Development
PATRICIA RODRIGUEZ, 2012 NCWCA PROFESSIONAL DEVELOPMENT GRANT RECIPIENT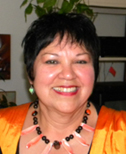 (photo of Patricia Rodriguez courtesy chicanalatina.org)
On January 10, 2012 at the regularly scheduled open meeting of the NCWCA Board, Mel Ahlborn announced the creation of the 2012 NCWCA Professional Development Grant for Programs that support Young Women Artists. An anonymous donor has made this $200 grant available with the hopes that this will be the first of an annual grant to artists working with young women artists.

This year's recipient is a trailblazer in the area of art, Latina and Chicana art, young women and arts in San Francisco. She is one of the first Chicano artists invited to teach in the UC System, she is the recipient of the KQED Hero Award, and soon-tobe published author on the subject of 'Mujeres Muralistas' with City Light Books. You will hear more about her and her outstanding accomplishments later in the year at a special presentation of this award. It is a great pleasure to announce the 2012 Recipient of the NCWCA Professional Development Grant for Programs that support Young Women Artists : Patricia Rodriguez.


-Mel Ahlborn, NCWCA Chair, Professional Development

Laramie: A Gem City Atlas
Dec 8- Jan 22 at CIIS Minna Street Center

695 Minna St, 2nd floor, open daily M-F, 9am-6pm. ring bell for entry.

Closing reception, Sat. Jan 21, 6-8pm, featuring readings and discussion by Rebecca Solnit; writer/scientist Kelly Herbinson; and cartographers Shizue Seigel and Ben Pease.

Author Rebecca Solnit, author of the award-winning Infinite City: A San Francisco Atlas, launched this cartographic collaboration of words, art and maps during a residency at the University of Wyoming's Creative Writing MFA Program. Students and artists collaborated with artist/cartographers Shizue Seigel and Ben Pease to map complex narratives of a small Western town where Butch Cassidy lived and Matthew Shepard died, where beauty salons outnumber salons and the current harbinger of mass extinction is the bark beetle, instead of nuclear warheads.

--------

Thanks to The ARts at CIIS curator Deirdre Visser, for bringing portions of our Wild West adventure to SF!
Also a solo show in Santa Barbara:
Ephemeral Allure, Eternal Struggle, painting and photography by Shizue Seigelat the University of California, Santa Barbara Women's Center through Feb 3.

and one piece in:
Immigration, Migration, Movement, and the Humanities,Institute for Humanities Research at Arizona State University, Tempe, AZ, January 30-April 20
Remember to Renew Your Membership
If you haven't already, please renew your membership for 2012. You can do it online by clicking here:
http://www.ncwca.org/membership-2012.html
.
Online Gallery
- Has been updated to show only works by 2012 members
http://www.ncwca.org/gallery1.html
. Renew your membership and get your work up on the Online Gallery!
MEMBERS IN THE NEWS
Salma Arastu, Solo Show, Closing: "Garden of Verses:Images of Compassion", with Gallery Talk on December 16 and January 16, from November 4, 2011 - January 14, 2012.
Elise Cheval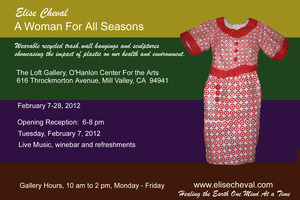 Solo Show, "A Woman For All Seasons", in the Loft Gallery, O'Hanlon Center For the Arts, February 7-28. Opening: February 7, 6-8 pm, after the Artists Roundtable Discussion in the Main Gallery.
Trudi Hauptman, in "Pointless Sisters", at t
he Center for the Arts, located at Bohemian Hwy at Graton Road. The exhibit featuring the quilts "Along the Russian River" and the "Water Quilt" will be up from January 11-March 2, 2012. The gallery is open Thursday and Friday from 12 to 4 p.m., by appointment and during events.Ffor more information see http://occidentalcenterforthearts.com/quilt-gallery-2012html.

Mary Shisler, in "ONE EYE SHUT",
January 6 - February 4, 2012
at the Olive Hyde Gallery in Fremont, CA.
Barbara Milman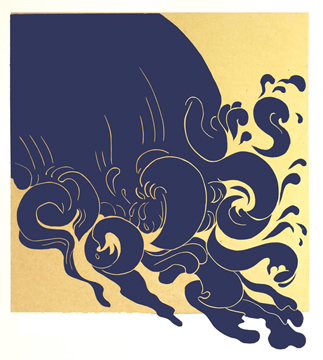 "Tsunami" by Barbara Milman, in "H2O" - a California Society of Printmakers juried show, Falkirk Cultural Center, San Rafael, CA, Jan 20 - March 2, Opening Reception, Jan 20, 5:30 - 7:30 pm. Also in,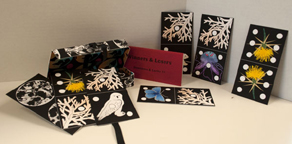 "Winners and Losers", by Barbara Milman

"The Magic Book" (a show of artist books), Jan 13 - March 2, Gallery K, Rhythmix Cultural Center, Alameda, CA
Shizue Seigel, Solo Show, "Ephemeral Allure; Eternal Struggle", November 2, 2011 - February 3, 2012.
Mary K. Shisler,
Berkeley Artisans Open Studios. She has Studio 31 in the Sawtooth Building, 2547 -Eighth Street, Berkeley, CA 94710. She sells large format prints, cyanotypes and jewelry. The Berkeley Artisans Open Studios runs Saturdays and Sundays 11-6 pm. November 26-27, Dec. 3-4, 10-11 and 17-18. I may also be open from Dec. 19-24. I look forward to having you drop by. Also, my roommates, Gina Papen and Sarah Lawson, have some lovely stuff as well.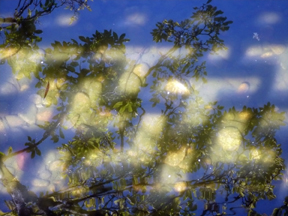 "Looking Back & Into the Future", December 10, 2011 - March 2, 2012.
This newsletter is designed to offer NCWCA members a platform to share their works, ideas, stories and opportunities that benefit our communities and fellow art activists. We welcome your feedback and articles. This newsletter will be published on the 1st and 15th of each month. Content must be received three days before the publishing dates to be considered for the newsletter. Email your contact to elisecheval@hotmail.com and put "Newsletter" in the subject line.

Sincerely,

Elise Cheval, Editor
Northern California Women's Caucus for Art