Message from the President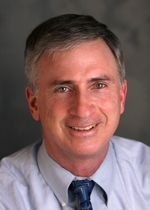 This newsletter focuses on the successful work of the Long-Term Care Financing Collaborative, a project run by Convergence over the past three years. The proposals of this ideologically and politically diverse group call for a wise combination of public and private actions to meet a critical and growing need. The group's recommendations help to break a decades-old policy gridlock, and would, if enacted, provide millions of elderly or disabled Americans the ability to afford far better long-term supports and services.

This collaborative's efforts serve as another proof of concept that leaders with sharply differing views can work for common purpose, a good reminder in this shrill election year of partisan posturing and impugning of motives. In recent years, our projects on nutrition and K-12 education also have shown that the toughest issues can be resolved when people, including adversaries, are skillfully engaged over time. We hope our efforts represent a counter-narrative to the increasingly conventional wisdom that it is impossible for people with passionate and conflicting views to find productive solutions for critical national challenges.

Sincerely,

Rob Fersh
President, Convergence Center for Policy Resolution


Collaborative Press Conference Generates National News Coverage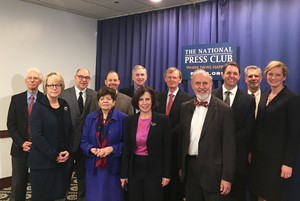 Collaborative Steering Committee members and speakers before the press conference.
VIDEO: Watch Our Press Conference Recap

The Long-Term Care Financing Collaborative released its recommendations for improving long-term care on February 22nd at a press conference keynoted by Alice M. Rivlin, Senior Fellow at The Brookings Institution at the National Press Club in Washington, D.C.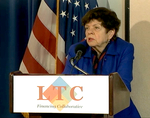 Collaborative members discussed how their broad-reaching plan would create an affordable public and private insurance-based financing system that would better enable people of all income levels to receive high quality long-term services and supports. Collaborative members stressed the urgent need for action stating that this plan would meet the growing needs of aging baby boomers as well as providing critical assistance for younger disabled people.

The press conference generated significant attention in the media. We've highlighted a few of the stories below:
Review the full list of media mentions and news stories. View the full membership of the Collaborative.

Alice Rivlin photo credit: Lois Bowers, McKnight's Senior Living.