Health Reform Roundtable Influences National Health Care Debate
We are excited to share news of the widespread media coverage and impact from last week's release of a statement by Convergence's Health Reform Roundtable entitled: A Bipartisan Answer to "What Now?" for Health Reform. The distinguished Roundtable members reached agreement on a series of short-term recommendations to Congress needed by September 30th to improve our health care system.

The statement has attracted significant media attention. The articles highlight that a surprising group of policy experts from across the political spectrum joined together to make substantive recommendations on a bipartisan path forward on health care. One well-known health care blogger tweeted: "I would not have guessed that these names would be in one place endorsing a shared path forward on health care."

Read More.


C-SPAN: Ron Pollack and Grace-Marie Turner on the Roundtable's Bipartisan Proposal for Health Reform.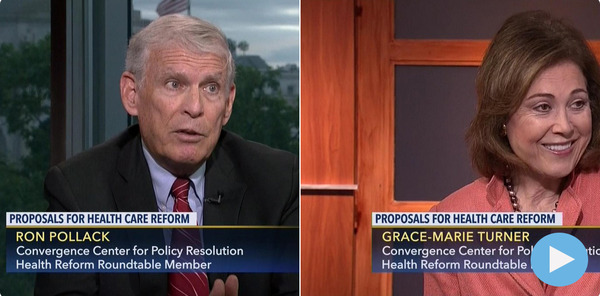 ---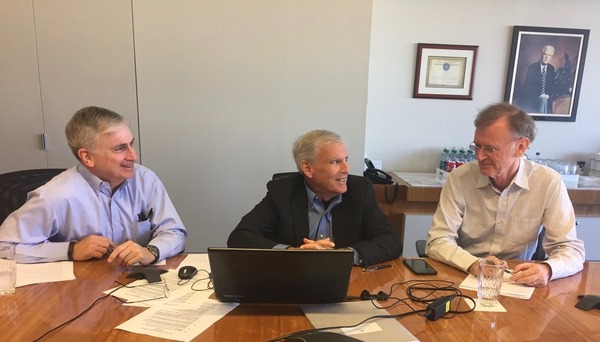 (L-R) Rob Fersh, Ron Pollack, Stuart Butler participating in the Health Reform Roundtable audio press conference. Other participants joined from locations across the country.
"Our intention is to model, and to promote, a cooperative legislative approach for members of Congress so that significant, bipartisan progress can be made to improve health care for America's families."
- Ron Pollack, former Founding Executive Director and Chair Emeritus of Families USA.

"We hope this statement can guide policymakers in showing a path forward for bipartisan proposals. We need to provide a safety net for those currently receiving ACA coverage and also offer better options for them and millions of others, especially through greater state flexibility."
- Grace-Marie Turner, President of the Galen Institute.