RHIO engages with community at MCMS Ask the Carrier

The Rochester RHIO presented an informational session to members of the healthcare community last month, and we were proud to be the gold sponsor for the event. At MCMS Ask the Carrier, our deployment coordinators answered questions, expounded upon our health information exchange's (HIE) capabilities and revealed our latest IT projects and future solutions. So, what's on the horizon? First and foremost, the RHIO looks forward to expanding our Contribute capabilities. Contribute is the RHIO's call to participating providers to share patient data (CCDs) with the RHIO through EHRs. Access to eMolst, statewide patient query and VA connectivity will also be coming to users of the RHIO in 2016.


We are hiring!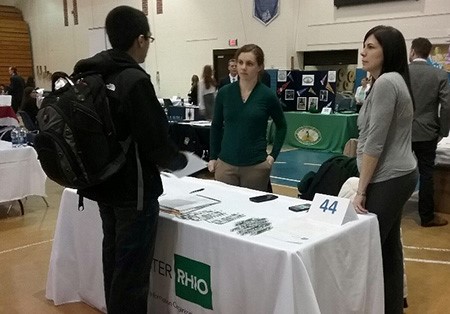 (Shown above) RHIO Employees Elizabeth Waye and Andrea Richardson engage a student about the Rochester RHIO at SUNY Geneseo's Professional Job & Internship Fair on March 23, 2016. The women talked to him about the collaborative and fun work environment and current opportunities. The RHIO is looking to grow the talent on the technical team.


Solution Spotlight: RHIO Alerts

In today's world of real-time data, providers and care managers have the opportunity to receive near real-time patient information in order to administer the highest quality of care. With RHIO Alerts, primary care physicians are notified almost immediately when their patients are discharged at any of 18 hospitals or emergency rooms in our region. There are many settings where direct patient care and coordination of care activity benefits from Alert notifications including primary care, home care, and community-based case management.

Kim McQuown, director of care management services at HCR Care Management, says RHIO Alerts allow them to make patient care improvements in real time.
"RHIO Alerts allow us to see where our clients are in real time as they interact with the area hospitals. We are able to intervene, and (we) have been able to actually prevent admissions by assisting to coordinate services for the client in a timely fashion," said McQuown.

"The alerts are working very well for us. The hospital notifications are particularly valuable as they have enabled us to better serve and advocate for the chronically ill population we work with," said Morgan Jackson, Epilepsy-Pralid. "The members we work with appreciate our prompt response, which has contributed to our ability to more quickly establish relationships with them in the early phases."

To build on the success of the Alerts service, the Rochester RHIO is anticipating the release of a Customized Alerts service later this spring. With Customized Alerts, providers could receive notifications for particular patients, or groups of patients. For example, a doctor could receive Customized Alerts for a disease registry or care initiative cohort. This service will provide users the customization and level of service they need to in order provide the highest quality care for their patients.


RHIO data at the heart of Weill Cornell Medicine Study

The RHIO also continues to be a rich source of data for original research on the benefits and proven value of using a community health information exchange (HIE). In December 2015, researchers from Weill Cornell Medicine published a study in the Journal of the American College of Radiology. The study used records from the Rochester RHIO.

The purpose of the study was to quantify the cost-savings of a health information exchange in regards to repeat imaging because imaging procedures constitute a large portion of healthcare expenditures, according to the study. Using the data of over 12,000 patients, who consented to have their information made accessible through the RHIO, Weill Cornell Medicine researchers confirmed that healthcare providers who use a health information exchange reduce costs and limit redundant imaging and tests, resulting in additional savings. The researchers also indicated that HIEs should be leveraged even more to save additional healthcare dollars.


A Note from Jill

The year 2016 is shaping up to be a stellar year for Rochester RHIO. As the RHIO's new Executive Director, I am excited to build on the RHIO's 10-year track record of leadership in the transformation of the delivery of healthcare information. The RHIO's community health information exchange (HIE) now includes 142 million clinical documents (and counting) that represent the medical history of more than 1.4 million residents in the 13-county Finger Lakes region.

This year, we have launched a call to "Contribute" to the RHIO's HIE. What is Contribute? Contribute is a call to participating providers to share patient data (CCDs) with the Rochester RHIO through electronic health records (EHRs). With this additional data, the RHIO will be able to provide more complete patient health records, enabling the highest quality patient care.

Also, the RHIO is supporting care transformation efforts within our community as part of the Medicaid reform model. We continue to partner with and support FLPPS on bidirectional interconnectivity with the RHIO's HIE.

The future of community health information exchange continues to be bright, and we wouldn't be able to do what we do without the support of our many participants and stakeholders. At The Rochester RHIO, we are committed to supporting our community's healthcare ecosystem.

Jill Eisenstein



​
Register for Rochester RHIO's annual training
The Rochester RHIO is offering a new series of webinars for 2016. The sessions will focus on HIPAA compliance requirements and a refresher training course for Explore. To register, click on one of the sessions below. You will receive reminder emails about the event.
Explore Refresher Training (Second Quarter)
Tuesday, April 12 - 8 a.m.
Thursday, April 14 - 12 p.m.
Thursday April 14 - 4 p.m.
HIPAA Training Sessions
Tuesday, April 19 - 8 a.m.
Thursday, April 21 - 12 p.m.
Thursday, April 21 - 4 p.m.
Explore Refresher Training (Third Quarter)
Tuesday, August 16 - 8 a.m.
Wednesday, August 17- 2 p.m.
Wednesday, August 17 - 4 p.m.
HIPAA Training Sessions (Fourth Quarter)
Tuesday, October 18 - 8 a.m.
Thursday, October 20 - 12 p.m.
Thursday, October 20 - 4 p.m.







.









CONTACT RHIO:
200 Canal View Blvd.
Suite 200
Rochester, NY 14623
(877) 865-RHIO
info@grrhio.org