Board of Directors

Officers
Joann Weiner, Chair
The George Washington Univ.
Maria L. Dooner, Vice Chair
TaxFirm.com/AccuFirst Inc.
Tom Ochsenschlager, Treasurer
Retired, American Institute of
Certified Public Accountants
Megan Newman, Secretary
UDC - David A. Clarke School of
Law, Low-Income Taxpayer Clinic

Directors
Azeka Abramoff Lobo
Shearman and Sterling LLP
Harley Duncan
KPMG LLP
Elizabeth D. Ferrill
Finnegan, Henderson, Farabow,
Garrett & Dunner, LLP
Barbara Mantegani
Mantegani Tax PLLC
William R. Stromsem
Retired, American Institute of
Certified Public Accountants

Staff
Teresa D. Hinze
Executive Director
Miren Beitia
Programs Coordinator
Lisette Engel
Tax Program Manager




www.communitytaxaiddc.org
PO Box 33704
Washington, DC 20033
(202) 547-7773
info@communitytaxaiddc.org
1000 Vermont Ave NW,
Suite 920
Washington, DC 20005
info@communitytaxaiddc.org
202-547-7773
MLK Replacement Site and 2017 Season Update
Spring is in the air and that can only mean that Tax Season is almost over! We are happy to update you on how you helped us find a replacement location for the MLK Library, give you a brief summary of our season to date, and invite you to our Spring Benefit!
MLK Replacement Site! In December we ran a special campaign to raise funds to find a replacement site for the MLK Library, which closed for renovations in March.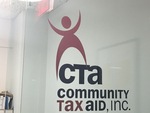 The MLK Library is our largest site, helping over 2,000 low-income tax payers every year. Thanks to your generosity, we were able to secure a location in the Downtown area so that our returning clients would still have access to our services. The temporary site while smaller is conveniently located close to a variety of public transportation stops. In addition, we moved to an appointments system instead of the walk-in, first-come first-served process we had at the Library. It was a big change, but we have received positive feedback from tax-payers and are incredibly grateful that we could continue to provide this important service for those who need it the most.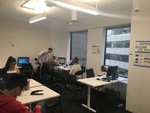 We especially appreciate the flexibility of our volunteer preparers, who have made the move to our temporary location. Our volunteers demonstrated their commitment to the program and the services that CTA provides. We certainly could not do what we do without their help. Thank you!
2017 Season Update.
​Tax Season will end for us on April 29th. With over 450 volunteers, through March 31st we have been able to file 4,180 tax returns. Before the MLK Library closed, we served more tax payers than usual as we added an evening shift for tax preparation. As of March 8th, thanks to your generosity our volunteers continued to serve the community from a convenient site near 15th and K Streets NW. In addition, thanks to our partnership with Jubilee Jobs we were able to offer Sunday appointments to increase our capacity. We continue to partner with community organizations to promote our services and educate our clients about the importance of understanding their returns.
"I used to go to a paid preparer and found out that my 2014 tax returns were never submitted. You were able to help me figure out how to fix it all for free! Your volunteers are so professional and as someone from an older generation that is very important to me." - Tax Payer at SECCC

Thank You Volunteers! CTA's Volunteer Income Tax Assistance Program owes its success to the volunteers! The Annual Volunteer Appreciation event has been scheduled for Tuesday, May 16th and is being hosted by McDermott Will & Emery.
​Spring Benefit - Save the Date and Join Us!
Have you ever joined us for our annual Spring fundraiser? Be sure to save the date because we are celebrating 30 years! Come and join us for a fun-filled evening on Thursday, June 1st at the terraces of the AICPA offices at the Willard Office Building. We will be sending out invitations soon!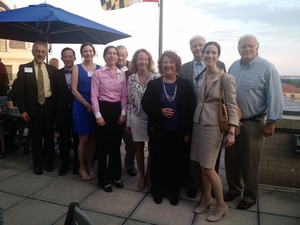 Sincerely,

Joann Weiner