EBI Closed Due to Hurricane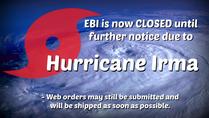 In anticipation of the hurricane the decision was made to close EBI to allow time to prepare the building and equipment for the storm. We backed up all of our computer systems, shut down our on-site server and powered down all of our printing equipment. The building has now been secured as much as possible. Unfortunately, EBI cannot operate effectively without electricity and so we will remain closed until the storm passes and the power is restored. Please pray that we can reopen quickly and that the facilities and materials will not be damaged. Many churches, seminaries, pastors and missionaries depend on EBI for their ministry materials and training needs. Pray that our ministry will not be significantly hindered by this storm. There are many, many projects going on at EBI. Pray that we can get back to work soon!
You can view EBI's website in either English
or Spanish by clicking here:
Family Hurricane Preparations Made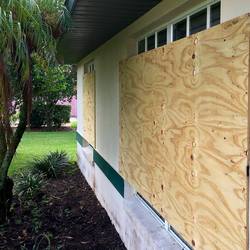 We have been working hard as a family to prepare for the storm. We have been able to board up our large windows, prepared sand bags and have reinforced our garage door. Of course we have moved loose items inside and cleared our lawn of any potential debris. Since this is a new experience for us we are very thankful for our co-workers who have helped us so much in readying our home. It is all a bit scary as we see everything around us being secured.
We have also stocked up on important supplies. We have a large supply of food, water, and batteries. We also have oil lamps and candles. We also have our car filled with gasoline. We are thankful for the supplies that we do have because there have been many shortages here in our area as everyone prepares.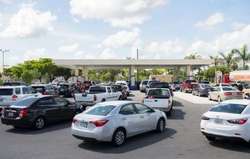 Several have written and asked why we are not evacuating. We have taken all recommended precautions. Fortunately we live in the center of Florida. While we will not likely avoid all of the potential dangers, we are in a fairly safe area. We have been asked by local and state authorities NOT to evacuate to free up the roads and the gasoline supplies for those leaving more dangerous coastal areas. Highway 27 that runs through our town has been packed with folks evacuating the Miami area. All of the gas stations in this area are out of gas. We would greatly appreciate your prayers over the next several days. We will update everyone as soon as possible.
You can view our family's ministry Facebook page here for updates:
Please Pray for our Ministry Partners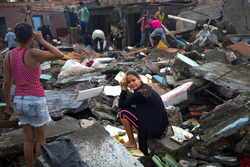 Please be praying for several of our EBI ministry partners that are struggling at this time. Christian brothers in Cuba have been blasted by the storm. Some of our ministry partners in this tiny island nation already suffer from poor housing and lack of food. They will no doubt be struggling more in the coming days as they recover from this powerful storm. Pray also for those in Mexico that have survived the earthquake that rocked parts of that nation earlier this week. Others in places like Venezuela are being plagued by difficult government oppression. Pray that God will use these events to bring others to Him.