Outdoor Antiques and Vintage Show, August 4
The Outdoor Antiques and Vintage Show is on Saturday, August 4, from 9:00am until 4:00pm at the Lewes Historical Society, 110 Shipcarpenter Street in Lewes, Delaware. Admission will be $5.00 per person, children under 12 are free. High quality antiques dealers participate in the show, featuring 18th century to early 20th century antiques. This year, unique vintage items will also be available for purchase. All pieces are authentic and represent a wide range of prices. There is something for every taste and every level of collecting sophistication at the show.
In addition to the traditional live music and delicious food available for purchase, Dogfish Head beer and Sonic Archaeology cocktails will be poured from 11am-3pm. Sonic Archaeology is a special prohibition-era inspired cocktail perfect for this vintage event. There will also be donuts and coffee provided by Fractured Prune.
This event is generously sponsored by Schell Brothers, who will be holding a special raffle at the show. Don't miss out!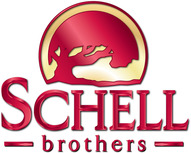 ---
Volunteer Fair-Thank you!
Our first ever volunteer fair on Wednesday was a great success- thanks to people like you! We had many people in attendance but we still need more volunteers to help the Society run at its full potential. If you are interested in volunteering at the Society or just learning more about what opportunities are available, please
click here
.
If you would like to read about some of the benefits of volunteering,
click here.
---
Indulge on Friday evenings for The Lewes Historical Society's History Happy Hours, including interesting dialogue led by local history buffs, heritage area experts, and museum professionals. These 20-30 minute featured presentations are followed by engaging question-answer periods.
History Happy Hours take place on Friday evenings from June through August beginning at 4:00pm, at the Margaret H. Rollins Community Room at the Lewes History Museum, 101 Adams Avenue, Lewes.
These events are free.
Please consider joining us for this unique educational opportunity!
Friday, August 3rd- Marcos Salaverria, Cornhole Cannonball and Children's Education in Lewes
Friday, August 17th- Andrew Lyter, Whaling in Early Lewes
---
2018 Lewes Vintage Base Ball Schedule
Lewes Base Ball Club is a member of the Mid-Atlantic Vintage Base Ball League and the Vintage Base Ball Association. It is an educational program at the Society designed to tell the story of baseball in the late 19th and early 20th centuries. It also demonstrates the history of social and athletic life in Lewes.
Join us for our next game on Sunday, August 12th at Village of Five Points!
August 12th
Home vs. Rising Sun Baseball Club
Double Header 12&2pm
September 9th
Home vs. Diamond State Baseball Club
Double Header 12&2pm
September 23rd
Away at Good Stay Center (Wilmington)
Double Header 12&2pm
---
Beginning Saturday, April 7th the Sussex County Genealogical Society will be presenting "Genealogist-in-Residence" the first Saturday of each month at the Sally Mott Freeman Reading Room at The Lewes History Museum. This is a great opportunity for genealogy beginners and seasoned researchers alike. This program can help guide you through getting started with genealogical research or aid you in delving deeper into an existing project.
Next Genealogist in Residence: Saturday, August 4th, 10:00am-2:00pm.
---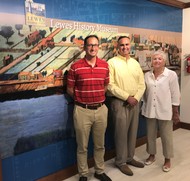 Executive Director Mike DiPaolo and Board Chair Elizabeth Owen would like to thank Senator Ernie Lopez for his dedication to the Lewes Historical Society. Senator Lopez's support of our mission is greatly appreciated.
---
2018 Tour Schedules Out Now
Our 2018 tour schedules are updated on our website! Take a Walk Through Lewes' Early Past or hit the water on our kayak tour.
Renting the Historical Society
The Lewes Historical Society offers many venues for all types of special events. The Lewes History Musuem, Shipcarpenter Campus grounds, Cannonball House yard, and the canal-front Life Saving Station are all available to be rented for weddings, receptions, business meetings, parties, and more!
Check out our facility rentals page for more information!
Visit the Lewes History Museum!
Open 7 days a week 10 am- 4 pm.
The museum serves as the primary source of information about Lewes for visitors, researchers, students, and residents. Enjoy ongoing exhibits featuring Lewes's maritime history, decorative arts and artists, famous families of Lewes, and our region seen through environmental change. The museum provides ongoing seminars, symposia and presentations, and a wing for community non-profit gatherings. The Children's Discovery Center, a children's interactive history area, will be finished soon!
The Pilots of Lewes Exhibit is now open and features artwork and photos from private collections as well as our own, all showcasing the life and work of pilots of the Delaware River and Bay.
Zwaanendael Club Museum Store
Open every day, 10-4pm.
Looking for a special piece of Lewes to bring home?
The Zwaanendael Club Museum Store has just the perfect thing! Choose from a unique selection of books, clothing, art prints, home decor, and art from local artists!!
There's something for everyone (even the kids!) at our Museum Store!
Located at 302 Savannah Road, Lewes.
You can also browse our items here
---
H. Edward and Irene Maull
H. Edward Maull Sr. and his wife Irene Turner Maull were charter members of The Lewes Historical Society. At his death in 1982, H. Edward Maull (Ed) requested that all memorial donations in his name be used specifically for costs of publications written on Lewes history by the Society, such as the LHS Journal. He was a native of Lewes and an expert on its history. Mrs. Maull died in 2005 requesting that donations be made to The Lewes Historical Society Endowment Fund. In her memory, a $5,000 donation was given by Jack Lingo, Realtor.
For more information about the Society, the Endowment, or to discuss a potential donation or estate planning in confidence, please contact the Society at 302-645-7670.
The Lewes Historical Society, owing to its tax-exempt status, receives the full benefit of all bequests. Making a planned gift through your will or other instrument is perhaps the easiest way to make such a gift to the Endowment. For more information, please contact your estate planner, attorney or financial consultant. If you wish to notify the Society of a planned gift so we may acknowledge it, please contact Mike DiPaolo at (302) 645-7670.
---