Copper River Sockeye is Key Ingredient
at Whole Foods Fishmonger Face-Off in Aspen
For Immediate Release:
June 14, 2012
Cordova, Alaska--Fresh Copper River sockeye salmon will be the showcase ingredient at the first ever Whole Foods Fishmonger Face-Off at the Food & Wine Classic in Aspen this weekend.
On Saturday, June 16 from 12:00-1:30, 11 fishmongers from Whole Foods Market stores across the country will participate in the "Show Your Skills Quick-Fire Challenge." While being timed and working on stage, each fishmonger will fillet one whole fresh Copper River Sockeye. The event will be emceed by Chef John Besh and judged by Chef Paul Qui, a James Beard winner and recent Top Chef; David Pilat, the global seafood coordinator for Whole Foods; and Kerry Coughlin of the Marine Stewardship Council.
Beth Poole, the Executive Director of the Copper River/Prince William Sound Marketing Association in Cordova, Alaska is proud that the Association can support the event, which will help raise awareness about the sustainability of wild Alaska Copper River salmon. Aware that fish mongering is as much an art as a skill, Poole states "Fishmongers are a customer's go to source for information about the fish they are buying. This event is an exciting way to showcase their knowledge of sustainable seafood as well as their filleting skills."
In order to make sure that the freshest most beautiful sockeye land on the fillet tables in Aspen, Poole helped select more than 14 head-on gorgeous male sockeye. The salmon were gutted, packed, and sent via expedited shipping to Aspen. The salmon will be featured in the Face-Off and served as Herb-Grilled Copper River Salmon over Cucumber Dill Salad at the luncheon created by John Besh.
The 2012 Copper River sockeye season opened on May 17th and is off to an extraordinarily strong start. The runs are abundant, and the rich red fish are looking great. Poole states, "This year has been a strong Copper River sockeye run. The fish are bigger than average and quantity has been phenomenal. Fishermen will be harvesting Copper River sockeye through the end of July, so there's lots of opportunity to enjoy this incredible fish."

The Alaska Department of Fish & Game announced a 36-hour fishing period starting ay 7am on Thursday, June 14th. 900 king salmon and 61,400 sockeye were harvested during Monday's opener.
For more info contact: Beth Poole, Executive Director
Copper River/PWS Marketing Association
Box 199, Cordova, AK 99574: t: 907.424.3459 :: c: 907.429.3459
###
Photo: Prime Select Seafoods' readies boxes of Copper River Salmon for shipment today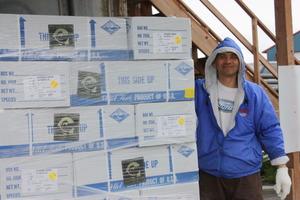 Photo: Filleting Copper River Sockeye salmon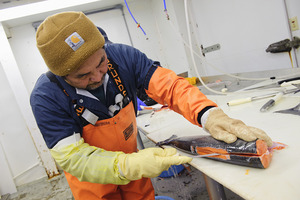 Photos are available for media use, courtesy of Copper River Salmon
________________________________________
Beth Poole, Executive Director
Copper River/PWS Marketing Association
Box 199, Cordova, AK 99574 :: t: 907.424.3459 :: f: 907.424.3430
www.copperriversalmon.org :: www.copperrivermarketing.org
Facebook: www.facebook.com/CopperRiverSalmon
Twitter: http://twitter.com/copperriverwild
---