Dear Dance Daze Families and Friends,
We hope you have been enjoying your summer so far! Dance Daze founder
Saumirah McWoodson
has been busy preparing for our exciting, themed 2015
Summer Session
.
This will be a short newsletter, with a few reminders for those of you who will be joining us for the Summer Session--either for the entire session or for drop-in classes. (The Drop-In Rate of $20 per child, per class will remain the same for the 2015 Summer Session. You may pay with a check made out to "Dance Daze" or in exact cash.)
I. New Offer for Current and New Dance Daze Davis Students:
Register for classes and pay online by June 5th to receive
50% off
the regular rate for the
full Summer Session
! You may find the details of this offer on our
Facebook Page
or by clicking
HERE
. You must click "Claim Offer" on the offer that is currently posted at the top of our Facebook Page. You will then receive an email at the email address you use to log into Facebook. You must submit payment online via PayPal
by July 5th
for this offer to be valid. A PayPal account is NOT required to submit online payment. We will receive confirmation after your payment has been correctly submitted online. Directions for submitting your payment online can be found on our website:
http://dancedazedavis.com/classes/pay-for-classes/
-- You must click the "Pay Now" button at the bottom of the "Pay for Classes" page and enter the price of "55.00" to receive the rate of $55 per child, for the entire Summer Session. Please email
saumirah@dancedaze.org
with any questions.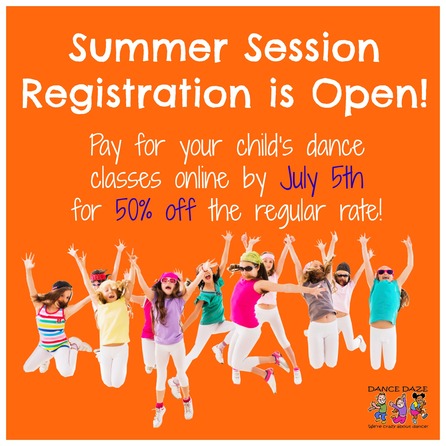 II. Summer Session Dates & Themes:
You may find additional details about the Session, including a description of classes by downloading our Summer Session flier HERE.
July 11th: Party in the USA
July 18th: Frozen in July
August 1st: Jungle Jam
August 8th: Superheroes & Princesses
August 15th: Cowboys & Cowgirls
August 22nd: 80s Dance Party
III. Helpful Links: Please click through the linked subjects below for helpful information found on the Dance Daze Davis website:
Have a fantastic Independence Day Weekend! We look forward to seeing you on July 11th for our Party in the USA themed classes!