New Website Launched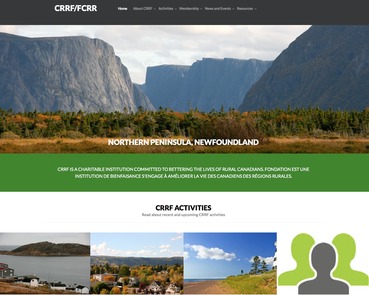 The CRRF website (
www.crrf.ca
) received a re-design over the holiday season. The new website continues to allow us to share information about CRRF, our activities, and share information about rural and regional development throughout Canada. The new website layout is responsive, ensuring it can be properly viewed on computers, tablets, and smart phones.
Over the coming weeks, CRRF will continue to update and upload information to the website. We welcome feedback on the new website design. Suggestions for additional information to be posted, links, or rural stories are welcomed. Please send comments to CRRF via email at
crrf-fcrr@live.com
.

---
Mark Your Calendars - 2015 CRRF Rural Conference

CRRF is excited to announce the 2015 rural conference will take place in Summerside, Prince Edward Island from September 16-19. The conference theme is
Building Resilient Communities: Innovation, Culture, and Governance in Place.
The conference will be co-hosted with the North Atlantic Forum and the Institute of Island Studies, University of Prince Edward Island.
The Building Resilient Communities Conference will bring together community leaders, voluntary organizations, governments, businesses, and researchers to highlight the "dark horses" – people, organizations, and communities who are doing innovative things based on good governance, economic development, environmental considerations, and culture. These activities are critical to creating and sustaining healthy and resilient communities.
Details about the Building Resilient Communities Conference and Summerside can be found at
www.pei2015.crrf.ca
. The first call for presentations is currently open (see next story) and r
egistration for the conference will open in February.
---
Call for Presentations - Building Resilient Communities Conference
Building Resilient Community Conference
invites explorations of how various 'dark horses' in Canada and the broad North Atlantic – including minorities, small towns, peripheries, aboriginal communities, those with little money, status, voice or political leverage – can rise to the occasion and chart liveable futures.
The conference will serve as a platform for the critical and inter-disciplinary discussion of experiences where those living 'on the edge', however defined, show unexpected ingenuity and mettle; and respond cleverly to dire economic straits or public policy negligence.
Conference organizers welcome submissions from community organizations, community leaders, nonprofit organizations, government, students, researchers, and businesses to share information on the topic of building resilient communities or regions. Each presentation will be allocated 15 minutes for sharing information and 5 minutes for questions. Conference organizers also welcome suggestions for panels discussions on topics related to building resilient communities and regions.
---
Student Rural Research Initiatives
The February e-newsletter will profile rural research initiatives from across the country being undertaken by students. If you would like to submit your research activity for inclusion in the e-newsletter send a brief description (100-150 words) to
crrf-fcrr@live.com
. Thank you to those who have already submitted their contribution.
---
New Publication: Sustainable Development in the Circumpolar North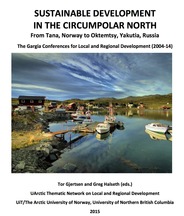 Edited by:
Tor Gjertsen and Greg Halseth
Focusing on the development of a sustainable future for rural and northern regions, the book touches on the themes of governance, community, economic, and social development, as well as development in Indigenous communities and regions. At its core, the publication confronts critical issues and ways to facilitate positive change for communities that are experiencing economic and social transformation.
The book is being co-published by the Community Development Institute at the University of Northern British Columbia and the University of the Arctic's Thematic Network on Local and Regional Development in the North. It has been released as an eBook in order to maximize and enhance the accessibility of the information.
To download a copy of this e-book click here
.
---
Become a Member of CRRF Today!
January is the start of the CRRF membership year.
Now in its third decade, CRRF is a proven rural resource, dedicated to active collaboration, undertaking, facilitating and advocating research for the ongoing development of Canada's rural communities and environments. As an informal, volunteer run organization dedicated to the welfare of rural Canada it provides a host of benefits to an expanding membership.
CRRF offers both a one-year membership ($30) and a five-year membership ($100). Membership runs from January – December.
If your membership has lapsed, you will receive an email shortly provide instructions for how to renew your members.
---
Recent Rural News and Publications
Do you have a report, publication, or news story that would be of interest to CRRF members? If so, please send the details to crrf-fcrr@live.com for inclusion in an upcoming e-newsletter.
---
Follow CRRF/FCRR ...
Upcoming Rural Events
5 February 2015 in Renews, Newfoundland. Hosted by the Harris Centre
23-25 February 2015 in Camrose, Alberta
Starts February 23, 2015. Hosted by the International Centre for Northern Governance and Development
1-3 March 2015 in Canmore, Alberta
6-8 March 2015 in Halifax, Nova Scotia
13-14 March 2015 in Prince George, British Columbia
16 March 2015 webinar hosted by the Association Polar Early Career Scholars
10-12 April 2015 in Annapolis County, Nova Scotia
6-9 August 2015 in Madison, USA
17-19 September 2015 in Summerside, Prince Edward Island co-hosted by CRRF and the North Atlantic Forum
Do you know of an upcoming rural or regional development event? Let us know and we will add it to our list of events (crrf-fcrr@live.com)
---
Contribute to the E-Newsletter
Do you have a story about rural or regional development? A new publication, toolkit, or website? CRRF would love to hear about it! We continually look for new ideas and stories to share. Send your ideas to
crrf-fcrr@live.com
.
---
Follow CRRF on Social Media
Did you know you can follow CRRF on both Facebook and Twitter? Add us today to keep up to date with activities, news, and upcoming events.
---