Sneak Peek
Watch out for the launch of our new film, "Saving the Wild: The Caucasus Nature Fund," due to launch in October. You can get a sneak preview on our You Tube channel.
Boston Kermesse
CNF was a proud sponsor of the Boston Kermesse festival, a showcase of Armenia culture held over the weekend of 10 and 11 September. Our exhibit demonstrated our work, and for the younger members, offered a "Name the Leopard" contest. Over the course of the weekend, we estimate that several thousand people were introduced to the mission of CNF.
New York Benefit
Our advisory board member Willard Taylor and his wife Virginia Davies generously hosted a benefit for CNF in New York. About 50 friends of the Caucasus region attended the gala cocktail evening--CNF's first official private benefit.
Campaign Launch "15 Parks by 2015"
Dear Friends,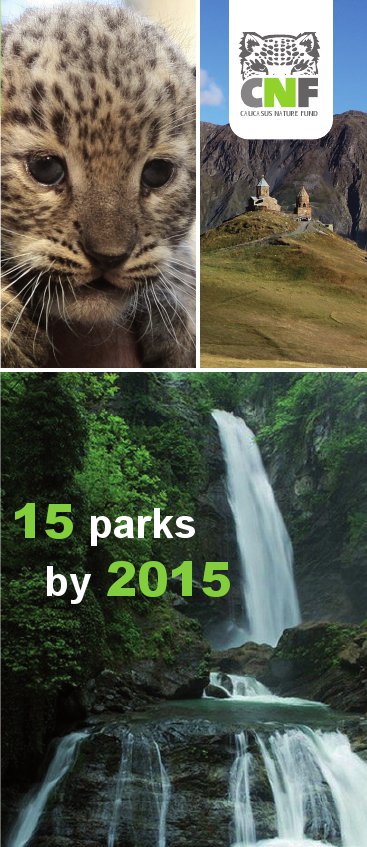 If you dropped by to see us at the Boston Kermesse or attended our recent New York Benefit you will have heard about the launch of our 15 Parks by 2015 campaign. By 2015 we are aiming to support 15 of the largest parks in Armenia and Georgia, covering over 600,000 hectares (1.5 million acres). And this target does not include any parks that we support in Azerbaijan, where we are hoping to be able to launch a pilot project as early as next year.

To mention only two of the exciting targets that will be funded by our campaign over the coming years:
In 2012, in partnership with WWF, CNF will be raising funding for the reintroduction of the Caucasian Red Deer Subspecies into Dilijan National Park in Armenia.




By 2014, we plan to be funding the region's first trans-boundary park, which brings together Javakehti National Park in Georgia with Lake Arpi National Park, just across the border.
We will keep you posted on progress on these and other projects as they unfold.

This coming year will be our fourth year of operation and we'll be stepping up a gear, supporting three more parks and launching new projects. Please help us spread the word; join us on Facebook, invite your friends and get involved in saving this magnificent wildernesses.



Project Update



One of the big advantages of CNF's approach is that we provide ongoing, strategic funding and not just short term project funding.

A good example is our recent funding for the creation of Management Plans in Borjomi-Karagauli Protected Areas in Georgia and Dilijan National Park in Armenia. These plans will cover a six year period, providing an invaluable summary of the issues and challenges facing the PA's and the priorities for action.

The PA budgets will be based on these priorities, so that we can monitor more efficiently not only where our grants are spent, but also the impact that our funding is having on the ground. This integrated approach is at the heart of our mission.