Dear Friends,
As CNF wraps up its fourth year in operation, I would like to thank you for your support and interest in our work, and share some of our recent successes and our plans for 2012.


455,000 Acres/185,000 Hectares of Magnificent Wilderness Supported in 2011
With generous gifts from our individual donors and institutional and corporate sponsors, in 2011 we worked in five parks in Armenia and Georgia by supporting:
tourism development, including: a complete refurbishing of the visitor center in Borjomi Kharagauli National Park in Georgia—one of Europe's largest parks, and furnishing the new tourist center at historic Khosrov Forest in Armenia

250 park rangers and staff by helping to provide a living wage

essential operating costs, from fuel and patrol vehicles to basic equipment like binoculars, cell phones, saddles and camera traps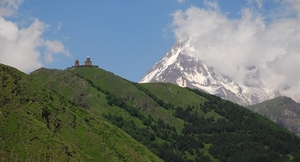 Hitting the Halfway Mark: 15 Parks by 2015
We're planning a surge for 2012 to reach the halfway mark toward our 2015 goal of supporting 15 parks. By adding three more to our portfolio, we will be supporting a total of eight parks in Armenia and Georgia and doubling the total acreage we cover. On top of this effort, we hope to launch a pilot project in Azerbaijan, which would open up vast new scope for our work.
Reintroducing Indigenous Species
An exciting new element of our programs in 2012 will focus on the reintroduction of local species of gazelles, mountain goats and red deer, whose populations have dwindled to dangerously low levels confined to isolated habitats.


Help Us Save the Region's World Class Biodiversity
The high mountains, deep forests, and semi-deserts of the South Caucasus boast more biodiversity per acre than in any temperate climate zone in the world. This spectacular region is noted as one of only 34 biodiversity hot spots worldwide. Protected areas are crucial to conservation efforts, which is why CNF is focusing its efforts on ensuring the future of 15 of the largest parks in the South Caucasus. In order to reach our 15 Parks by 2015 goal, CNF's annual program spending must triple from its 2011 level.


As you plan year-end gifts, please help us reach this goal by contributing to CNF. Your gift will protect the unparalleled landscapes and biodiversity of the Caucasus for future generations.


Warm wishes for the holiday season and a happy and prosperous 2012.

Kind regards,




David Morrison