Park News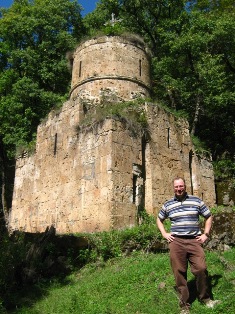 CNF's executive director, David Morrison, has just returned from three weeks in the Caucasus. The trip included visits to five of the region's protected areas, three of which we feature here.

With its well known resort town located in the heart of the National Park, Dilijan's beautiful setting—only about a two hour drive from Yerevan—makes the park a prime location for tourism. With new plans to make Dilijan town Armenia's financial capital, CNF is helping the park prepare for what promises to be a significant increase in visitors. We are currently funding a planning program for Dilijan and hope to fund the park with a full three–year grant beginning in 2014.

On the border of north-western Armenia with south–central Georgia, Lake Arpi and Javakheti National Parks are new parks that have been created with investment funding from the German government. This vast network of wetlands is the first trans–boundary park in the region and a crucial resting place for many migrating birds. David visited both sides of the border, including a newly constructed visitor's center, and discussed the parks' potential for bird watching and horseback riding. CNF plans to support park operations, beginning with Lake Arpi in 2013 and following with Javakheti in 2014.
CNF Cooperates with Georgian Government to Support Family of Fallen Ranger
This summer, Merab Arevadze, a senior ranger at Borjomi Kharagauli, one of Georgia's flagship national parks, was killed in the line of duty--trying to stop a group of poachers. This was the first homicide of one of Georgia's rangers. Merab was uninsured and left behind a wife and two young boys. Deeply saddened by his death, CNF approached a number of donors with the idea of setting up a memorial fund for Merab's family. The response was immediate, with this new dedicated funding CNF made a one-time support payment to Merab's widow and will pay a monthly stipend for the children until they finish their education.

Following this tragedy, CNF offered to cover half of the costs for one year if the Georgian government would establish a new insurance package covering all park rangers and staff. The Georgian government has advised CNF of its intention to do this. CNF praises the government's quick response and looks forward to helping to get this new program off the ground as an example of the kind of structural change that CNF can catalyze.
Help Save the Region's World Class Biodiversity!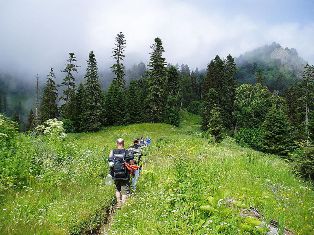 The high mountains, deep forests, and semi-deserts of the South Caucasus boast more biodiversity per hectare than any temperate climate zone in the world. Protected areas are crucial to conservation efforts, which is why CNF is focusing its efforts on ensuring the future of 15 of the largest parks in the South Caucasus.
Help us reach this goal by contributing to CNF. Your gift will protect the unparalleled landscapes and biodiversity of the Caucasus for future generations.