HSBC RECOMMITS TO KHOSROV FOREST





Dear Friend,





Khosrov Forest State Reserve is Armenia's flagship park, and HSBC has supported CNF's work there since 2010. Over the summer, HSBC generously renewed its support for 2013

.




Support this year will promote and develop Khosrov's patrolling program and overall self sufficiency.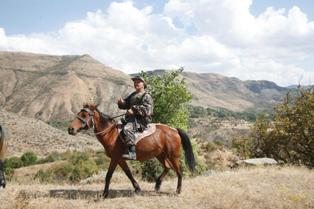 With HSBC's help, we will purchase eight additional horses for the reserve. Experience has shown that horses are the best mode of transportation for fast and effective patrolling of the reserve's rugged terrain. Horses are environmentally friendly and allow the reserve's 44 rangers to venture deep into the wilderness, cutting across the forest and mountains with minimal disturbance to the plants and animals.
HSBC will also sponsor the reserve's bee keeping program. With the addition of 45 new hives to the reserve's existing stock, the park will be able to create a sustainable and profitable bee keeping program, generating revenues and supporting its self-sufficiency. Honey production is an environmentally friendly way to cover a park's financial gaps.
In prior years, HSBC supported the purchase of furniture and equipment for Khosrov Forest's visitor shelter at the Vedi entrance to the park. The shelter was fully fitted out with kitchen, dining and sleeping accommodation as well as utensils, cookware and bed linen. Motivating local people is a key to conservation work, and Khosrov Forest's plan is to develop eco-tourism in the reserve with the full involvement of local communities, building up their skills and creating alternative sources of income for them.
HSBC has a long standing commitment to protecting the environment. It believes that a healthy environment is fundamental to a thriving society and sound economy for Armenia. CNF is deeply grateful to HSBC for its continued support of our projects.