A Beautiful Event on a Beautiful Night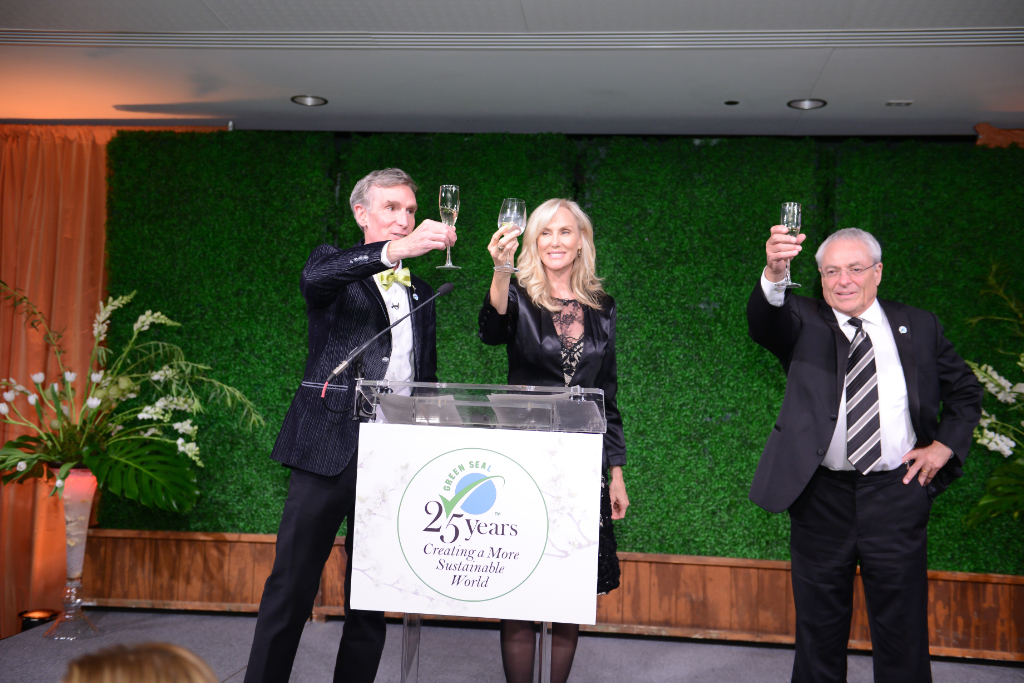 A BIG THANK YOU to all who were able to join us for our 25th Anniversary gala on October 8th in Washington, DC.

The evening was a complete success, and you helped make it so!
The event started with help from Mother Nature — a beautiful sunset seen from the Newseum balcony overlooking the National Mall. Add to that the creation of an original earth-inspired painting, sampling of specially-prepared appetizers and refreshments, and mingling with inspiring guests, and you had a great launch.

Kate Brandt, the Federal Environmental Executive appointed by President Obama, spoke briefly on Federal environmental purchasing and Green Seal's assistance over the years, while an animated timeline of Green Seal's 25 years played on the 20-foot screen.

Student representatives from the University of Maryland, Georgetown, and American University presented posters on their schools' sustainability efforts.
Then, as visitors sat down to a delicious and (of course) sustainable meal crafted by Wolfgang Puck, Bill Nye The Science Guy, rode in on a Capital Bikeshare bike.
Bill and cohost Rachelle Carson-Begley bantered back and forth on whose super-efficient L.A. home was greener, while introducing Denis Hayes, Green Seal's first CEO, and presenting an award to Rena Shulsky David, Green Seal's founder.

During the celebration we honored some of the pioneering companies who have maintained Green Seal-certified products and services.
Read more...
---
TV Opportunity:
Represent Sustainability Leadership

EmeraldPlanet Television –

a weekly program with over 5 million potential viewers - is offering to feature Green Seal to demonstrate the significance of certified products and services. Our CEO Arthur Weissman will be interviewed in the first segment, a second segment will feature one of our partners in scientific research, and the remaining two segments will feature two companies with Green Seal-certified products or services.



This invitation is open to all companies with Green Seal-certified products and services. If you are interested in having a representative of your company join us for this exciting opportunity, please email marketing@greenseal.org.

In your email, specify the contact information of the individual who will represent your company.
---
Join Green Seal at Earth Day Texas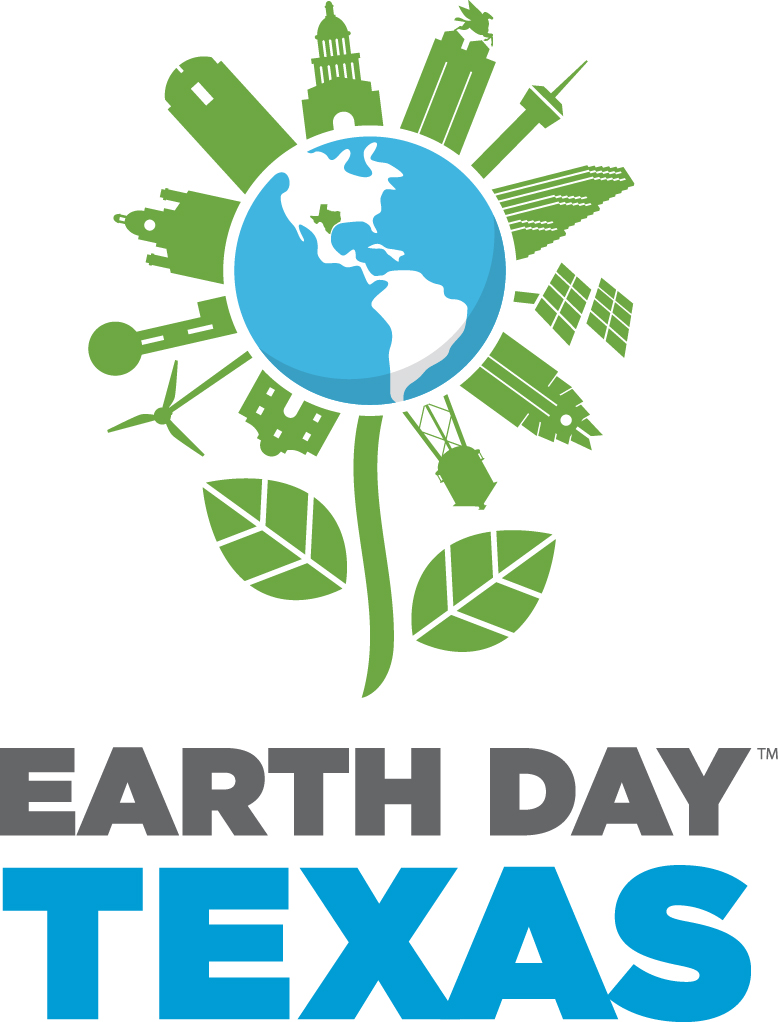 We will be exhibiting at Earth Day Texas in 2015, and we are inviting companies with Green Seal certifications to join us.

We're working with EDTx to create a prime area at the show highlighting Green Seal-certified products and services, and the more who join, the more impactful it will be. Exhibition fees are affordable and may be increasingly discounted as the number of Green Seal exhibitors grows.

Event: A dynamic forum for businesses, nonprofits, academic institutions, and government agencies to network and engage the public in environmental topics via exhibits, entertainment, workshops and talks.
Dates: Friday, April 24 – Sunday, April 26, 2015
Location: Fair Park - Dallas, TX
Estimated attendance: 70,000
92% of 2014 Exhibitors surveyed said they would exhibit again in 2015

.
---
Green Seal Featured at AASHE in Portland, OR

At the end of October, Green Seal presented and exhibited at the conference of the Association for the Advancement of Sustainability in Higher Education (AASHE) in Portland, Oregon.

The event is the largest in the US that focuses on sustainability in higher education. The 2,000 attendees and presenters included Directors of Sustainability from hundreds of US and international colleges and universities, representatives from facilities teams, as well as manufacturers of cleaning and paper products.

Green Seal's Vice President of Science & Standards Daniel Pedersen was welcomed by a full room of attendees for his presentation on standardizing sustainability for food services in higher education. His presentation (both video and PowerPoint) will be available on our website in the next few weeks.

While exhibiting at AASHE on October 26, 27, and 28, the Green Seal team fielded numerous questions on green cleaning, indoor air quality, environmentally-preferably purchasing policies, and local food purchasing. We look forward to returning as exhibitors to next year's AASHE conference in Minneapolis, MN.
---
Another Energizing ISSA Show
Each year, Green Seal sends a team to exhibit at ISSA – the largest conference in the US focused on the cleaning industry.

This year, we left our chilly cities of Madison, Wisconsin, Washington, DC, and (the less chilly) Lexington, North Carolina to enjoy beautiful Orlando, Florida and exhibit at the Orange County Convention Center.

On the expo floor, we caught up with more than 60 clients that manufacture Green Seal-certified products, and provided each team with a small promotional poster to help their booth staff demonstrate their company's sustainability leadership.

Our team members also presented awards to clients who have had Green Seal certifications for more than 10 years and were unable to attend our 25th Anniversary Gala. Enjoy our photos of ISSA, the award presentations, and our booth on
our Facebook page
!
---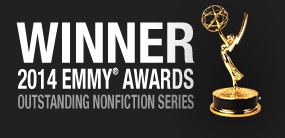 Green Seal Founder Wins Emmy
Rena Shulsky-David
, the founder of Green Seal, is also an Emmy Award winner. The hit series that she co-produced,
Years of Living Dangerously
, received the award for Outstanding Nonfiction Series for 2014. The series has aired on Showtime, and is now available on DVD and digital download. Green Seal congratulates Rena and the film's team on this award!

Green Seal Board Member Receives Lifetime Achievement Award
Green Seal board member, California Civic Leadership Institute co-founder, and former mayor of Santa Barbara Hal Conklin recently received the
2014 Past Presidents' Lifetime Achievement Award
from The League of California Cities Past Presidents Council. Our staff congratulates Hal and his family for this recognition.
---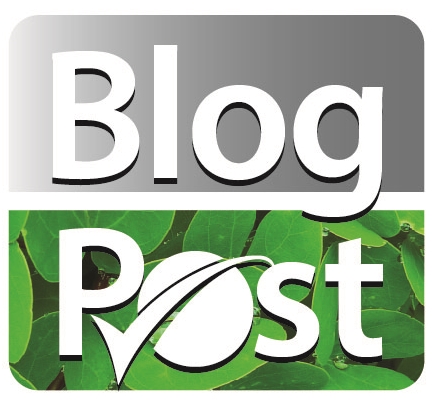 "
By your powers combined, I am …Captain Planet!
"



While Captain Planet may have been, for a vast majority of children that were drawn to it, an ordinary cartoon show, its message and legacy were very pertinent. By Nana Marfo, GS Intern.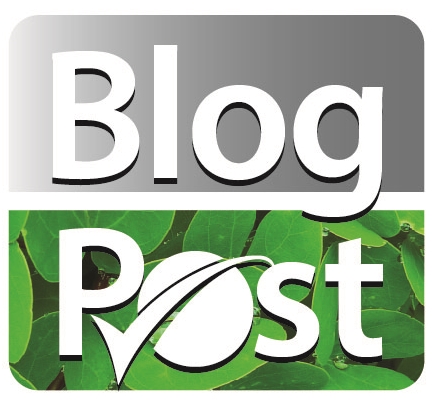 A Gracious Message from Marvin Klein of PortionPac
."..I don't believe any of us can estimate how many millions of people have benefited from Green Seal's vision and leadership. Certainly if you are a Janitor, Housekeeper or Cleaning Worker your health has been protected."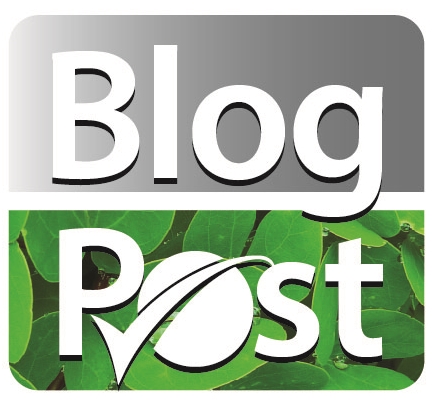 Wicked Problems & an Example: Greenwashing
Wicked problems can be found within many realms whether it is environmental, social, or economic issues. Almost all human problems are, on some level, wicked problems. By GS Intern Molly Buxton.
---
Autumn Happenings
International Council of Shopping Centers (ICSC) Canadian Convention, Sept. 22 - 24, Metro Toronto Convention Center, Toronto, ON.
Green Seal exhibited.
2014 National Safety Rest Area Conference, Sept. 29 - Oct. 2, Asheville, North Carolina.
Green Seal exhibited.
National Industries for the Blind National Conference and Expo, Oct. 6-9, 2014. Hyatt Regency Crystal City, Arlington, VA.
Green Seal
exhibited
.
Association for the Advancement of Sustainability in Higher Education (AASHE) Conference, Oct. 26 - 29,
Oregon Convention Center Portland, OR
Green Seal's Vice President of Science and Standards Daniel Pedersen gave a presentation, and Green Seal
exhibited
.
ISSA/INTERCLEAN

,

November 4 - 7, Orange County Convention Center, Orlando, FL

.
Green Seal
exhibited
.
---
Check out these recently published news articles below.

Green Seal Proposes Environmental Innovation Standard (Environmental Leader)
Green Seal at 25 (GreenBiz)
Services & Maintenance: All-Around Green Clean (Today's Facilities Manager) * Authored by Green Seal
Green Seal awards certification to commercial laundry detergent (Laundry and Cleaning News international)
Go green when you clean (Ada News)
Help environment with green decorating tips (Reading Eagle)
Congressman Paul Tonko Presents Mohawk Fine Papers with Congressional Recognition for Environmental Achievements (My Print Resource)

Read more news stories featuring Green Seal on our website.
---
Congratulations to the companies whose products and services recently earned
the Green Seal
Chrisal Group, Inc.
Ecolab
Georgia-Pacific Consumer Products LP
Kimberly-Clark
Kutol Products Company
MoeWorks LLC
Penn Jersey Paper Co.
R.E. Whittaker Company
Soundview Paper Company
Spartan Chemical Company, Inc.
Staples, Inc.
Tennant Company
Von Drehle Corp.
Xanterra Parks and Resorts at Zion Lodge
Whisk
Products, Inc.
We look forward to helping you promote
your Green Seal certification.

Thank you to all of our clients for helping us achieve our mission:
to create a more sustainable world.