---
---
Join us live online every Sunday
Live via Streaming

Join us for Sunday Meditations at 9 AM

Recent recorded video streaming meditations may also be found at the same link.
---
May 2012
Dear Friends & Supporters of KCC,
You might have noticed that this month, you're receiving two enewletters instead of one. That's because we've been blessed with so much news to share that it couldn't all fit into one newsletter!

In our first May newsletter, we offered news about upcoming events, including in-depth information about the upcoming Spring Celebration at SCOL, as well as some feature content like our new column Turning the Sangha Spotlight.

In this newsletter, we're providing more information about upcoming events as well as important updates about ongoing activities.

As always, we wouldn't have so much good news to report if not for your interest and your help. Perhaps you're volunteering out at the land at SCOL; or maybe you serve on a KCC committee; or you might provide our teachers an opportunity to share the dharma by attending teachings; or by reading this now, you offer us a chance to engage with KCC members and produce this newsletter: however you participate, we're here because of you. So thank you, friends and readers, for all you bring to KCC.
May we all share in those sorts of blessings.
---
Long Life Prayers for Lama Michael Conklin on June 22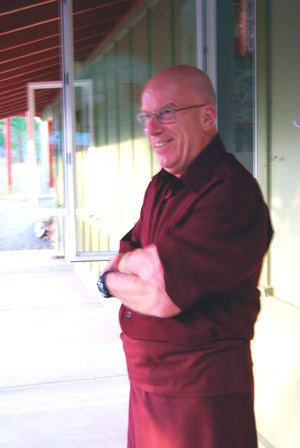 Join members and friends of KCC on
Friday, June 22 from 6:30 to 8:30pm
at the Urban Center as we chant long life prayers in appreciation for our Resident Lama, Michael Conklin, on the most auspicious occasion of his 68th birthday. We will provide copies of the long life prayer and will help you learn it, if you don't know it already. Lama Michael plans to attend. If you like, bring a snack to share and we'll celebrate his birth as we wish him many more years in the dharma, for the benefit of all beings.
In order to help us make arrangements for this event, please RSVP online at:
kccretreats.wufoo.com/forms/long-life-prayer-chanting/
If you have any questions, please email Susan Gladstone at: susan.gladstone@comcast.net
---
Join in the fun on Saturday, July 7 starting at 3 pm at Irving Park in NE Portland at a picnic for KCC members, friends and family. We have reserved some space for our group so bring a picnic dish to share at this casual summertime get together.

There will be a few ways to help and more information will be available in the next KCC enewsletter in June.
Volunteer Support Committee update
We have a new member on the Volunteer Support Committe (VSC). Hanna Karlin has recently joined the committee, bringing her ideas, energy and experience. Thanks, Hanna!
So what is a volunteer?
As a noun, the word in Dictionary.com means "a person who voluntarily offers him/herself for a service or undertaking." The Oxford American Dictionary offers a definition of the verb form: "to freely offer to do something." A few synonyms are: to advance, chip in, bring forward, step forward, take initiative. Just as there are many ways to describe volunteering, there are many ways one can volunteer in this community.
Because there are a variety of opportunities there is likely something that fits your time and talents. Here are a few reasons to volunteer:
It's a great way to get to know other members of your sangha
Its a wonderful way to serve this dharma community.
It can also be a meaningful part of your practice as you dedicate your work for the benefit of others as well as yourself.
Current volunteers are needed for the Spring Celebration at SCOL on Saturday, June 9:
These are just some of the many ongoing volunteer needs at KCC:
Take minutes at board meetings
Volunteer in the Children's Program
Record Strategic Planning meeting notes
Clean on the last Sunday morning of every month after Puja
Help with yard work at KCC's Urban Center
Participate in a monthly Work Party at SCOL
Assist the omze before or after Pujas on Sunday morning or Sunday evening
Help with database or spreadsheet work for KCC committees
Assist with graphic art projects
Take photographs or make videos for KCC communications
Cook at SCOL for Retreats
Record live video streaming at KCC meditations and teachings
Write articles for the enewsletter
Serve on a standing Committee at KCC such as the Retreat Committee
Help raise funds to support the ongoing operations of the Urban Center or SCOL
Support our teachers by providing assistance for special projects or their ongoing time consuming tasks
Help our sangha members in times of special needs
In addition, you might see other areas of need that you are more interested in contributing your time and talents that will benefit KCC and members of our community. The VSC wants to hear from you!
Volunteer Support Committee members are: Bonnie McLean, Pat Parker, Hanna Karlin and Mary Woods. Please let them know if you are interested in volunteering or if you have new ideas to assist and serve KCC. If you have questions about how you might help, email Mary Woods at
woodsmb2@gmail.com
or if you have a time sensitive need or question, call her directly at: 503-643-4702.
---
Mahamudra & Yidam seminar in India:
a special 20th anniversary celebration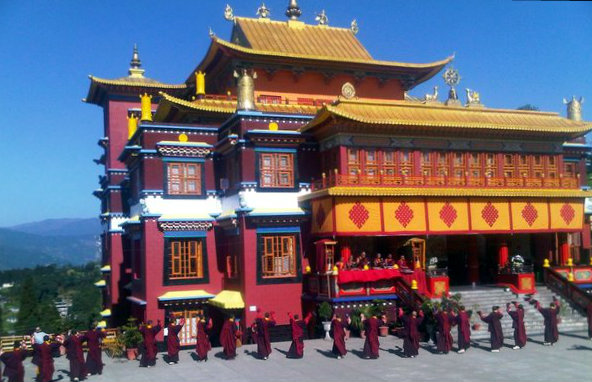 Bokar Monastery in India

This year, in honor of the twentieth anniversary of the Mahamudra program initiated by Khyabje Bokar Rinpoche, Khenpo Lodro Donyo Rinpoche is offering a combined seminar which will include teachings for all the levels of the Mahamudra and Yidam programs. As part of this special occasion, His Eminence Gyaltsab Rinpoche, one of the most senior teachers of the Kagyu lineage, will offer teachings and the blessing of empowerments. The combined program is offered to encourage practitioners of all levels to come together to participate in the celebration and receive teachings appropriate for their level of practice. This year the seminar will be twelve days instead of the usual ten days to accommodate the additional teachings and activities. The seminar will run from October 29 through November 9, 2012.
Khyabje Bokar Rinpoche began the Mahamudra seminar program to meet the needs of lay people for a graduated path of practice leading from the foundations of meditation and contemplation through the methods of Vajrayana meditation. Since 2000, the program in India has alternated each year between the Mahamudra program and the Yidam program which introduces the stages of Vajrayana practice.
In October 2011, the KCC Board directed a group to begin work on a holistic strategic plan that would take into account an increasingly complex organization spread across two sites and two states. Rather than make decisions about various parts of the organization as they arise, the Board and Program Council agreed that it was important to consider these issues together and create a long-term plan that integrates each element. It is their very strong wish to include the entire Sangha in this process.
Progress on the strategic planning process continues. The process will only succeed if Sangha members are engaged throughout. The Strategic Planning Committee (SPC) committed to hold regular meetings with the Sangha to consider the issues they are discussing in meetings and formulating in the plan. It is their strong hope that Sangha members join in this process, even if it's only to follow the deliberations as they unfold. They hope to see and hear from you in the coming summer months.
Save the Dates -- Sangha Focus Groups
As a part of the ongoing strategic planning process, the Strategic Planning Committee has set the dates and topics for four Sangha-wide focus groups. Each meeting will focus on a different topic, and the SPC has arranged the topics so that they build on each other and highlight the interconnectedness of the entire Strategic Plan. Sangha and friends are invited to attend any or all of these focus groups. All meetings will be held at KCC. Please save these dates and times to participate in the following discussions:
Saturday, June 23, 10 am to 1 pm
Our Programs: Being the change we wish to see
Sunday, July 8, 2 pm to 5 pm
Our Urban Center: Finding our new home
Saturday, July 21, 10 am to 1 pm
Our Selfless Service: Working together
Saturday, August 4, 10 am to 1 pm
Our Financial Resources: Creating the means to flourish
After each Focus Group meeting this summer, the SPC will offer pizza and hope you can stay and enjoy some food and fun.
Additional infomation about the Strategic Planning Process can be found at:
http://kccportland.blogspot.com/
---
Land Stewardship Notes from SCOL
February is a great month to tackle land stewardship projects. For one thing, between snows, the land is soft and plantable. Land stewards accomplished several projects early this year.
New willows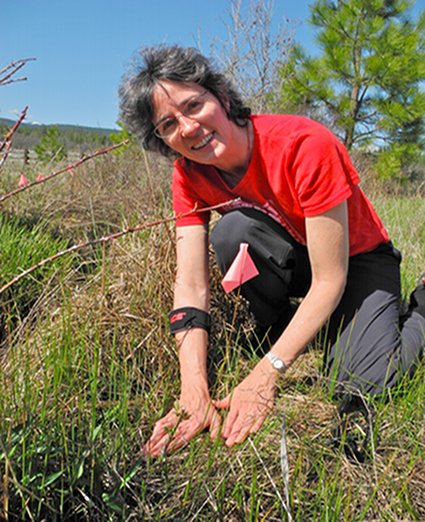 Dora DeCoursey and Adele Hilsen planted about 100 willow slips along creeks in the big meadow. These were cut from two species of willows already growing by the creek and stuck in the ground as deep as we could push them. The willows will provide food, protection, and nesting for wildlife. They also stabilize the banks and shade the creek, helping to keep water temperatures down for fish. As of April, the new plantings were already leafing out.
Dora DeCourey with a newly leafing willow at SCOL.
Restoration
Dora worked at restoring the areas that had been dug up for the statue foundations. After smoothing off the sites (aka "shoveling mud"), she sewed seeds for native grasses and flowers, which will likely take a few years to get established.
Bluebirds and more
You may see even more shimmering blue coats of the mountain and western bluebird on the land in the coming years. Although bluebirds are still numerous, their populations throughout the country have declined. To help support these lovely birds, John Jennings, land steward volunteer, put up six nest boxes in some of SCOL's prime habitat. Bluebirds like open areas with scattered trees and access to water. John plans to donate and install another twenty or so boxes soon, to complete coverage in our suitable habitat.
We also have mapped the 100 or so nest boxes intended for various types of birds which were placed on our land by the previous owner. Volunteers rely on this map when they clean out the boxes in fall and winter. If you would be interested in helping to install or clean nest boxes, let us know!
2011 planting update
Some may remember a very muddy day in March 2011 when KCC volunteers planted 130 native flowers and shrubs around the cloisters and in the big meadow by the creek. The plants are doing quite well! We kept them watered last summer, and it has paid off. We plan to water them again this summer season. After this year the roots should be developed enough that they will have a reasonable chance of making it on the natural water cycle.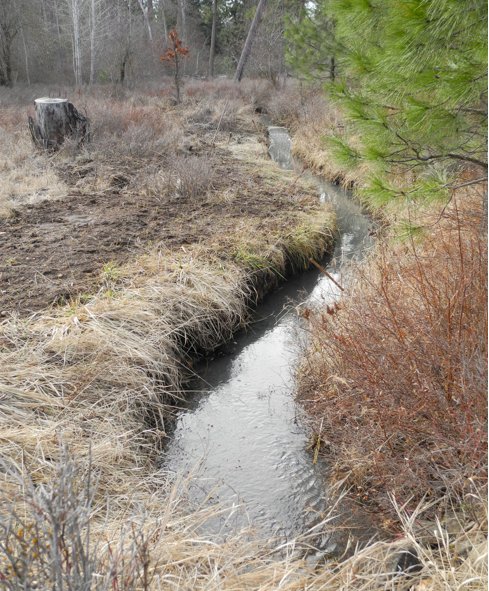 Your ditch at work! More than one work party in 2011 was devoted to digging this channel to drain winter water from the road and parking area near SCOL's entrance.
SCOL Land Stewards: Dora DeCoursey, Adele Hilsen and John Jennings