---
---
Join us live online every Sunday
Live via Streaming

Join us for Sunday Meditations at 9 AM

Recent recorded video streaming meditations may also be found at the same link.
---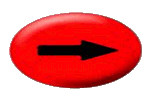 Jeff Alworth
Teri Duffy
Sanje Elliott
Susan Gladstone
Kay Hartsock
Adele Hilsen
Cathy Neumann
Julia King Tamang
Sam Snoek-Brown
and Mary Woods
contributed to the production of this newsletter.
June 2012
Dear Friends & Supporters of KCC,
June at KCC is a month of celebration and recognition of the many blessings that we are fortunate to experience as a sangha. Long-time friend, Lama Sarah Harding, spent a number of days at both KCC and SCOL, and friends and generous supporters came as far away as Montana and California to visit the retreat land and share in our good fortune. This week Lama Michael Conklin will celebrate another year in the Dharma and at KCC as our Resident Lama.

Upcoming summer months will be filled with joyful dharma events, valuable teachings, two retreats at SCOL, a fun social gathering and four important sangha meetings to help shape the long-term future of KCC.

Please share this enewsletter with friends, family and any newcomer to KCC by using the forward button on the right side panel. Enjoy summertime and our many blessings!
---
Newcomers' Night on Third Thursdays, June 21 and July 20 from 7:30 to 9:00 pm
Everyone is welcome to attend this introductory session for newcomers once a month. The session will provide an introduction to Buddhist sitting meditation and an overview of the resources and practices of KCC. The class is intended for individuals who are either unfamiliar with Buddhist practice or are new to KCC. No registration is necessary.

The monthly session covers:
History, lineage and teachers of the Center;
Practice and study opportunities offered by KCC;
Fundamental principles of Buddhism;
Basic sitting meditation practice; and
How to participate in KCC.
---
Happy Birthday to Resident Lama, Michael Conklin!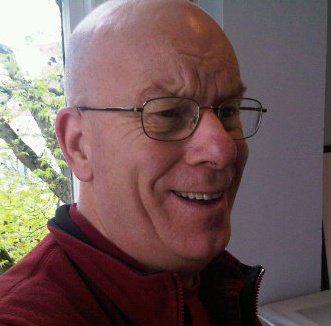 On Friday evening,
June 22, from 6:30 to
8:30 pm,
join members and friends of KCC as we chant long life prayers in appreciation for our Resident Lama, Michael Conklin, on the most auspicious occasion of his 68th birthday. If you have a Chenrezig text, please bring it. The prayers are in the back. If you do not have a copy, we will provide copies of the long life prayers and will help you learn them if you don't know them already. Lama Michael plans to attend. If you like, bring a snack to share and we'll celebrate his birth as we wish him many more years in the Dharma, for the benefit of all beings.
Join us on Saturday, July 7 at 3 pm for an afternoon of fun in Irving City Park, NE 7th Ave. & Fremont St. This will be a casual potluck picnic for KCC members, friends and families. Bring a frisbee or your favorite outdoor game of choice.

There is a dog off-leash area, picnic tables, a basketball court, restrooms, a horseshoe pit, tennis courts, soccer and baseball fields, a playground, and a volleyball court at the park.
Hope to see you there!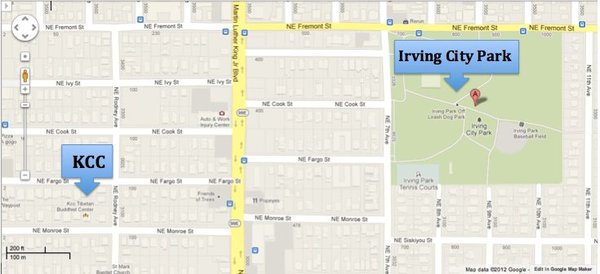 For an interactive Google map of the park, click the image.
---
---
The Second Turning Study Group begins July 3

Bill Spangle will lead a three-session Study Group on
Tuesday evenings (July 3, 10, and 17), from 6:30 to 8:30 pm
at KCC Urban Center, 73 NE Monroe, Portland. The Second Turning focuses on the transformation of our relationship to the kleshas -- the fundamental ignorance and the emotional patterns that flow from it. We can transform our relationship to the kleshas by cultivating insight into the nature of what arises in our experience. We also must develop transcendent loving kindness and compassion.
The study group will use traditional and modern sources to explore this approach to transformation and to help illuminate how we can use the understanding, discipline and meditative practices present in the Second Turning in our formal practice and daily life. For more information on the content of the series contact, Bill Spangle:
billspangle@comcast.net

Class Limit: 25 participants.
The suggested donation for attending this series is $60; no one will be turned away for lack of funds.
For questions regarding the study group or registration, please contact Susan Gladstone:
susan.gladstone@comcast.net
---
Join the Tonglen weekend residential retreat at SCOL,
July 27 to July 30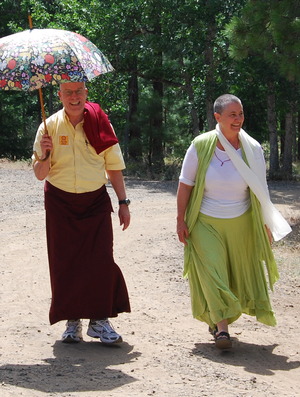 Lama Michael Conklin and Julia King Tamang will lead this retreat at Ser Chö Ösel Ling. This will be one of the last opportunities to participate in a short retreat at SCOL before the one-year retreat begins in March 2013.

The Tonglen Retreat will begin on Friday, July 27 with dinner at 6 pm, after arriving earlier to settle in and end Monday, July 30 at 1 pm, after final chores.

As you turn the mind from personal benefit toward the welfare of others, compassion beyond ordinary sentimentality develops. As you let go of personal projections and territory, insight into the true nature of phenomena becomes possible. The union of these two is liberation itself.

In the practice of mind training, as we turn our habitual focus from our own interests, perception becomes clearer, and we surrender to "things as they are" more willingly. Using the aphorisms of the "Seven Point Mind Training" as focal points, we meet ordinary situations in a context of continuous meditation and attention to our moment-by-moment conduct. This makes every situation practice. The eventual fruit is the realization of non-self and compassion beyond the narrow boundaries of sentimentality and pity.

The retreat includes formal instruction in meditation and contemplation practices specific to the "Mind Training" tradition. The emphasis in this tradition is the application of dharma to everyday life. Rather than calcifying practice into rote learning, liturgical chanting, or a series of set responses and practices, this system leads individuals to the employment of intelligence and compassion in every aspect of their life.

There will be some limited opportunity for personal interviews.

Pre-requisites: This retreat is suitable for beginning and experienced practitioners, regardless of background. If you have not been to this retreat before, it is necessary to contact Lama Michael before registering: conklin@kcc.org.

For other questions about this retreat, please contact Sherry Bohannan: sherrybohannan@comcast.net

For additional retreat information, go to: http://www.kcc.org/activities/retreat/tonglen-retreat-2

Register online at: https://kccretreats.wufoo.com/forms/annual-tonglen-retreat-ser-cha-asel-ling2012/

---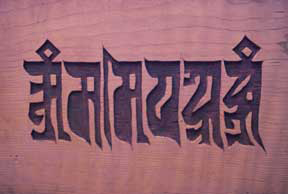 Photo of a Lantsha Mani woodcut made by Sanje Elliott, a local artist, calligrapher and KCC sangha member.

The Seven Points of Mind Training Study Group will meet on Thursdays, August 9, 23, and 30
Julia King Tamang will lead this three-session group at the KCC Urban Center, 73 NE Monroe Street, Portland. Classes will be held on Thursday evenings from 6:30 to 8:30 pm in August.

Since 200-300 CE, many Mahayana "mind training" traditions have existed in Indian Buddhism. Each included concepts, views, and practices to transform relationships through awakening loving-kindness and compassion. About 900 years ago, Serlingpa, an Indonesian spiritual master, taught mind training to the great dharma master Atisha. Atisha then brought the training to Tibet, where it flourishes and is revered by all the Tibetan Buddhist schools even today.

Originally, masters taught mind-training methods secretly, reserving the lessons for students whose capacity and sincere intention indicated a readiness to receive the teachings. But Chekawa Yeshe Dorje (1102-1176) organized the training into Seven Points and taught them widely.

The Seven Points system is a complete path, emphasizing both relative and ultimate bodhicitta. The system includes tonglen or "taking and sending," about which much has been written in contemporary Buddhist press. The system also includes more than fifty slogans to guide daily practice. Though many of the mind training slogans are transparent, a few are somewhat cryptic, so many people find it helpful to have a formal introduction.
This study group will focus primarily on the aphorisms. The Seven Points of Mind Training system is excellent for busy householders, who can use the aphorisms as focal points for carrying practice throughout the day, thereby increasing practice without necessarily increasing time on the cushion. For questions, contact Julia King Tamang:
jtamang@easystreet.net
---
Register for the August 18, Bokar Rinpoche Parinirvana and Milarepa Tsok with Lama Michael Conklin at the Urban Center

On Saturday morning, August 18, from 10 am until noon, KCC will observe the Parinirvana of Kyabje Bokar Rinpoche by celebrating the Milrepa Tsok (Feast Offering). This service will commemorate the anniversary of the passing of Kyabje Bokar Rinpoche, KCC's close spiritual advisor in India. Rinpoche was the heart student of Kyabje Kalu Rinpoche, KCC's founder. Lama Michael Conklin will introduce and preside over these services. This is an opportunity to recall and honor Bokar Rinpoche's life, enhance our connection with him and our lineage, and celebrate the fruits of these connections through a "feast offering" ceremony invoking the great yogi, Milarepa.

Everyone is welcome to attend and there is no charge. Donations are gladly accepted online and at the door. Seating is limited and registration is required. Please arrive by 9:45 am.

Register: https://kccretreats.wufoo.com/forms/bokar-rinpoche-observancemilarepa-tsok-2012/

Plans are also underway for some teachings on the practice during the week of August 14-17. Additional information on these teachings will be available soon. Contact Kay Hartsock at beginandcontinue@gmail.com with questions.


Milarepa Tsok audio recording found on KCC's website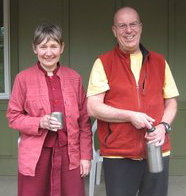 The Milarepa Tsok was recently performed at the Mahamudra Retreat. This year, which is the twentieth anniversary of the Mahamudra program, an audio recording of the event was made to recognize that one of the primary reasons a Tsok is performed is to increase one's connection to the Karma Kagyu and Shangpa Kagyu lineage and repair personnel faults and infractions. The recorded Milarepa Tsok, led by Lama Michael Conklin and Lama Tara, occured in May at SCOL. You can find the audio recording at: http://www.kcc.org/resources/milarepa-tsok-scol-05302012
---
---
KCC's annual Spring Celebration brought together many old and new friends to enjoy a warm, clear day on our beautiful retreat land, Ser Chö Ösel Ling. Lama Sarah Harding joined us to talk about 1,000 years of retreat in the Shangpa Kagyu Lineage.
We were delighted to host more than seventy-five people, including visitors from as far away as Montana and southern California. More than a dozen volunteers came the night before to help prepare the retreat facilities. Of special note, Phuntsok Johnson spent many hours working on the south shrine hall where our main event occurred. A big thank you also is in order for Adele Hilsen, who organized this event and attended to all details, making it a grand success.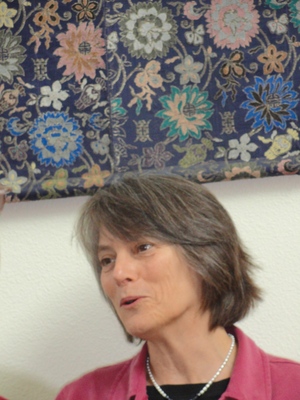 We especially appreciate having guest speaker Lama Sarah Harding, a long-time friend to Lama Michael and KCC. Lama Sarah is a Professor at Naropa University and translator for Tsadra Foundation. Her pivotal translations include Machik's Complete Explanation and Jamgon Kongtrul's Creation and Completion.
Lama Sarah gave a wonderful teaching on the importance of long retreats in the Shangpa Kagyu tradition. She spoke of the courage that dharma practitioners must have in order to progress on the path. She used as an example Kyungpo Naljor, founder of the Shangpa Kagyu lineage, when he fearlessly faced flesh-eating demons in a charnel ground in order to receive profound dharma teachings from the wisdom dakini, Niguma. Retreatants must bring similar courage when they drop everything to go into one and three-year retreat.
On the importance of doing long retreat, Lama Sarah quoted Father Thomas Merton: "Solitude is a way to defend the spirit against the murderous din of our materialism." Lama Sarah spoke eloquently about the role of creating a space to focus exclusively on meditation practice in a cloistered retreat setting, with the potential to finally come to rest without anxiety or disturbances. Then, they can bring this sense of peace and mindfulness back into their daily life in order to be of benefit to others.
Julia King Tamang, associate teacher at KCC, concluded the program by asking us all to consider the ways we might help complete our retreat project so the three-year retreat can start shortly after the one-year retreat ends in March 2014. To date, we need an additional $390,000 to finish the cloister. Julia closed by reminding us that the traditional teaching on interdependence holds that the merit created by engaging in retreat is equal to the merit arising from those who helped make the retreat happen.
For photos of the spring celebration visit:
http://www.kcc.org/support-kcc/2012-spring-celebration
Lama Sarah Harding's Urban Center talk is online
Earlier this month Lama Sarah Harding spent an evening at the Urban Center while she was in Oregon. Her talk "When is it okay to tweak the Dharma?" and the lively discussion that followed with sangha members was recorded live through video streaming. Many people attended the event at KCC and a large number of viewers were able to participate online.
Video streaming is now available at KCC online with no adds. Please consider donating to KCC to continue this valuable service.
Lama Harding's dharma teaching is available at:
http://www.ustream.tv/recorded/23113351
---
KCC's Pleiades Gem and Gift Shop

KCC's Pleiades Gem and Gift Shop owes its ongoing success to the efforts of many different people. We want to thank each of them, from the artists who share their work to the people who have donated items for sale as well as volunteers who have given their time and energy to this fundraising project. For example, this year at the Spring Celebration event, the Gem Shop made $810.00 in the short time it was open for business.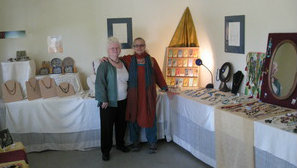 Tara Sullivan and Mary Woods in the Gem and Gift Shop at SCOL
With much gratitude to these kind friends of KCC:
Phuntsok Johnson
Jane Davis
Steve Parker
Pam Arion
Jean Ellen Herzegh
Susan and Alan Gladstone
Aly Good
Lois Beran
Susan Leviton
Adele Hilsen

Hanna Karlin
Tara Sullivan
Bonnie Barta
Patsy Bjorling
Lynn Eleanor
Melinda Bell
Sanje Elliot
Mary Woods
Carolyn Peck
Nancy Boros
In Memoriam
Sybil Shane
Bob Polhemus
---
Spring Celebration helps toward fundraising goals

Early on the day of the spring celebration, Adele (event coordinator) checked in with Hanna (pot luck coordinator) to see if she needed anything for her set up. Hannah's witty reply was, "Yes, raise us a million bucks."

We're still working on that lofty goal, but we can report that between the gem shop proceeds and other donations at the event, we raised just over $12,000. We also received a pledge from Ernie Brooks to finish the floor of the south wing shrine room -- which we built a couple years ago as a result of a generous donation from Ernie.

Individuals left the event considering what near-term stock or cash gifts they'd consider making.

Here are some examples of items we need. These figures are estimates only, and it is our express wish that donations not be restricted to specific items on this list.

Cook's Cabins (2@$125,000 ea)

Walk-in Cooler/Reach-in Freezer

Soundproofing for adjoining walls

Washer/Dryer (2@$750 ea)

Refrigerator (2@ $625 ea)

Heavy Duty Hot Plate (2@$400 ea)

Vacuums (3@$150 ea)

New Roof for rural operations staff house

$250,000
$15,000
$3,000
$1,500
$1,250
$800
$450
$10,000
$8,000
---
---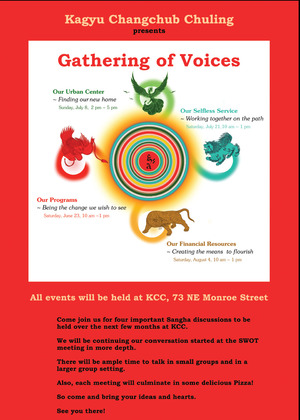 You are cordially invited to the first Strategic Planning Focus group meeting. The event is Saturday, June 23, from 10 am to 1 pm, and pizza will available for everyone at the end of the meeting.
With less than a year to go before the inaugural long retreat at SCOL, KCC is creating a strategic plan for our future. As any organization grows, it must consider weighty topics in order to continue to meet its core mission. For KCC, that mission is "to support practitioners in their process of spiritual awakening. The emphasis in the training is on the cultivation of insight and compassion in both formal meditation and in daily life." This first focus group gets to the heart of that mission: our programs.
In preparation for the meeting, the Strategic Planning Committee has created a worksheet to help you think about the topic. If you can't make the meeting, consider filling out the worksheet and returning it to Dora DeCoursey at KCC. That information is available on the KCC Planning Blog at:
http://kccportland.blogspot.com/
Please join the Strategic Planning Committee at these additional meetings. If you can't make the first meeting, there are three more throughout the summer. Put the dates on your calendar and come when you can:
Sunday, July 8, 2 pm to 5 pm
Our Urban Center: Finding our new home

Saturday, July 21, 10 am to 1 pm
Our Selfless Service: Working together
Saturday, August 4, 10 am to 1 pm
Our Financial Resources: Creating the means to flourish