We've had a slew of interesting data lately and enough soap-opera style drama on the global stage to give even the cast of MTV's erudite Jersey Shore competition. Fed Chairman Ben Bernanke has been on what appears to be a victory lap with his most recent tapering comments based on the Fed's expectations of an improving U.S. economy. On Friday, the non-farm payroll report came in stronger than expected at 195k new jobs. The Fed couldn't have gotten a better number if they'd sent the Department of Labor a memo on the subject! This number is high enough to give their tapering warnings credibility while not so good as to push up the implementation to July.
While many are criticizing the Fed for the tumult the comments caused in the markets, we think they ought to be applauded for injecting uncertainty into a market that was becoming entirely too complacent about the degree of excessive leverage being used to combat the low rates of return imposed by the Fed's financial repression
As we delve deeper into the data, and you knew we were going to go there, the job growth continues to be among lower quality jobs. The unemployment rate held steady at 7.6%, but the U6 (broader employment metric) jumped from 13.8% to 14.3% caused by a surge in part-time work. Full-time jobs dropped by 240k and in fact, since the start of the year only 130k full-time jobs have been added while 557k part-time jobs have been added. The unemployment rate would today be 11.1% if the participation rate was the same as it was pre-recession. Despite the headlines, Main Street is still struggling. Click here to read more.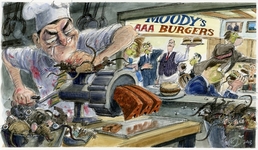 As you lounge by the pool and/or beach this lovely month, if you find yourself getting a tad cool, we suggest you read "The Last Mystery of the Financial Crisis" (click here) in Rolling Stone this month. It'll be sure to get you hot under the collar!
We hope you enjoy these warm summer days with family and friends and as always, thank you for taking the time to read our musings and for your trust in our diligent efforts to serve.